Reading Time:
2
minutes
Popular Joburg-based cryptocurrency exchange VALR posted a cryptic tweet this morning, hinting at the launch of a new product. Simply stating that users were to "save the date" of Tuesday 10 March, and 10:03am CAT.
Save the Date! 10/03 10:03 a.m. pic.twitter.com/cM770Uhci2

— VALR (@VALRdotcom) February 13, 2020
While some users questioned what the announcement was regarding, VALR came out with some clarity only 5 minutes later when co-founder and Chief Product Officer Badi Sudhakaran quoted the tweet stating that the exchange would be introducing the XRP/ZAR trading pair.
By popular demand, we are introducing #XRP/#ZAR exchange trading pair on @VALRdotcom next month. If it's anything like the launches we did in the past, you don't want to miss it. Be there, signed in and ready, at 10:03 a.m. on 10 March. https://t.co/89G2dqSgJW

— Badi Sudhakaran (@BadiSudhakaran) February 13, 2020
This makes VALR the sixth exchange in South Africa to offer XRP available in South African Rands, after AltcoinTrader, iCE3X, Coindirect, Artis Turba and more recently Xago.
Jurgen Kuhnel, CEO of Xago, SA's first dedicated XRP exchange, said they were very excited to learn of VALR's ZAR pairing. "We think that XRP is under traded in South Africa," the CEO commented. "It's a big plus for us that an exchange like VALR would introduce this ZAR pair, because it will increase the arbitrage opportunities between the South African crypto exchanges."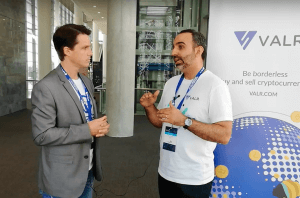 VALR CEO Farzam Ehsani spoke exclusively with Global Crypto saying that they had many requests over the last several months to launch the new pair. "With XRP being the third largest crypto by market cap, it made sense to give customers what they wanted," explained Ehsani. "Even though the decision is based on extensive market research, the success of the pair will depend on customers bringing liquidity to the pair on our platform."
Tens Of Thousands Of Rands In XRP Up For Grabs
The CEO then leaked some info that VALR had some exciting competition announcements in the pipeline relating to the new trading pair.
"We will be giving tens of thousands of Rands worth of XRP to a select few lucky traders who trade this new product, so look out for official announcements on our social media and email newsletter soon," Ehsani continued.
"Ultimately, we're very excited and are thoroughly looking forward to the market's response."
The trading pair will go live, as per VALR's earlier cryptic announcement, on 10/03 at 10:03. The new offering is yet another confirmation that the South African market has a significant appetite for cryptocurrency investing and trading, and investing directly with South African Rands is clearly a product the local market want to make further use of – a product the market is already struggling with due to FNB's recent antiquated announcement that they will no longer support banking services for SA's crypto exchanges.
XRP has been on the receiving end of some positive investor sentiment as the altcoin markets look increasingly bullish. Global Crypto's Financial Analyst pointed out in a recent edition of Market Analysis that Ripple's native cryptocurrency XRP is among a number of the altcoins that look set for some upward price action.