Reading Time:
3
minutes
Global Crypto has received a worrying news alert from the Bloomberg News Wire. In a screenshot shared with Global Crypto, a news alert on the Bloomberg News Wire says that the South African Reserve Bank plans to implement new rules to stop cryptocurrencies from being used to evade "currency controls". Currency controls is a broad term, but we believe the statement could be referring to foreign exchange control, whereby central banks implement restrictions on how much local currency can be sent outside the country.
In South Africa's case, the limit without declaration is R1 million, and with special application to SARS (South African Revenue Service) citizens can send up to a further R10 million out of the country for foreign investment purposes. This limits South Africans to a total of R11 million that they are allowed to send across the border, meaning high net worth individuals looking to protect their wealth against the Rand's devaluation are looking to alternative methods to send their money out of SA.
A popular method of doing this seems to have been the purchase of cryptocurrency. The borderless nature of Bitcoin and other cryptocurrencies allows individuals to purchase them in their local fiat currencies, and send the cryptocurrency anywhere in the world and sell it into foreign currencies such as the US Dollar or Euro, or even digital currencies tethered to these such as UD Dollar Tether.
This use case of cryptocurrency in South Africa seems to have kept the price of Bitcoin and other digital assets at a premium in relation to international prices in US Dollar, GB Pound etc. IE. At the time of writing, the price of Bitcoin in US Dollar was $7762. This should equate to R113,745 – and yet, the price of Bitcoin in South Africa at its cheapest at the same time was R118,100 on AltCoinTrader, a premium of R4355. It was R120,583 on Luno and R121,495 on VALR.
If the Bloomberg news alert is true, which we cannot verify at this stage, it would mean the South African Reserve Bank could clamp down very seriously on these exchanges, in strong analysis of wallet to wallet transactions, and full reports of user's activity. Which raises numerous privacy red flags, and beyond that, danger to innovation in the industry.
The full report published by Antony Sguazzin on the Bloomberg News Wire reads as follows:
South African Central Bank Plans New Cryptocurrency Rules
The South African Reserve Bank plans new rules regarding the use of cryptocurrencies to stop them being used to evade currency controls.
The rules will be put in place in the first quarter of next year, ending consultations that began in 2014, Kuben Naidoo, a deputy governor at the central bank, told journalists this week.
South Africa has limitations on how much money individuals and companies send outside the country.
While Global Crypto is currently working to verify this newswire publication on the Bloomberg Terminal, the screenshot we received (pictured below) does at least look authentic at face value. We have reached out to both Antony Sguazzin and his editor John McCorry at Bloomberg, with no response received at time of writing.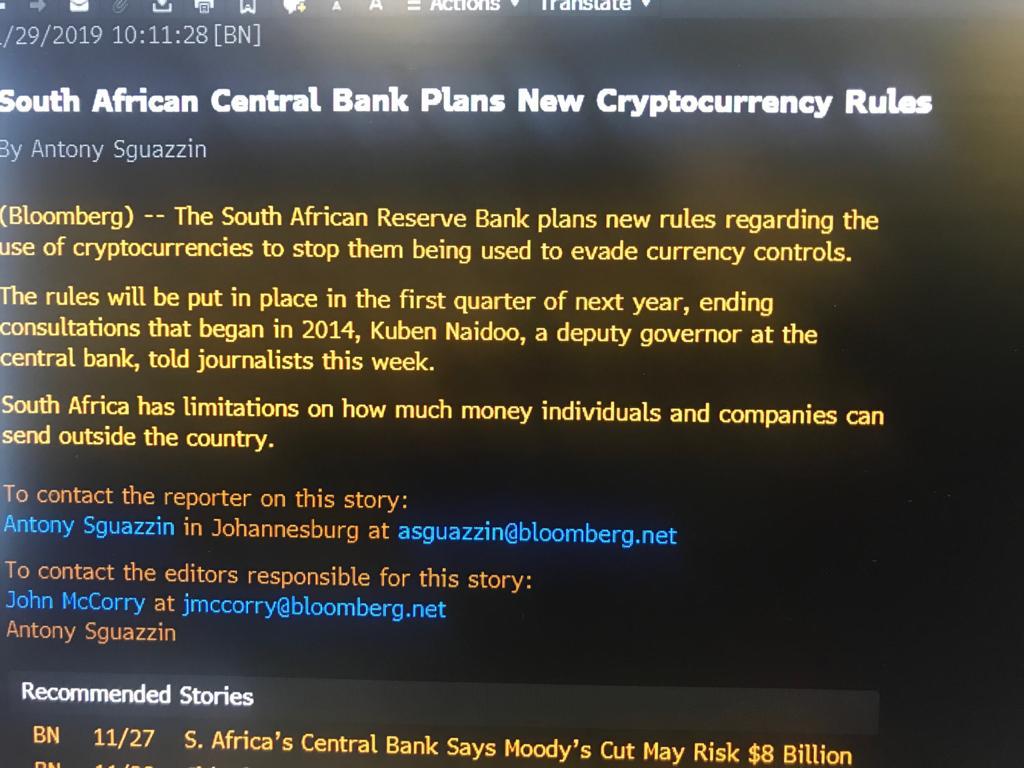 The implications of the SA Reserve Bank clamping down on cryptocurrency use for the purpose of stricter capital controls are far reaching and alarming. Global Crypto has written to the Reserve Bank before urging the regulator to adopt progressive statutes when approaching cryptoassets, because it is our opinion that conservative regulations would not only hinder innovation in South Africa, but repel investment into the country.
With a marketcap of $210 billion in the cryptocurrency market alone (at time of writing), the industry is driving significant economic growth in countries adopting such progressive regulation due to the investment many blockchain and cryptoasset companies are attracting worldwide.
Again, we can only hope for more positive clarification on this report by Antony Sguazzin, and a positive and progressive position by the SA Reserve Bank.
Time will tell.