Reading Time:
4
minutes
Global Crypto's chat channels were abuzz last night as MyBroadBand released an article reporting on a big decision by FNB: The bank announced that they will be shutting down all bank accounts related to cryptocurrency businesses. This includes large exchanges such as Luno, VALR, AltCoinTrader, iCE3X among others. The closures will be effective from end of March 2020.
The news stirred numerous conversation on the groups as users were stunned at the shortsighted move by what is seen as a progressive bank. First it was on Telegram where a user shared the article, were immediately the response was a negative one.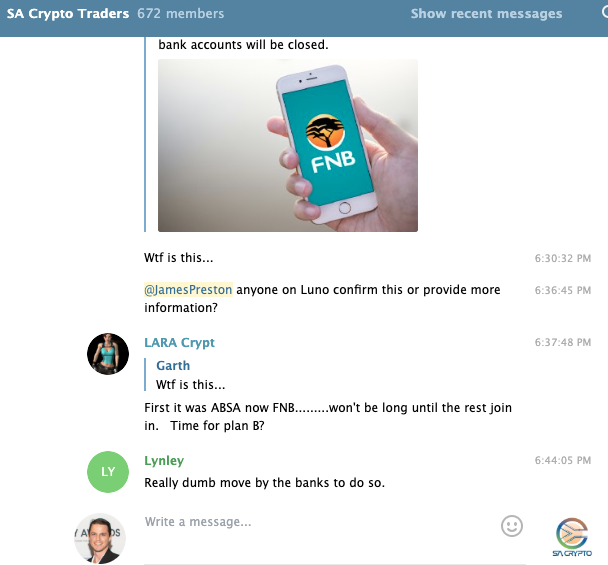 30 minutes later, Global Crypto's primary Whatsapp group began fluttering with chatter around the subject.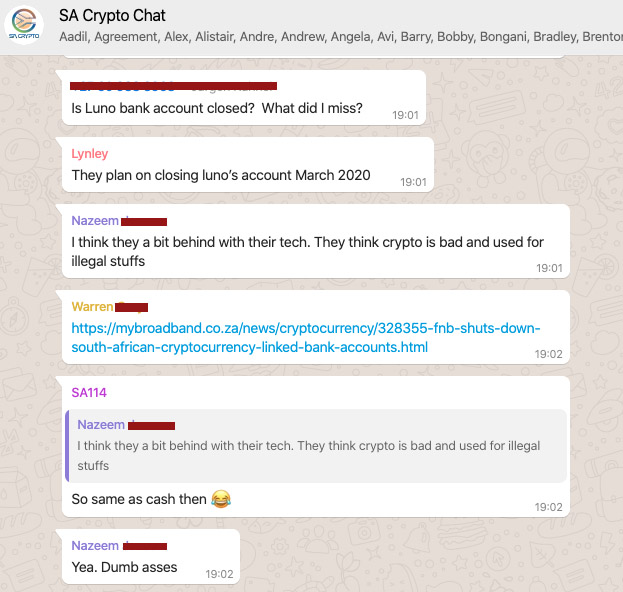 The conversation continued for some time, with very little positive outlook. The reasonable users among the group objectively hoped that such a move by FNB would be an isolated one, a perspective reaffirmed by VALR CEO, Farzam Ehsani.
Ehsani weighed in on the conversation on both Telegram and Whatsapp, eventually stating that he would do an AMA (Ask Me Anything) on his Twitter profile to discuss his viewpoint as the CEO of a major cryptocurrency in South Africa. Especially considering his previous role as "Head of Blockchain" at Rand Merchant Bank, a sister division to FNB.
After some interesting perspective from Global Crypto users, including a Bitcoin "Over The Counter" broker, Ehsani announced his AMA.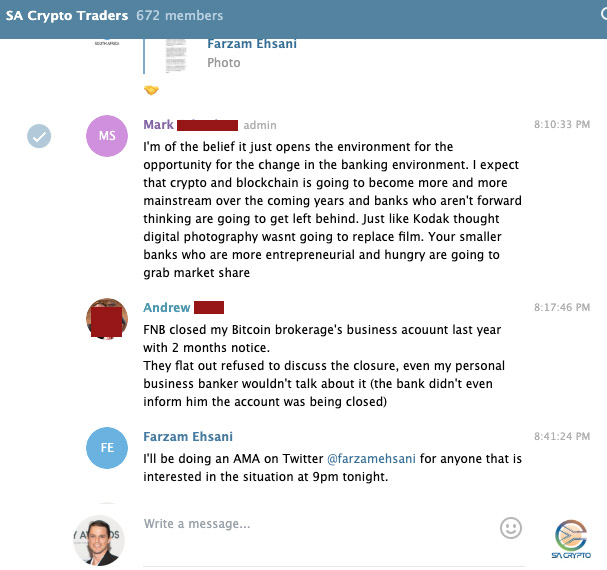 In addition to his AMA, Ehsani shared a public statement to all VALR users assuring them of their continued positive relationship with other banks in South Africa, and such a move by FNB wouldn't adversely affect operations.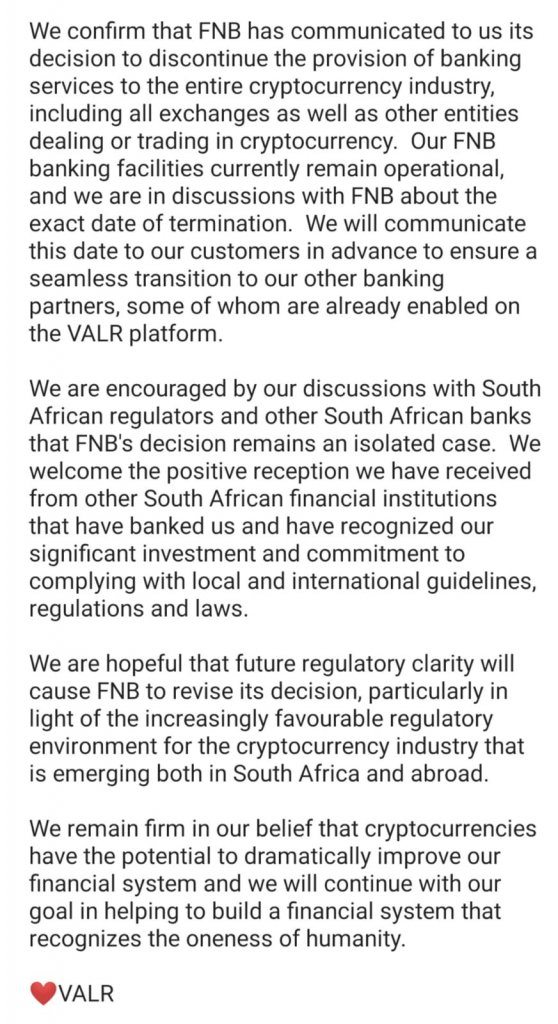 LUNO
Meanwhile, Luno have released an official statement on their website, along with FAQs around how the move by FNB could impact existing Luno customers. The statement confirms that Luno is affected by FNB's decision, as they anticipate their FNB business bank account being closed in the second quarter of 2020.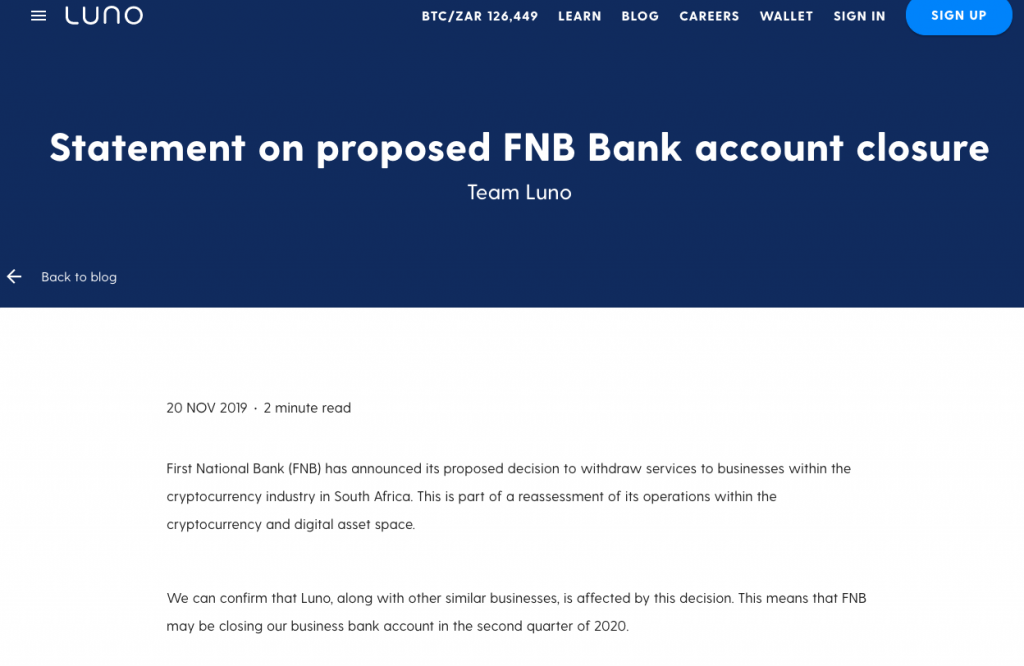 PREVIOUSLY ALERTED
Global Crypto was alerted to this news on a recent visit to the AltCoinTrader offices, where one of the executives revealed they had just come back from a meeting with their relationship manager at FNB. The manager disclosed to AltCoinTrader that FNB was planning the closure, stating that FNB's executive committee were considering its risk appetite, and deemed "virtual currencies" as too unclear from a regulatory perspective and thus were going to announce the discontinuation of banking support.
At the time, Global Crypto was unable to confirm the news, with it now being officially made clear in a letter from FNB.
Both iCE3X and Luno have responded to the FNB announcement, stating that, like VALR, they have good relationships with a number of other primary banks in the country, and deposits and withdrawals will be able to continue as normal, with FNB bank details requiring a change. Eugéne Etsebeth, COO at iCE3X, confirmed on Twitter this morning that clients would be unaffected by FNB's announcement:
.@ICE3X is unaffected by the FNB withdrawal of banking services. https://t.co/qKR3SnBYZd

— Eugéne Etsebeth (@etsebeth) November 20, 2019
The move does raise some concerns for cryptocurrency users in South Africa, as it opens the door for other banks to question their relationships with cryptoasset companies. It would be extremely surprising however to see these banks follow suit, as the revenue generated from banking fees with these companies must be considerable, although the fact that FNB are willing to sacrifice such revenue is worrying to say the least.
FNB have stated they are open to reversing this decision should South African regulators provide further clarity on virtual currencies.
SOMETHING DEEPER?
The news comes in conjunction with equally stunning news from RMB Holdings, who announced last night that they will be selling off R130 billion worth of First Rand shares in a major portfolio restructuring move. The figure is the total sum of the full 34% stake RMBH has in First Rand Limited, the company that operates FNB.
In reaction to the announcement, former FNB CEO, took to Twitter to share his surprise:
RMB Holdings will unbundle R130billion of FirstRand shares. Wow.

— Michael Jordaan (@MichaelJordaan) November 19, 2019
The RMB Holdings statement did not give a reason for the unbundling of the First Rand shares, but said there would be a detailed explanation before the end of the first quarter 2020.
It is strangely coincidental that the announcement comes on the same day First Rand-owned FNB announce their distancing from cryptoasset companies. And while it would be irresponsible to jump to conclusions, the gravity of both of these announcements makes it difficult not to.
Image by Nhat-Tien Le from Pixabay