Reading Time:
2
minutes
Global Crypto has received news that key members and members of the operational team behind Mirror Trading International (MTI), Clynton and Cheri Marks, allegedly had their home raided by South Africa's FSCA (Financial Sector Conduct Authority) this morning, Monday 26 October 2020. This after MTI had been included in a "threat awareness" wiki site over the weekend.
Global Crypto received a copy of a Telegram message sent to MTI support groups confirming the news of the alleged raid: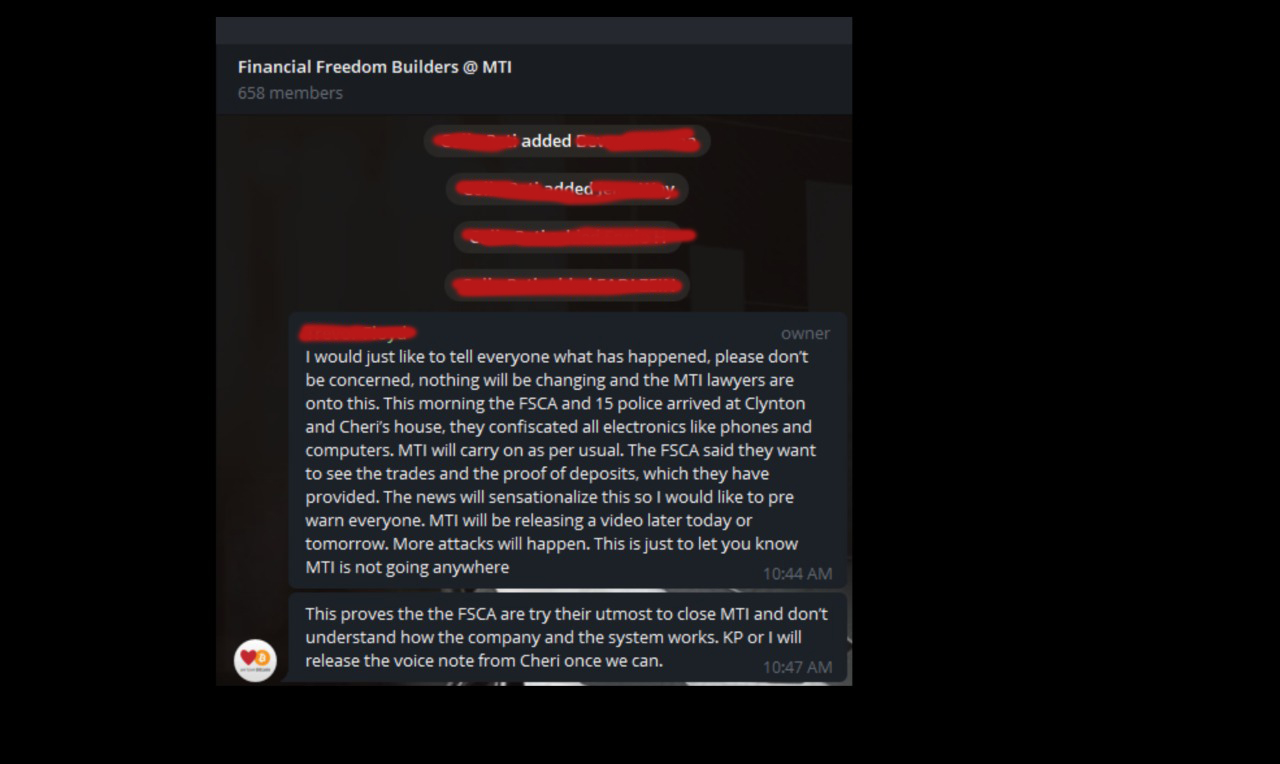 The text of the message reads as follows:
[SIC] "I would just like to tell everyone what has happened, please don't be concerned, nothing will be changing and the MTI lawyers are onto this. This morning the FSCA and 15 police arrived at Clynton and Cheri's house, they confiscated all electronics like phones and computers. MTI will carry on as per usual. The FSCA said they want to see the trades and the proof of deposits, which they have provided. The news will sensationalize this so I would like to pre warn everyone. MTI will be releasing a video later today or tomorrow. More attacks will happen. This is just to let you know MTI is not going anywhere"
This message was further validated with a voice message sent to these groups, allegedly from Cheri herself. In the voice note, the sender sounds calm and fairly unperturbed:
Much investigative work has been conducted by Global Crypto's team of reporters, but immense credit must be given to the members of the MyBroadband forums who have been instrumental in uncovering crucial facts related to MTI's operations.
Global Crypto will report further as and when more information becomes available.