Reading Time:
4
minutes
In this week's edition of our "Market Analysis" series, Paul Francis fills in for Graeme Tennant who is away on vacation, and Paul takes us through a number of different charts that are looking interesting for traders.
The episode is proudly brought to you by "MarketSquare.io" – the home of the decentralized web. MarketSquare is built on the ARK ecosystem, and their team have kicked off their launch with an excellent video series about what certain Sci Fi movies would look like if blockchain were integrated into the movie's technology. In their latest video, they examine the Steven Spielberg movie "Ready Player One". Check it out.
To kick things off, we look at big daddy Bitcoin. Bitcoin will always provide helpful insight into what could come next for altcoins, because it is the dominant market of the entire cryptocurrency industry.
Here is the entire analysis on YouTube:
Bitcoin has followed a very similar pattern for the last few months: Slowly grinding up, then moving down a falling wedge, and breaking out of the falling wedge to make higher highs and higher lows. Our analyst Paul would like to see some sideways movement within a potential symmetrical triangle before more upside: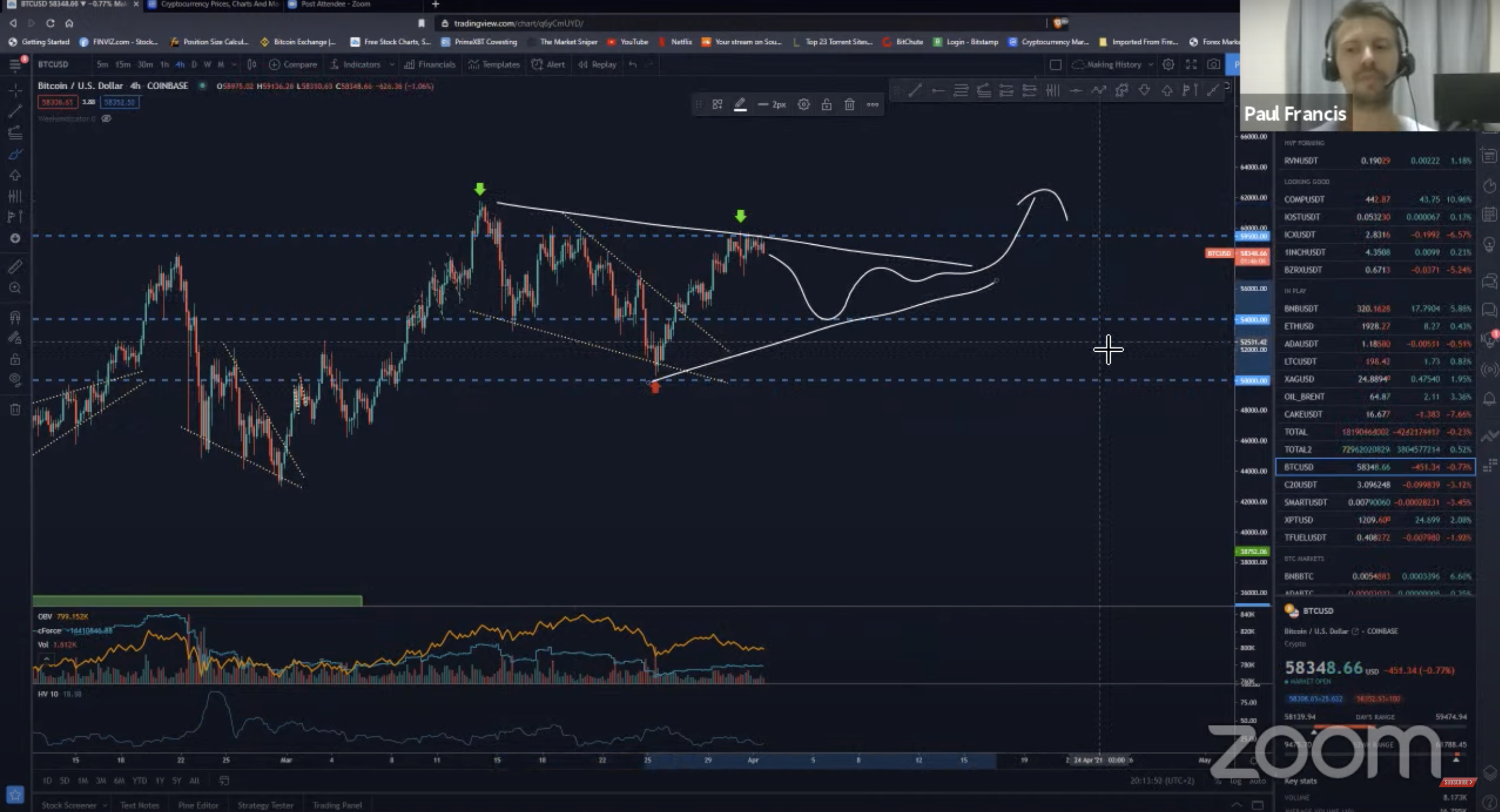 Next up it's into some of the NFT blockchains. What do we mean by NFT blockchain? Blockchains where digital collectibles (characterised as NFTs – non-fungible tokens) can be minted, stored and transferred. This would typically be a smart contract platform that supports an ERC-721 standard or similar.
The market leader of smart contract platforms is by far Ethereum, which is actually looking quite promising. After moving around within a compressing symmetrical triangle, there is a possibility for a strong move north of $2300 per ETH. Certainly one to watch.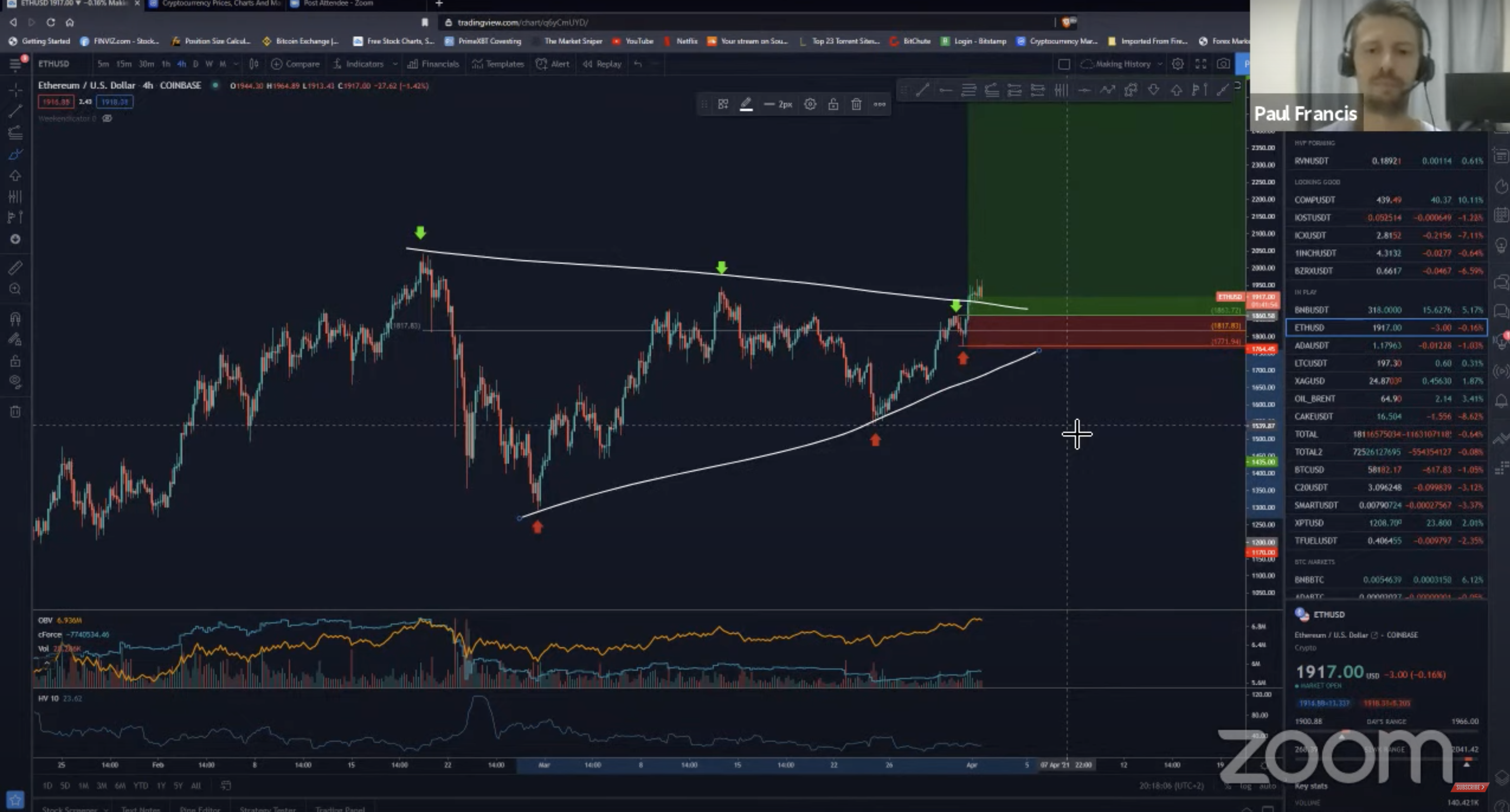 Next, we look at what is fast becoming the biggest "competitor" to Ethereum, Binance (of course, that is if you think of the landscape as being competitive in a decentralized ecoystem). Binance isn't a smart contract platform in its own right, it is a centralised exchange, but they have grown so much that they have created their own blockchain called "Binance Chain". This has allowed for numerous entrepreneurs and developers to launch new tokens and projects on the chain, causing even more utility for their native coin, Binance Coin (BNB).
There have been a number of trade set ups in recent weeks on BNB, and there looks to be more movement to the upside in the next few, with a target upwards of $400 per BNB if the trade plays out…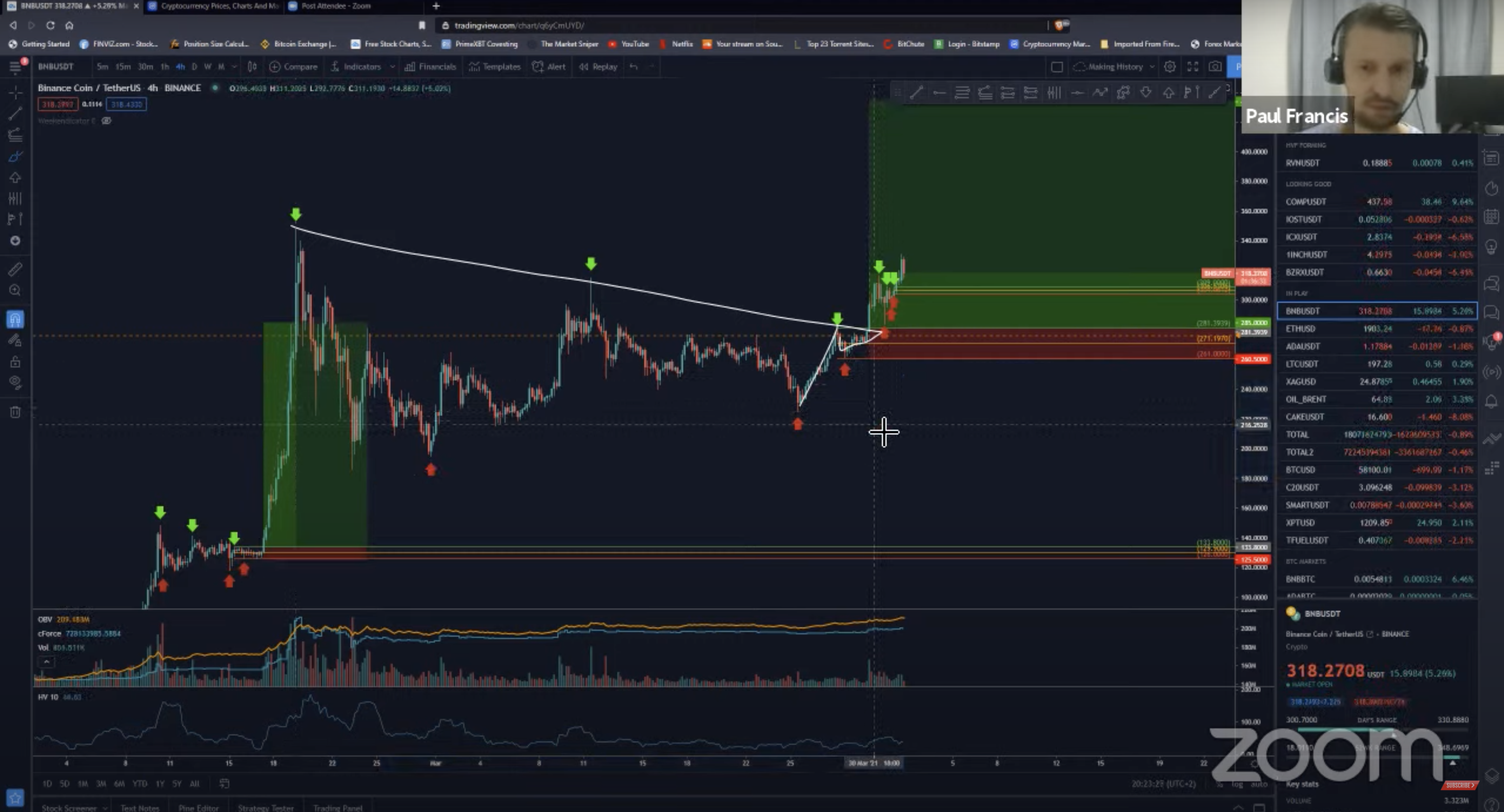 A project that recently launched on the Binance ecosystem is Pancake Swap. Pancake Swap is a Decentralised Exchange (DEX) launched by anonymous developers to compete with the popular Ethereum-based Uniswap, and allows for the trading of other Binance Chain-based tokens in a decentralised manner.
The native token for Pancake Swap is CAKE, and it was only listed on Binance a few months ago, where you can see below it rocketed above $15 per token. Since then it has sold off solidly, but has formed an "Adam and Eve" bottoming pattern, meaning the worst is probably over. There aren't any exciting trade set ups on the token however, so we'll have to keep waiting.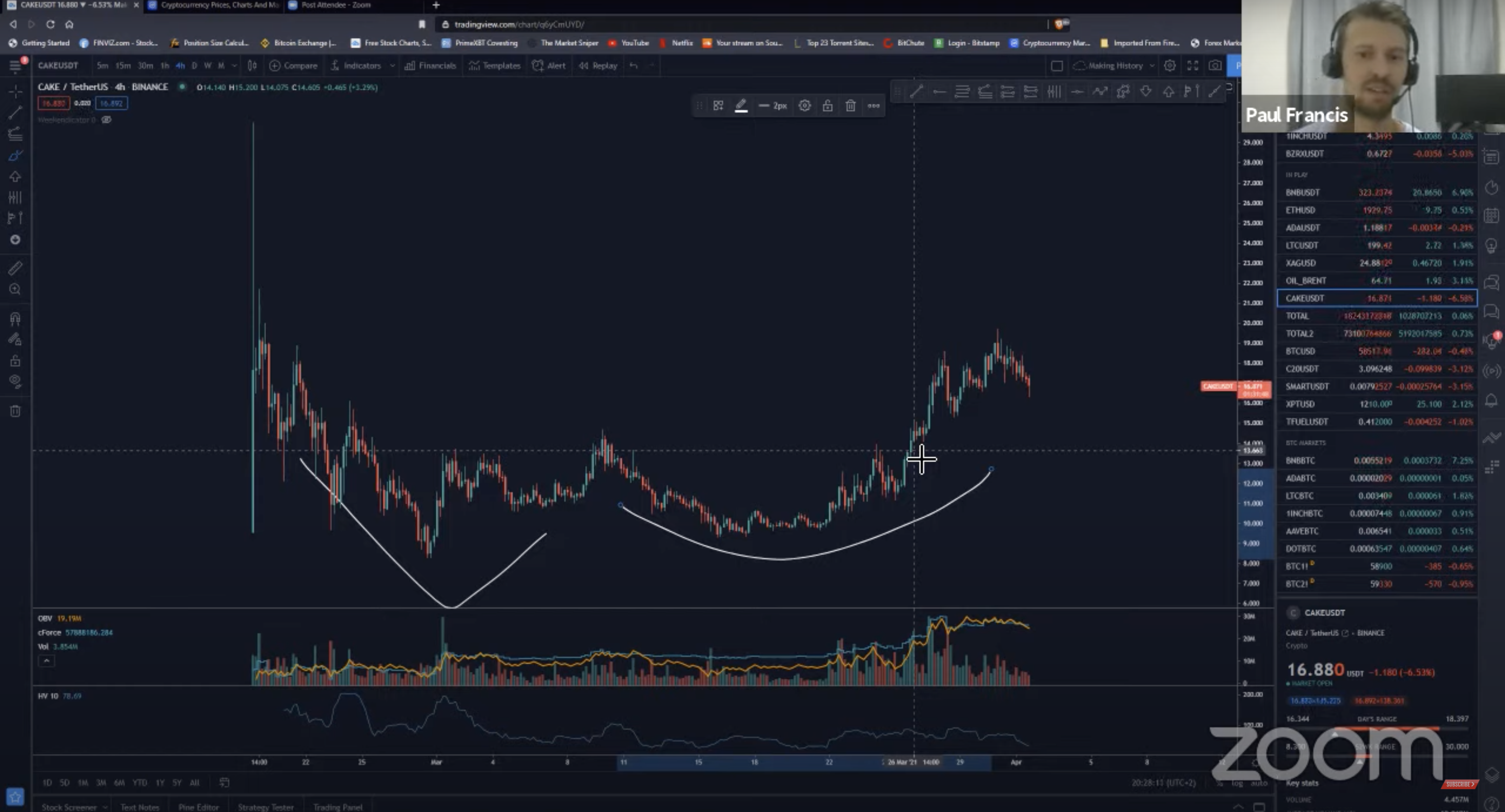 The final token we'll look at in this article is ADA. The native token of Cardano (founded by Ethereum co-founder Charles Hoskinson), ADA has seen a lot of excitement recently. None more so than its listing on one of the world's biggest exchanges, Coinbase.
ADA hit some big highs recently, but since then it has continued in a sideways pattern, especially recently, meaning there is a strong set up yet to play out. If the trade does play out, we're looking at $1.50+ as a target area.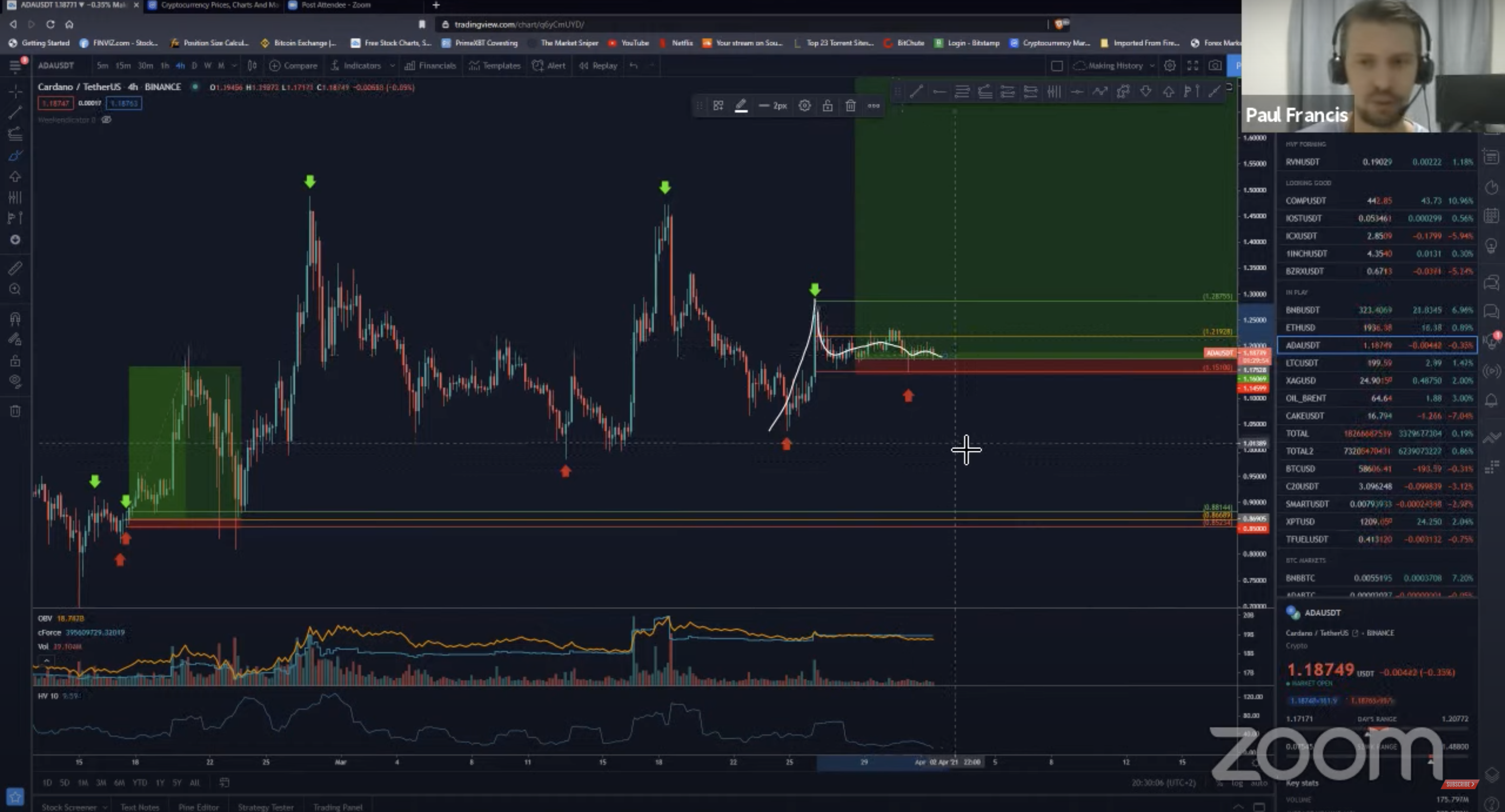 We looked at a number of other tokens in this lengthy analysis, so check out the YouTube video here and skip through to the charts that interest you the most.
Remember to always follow the golden rules of trading, and be responsible!
Join our Telegram or Whatsapp groups and ask any questions to our community that you may have around how to make the most of your trading experience. Of course, if you don't have accounts with the main trading platforms, support Global Crypto by signing up with our reference links. We appreciate the support!
And finally, be sure to visit the Market Square video about Ready Player One, and subscribe to their YouTube page.
Until next time, stay safe!
SUPPORT GLOBAL CRYPTO BY SIGNING UP TO THE NEXT BIG EXCHANGE USING OUR REF LINKS:
👉 BINANCE
👉 BITMEX
👉 BYBIT
Feature Image by JL G from Pixabay