Reading Time:
3
minutes
Whatsapp is where it all started for us! While many groups around the world have migrated to Telegram, we in South Africa believe there is still a big place for Whatsapp, as it remains an important part of our daily Instant Messaging. Thus we have kept the groups open, and they're as active as ever!
Due to the high volume of scammers we receive to the Whatsapp channels, we unfortunately can't have you join with a simple click. We need you to please fill in some details, and we will add you to your desired group as soon as we can! If you would like to remain anonymous or use a pseudonym, that is fine. But note that any scamming or shilling, upon addition to the group, will result in an immediate ban!
Once you have completed the below form, you will receive an email from one of our team within the next few days with the varying links. Please check your spam, as some email services don't like the domain "globalcrypto.tv".
Please also go through our Chat Channel HOUSE RULES before completing the form below.
Welcome to the community, and happy chatting! 
Global Crypto Chat Channel HOUSE RULES:
We've created this Group to inform and connect with the South African Crypto community in a fun and relevant manner. By joining the Global Crypto community, you're saying YES to hearing all about our latest news, content and events. If you ever get tired of hearing from us, simply leave the Group.

Keep it civil & respectful: We exist in a fast-paced, quick-talking society. Personal attacks on fellow members will lead to a ban. We can have a difference of opinion, and we can critically analyse ideas, but we don't aim for the jugular on people.

Be useful: Comment, share, and post images, links, or any other useful information that's relevant to the Global Crypto community. 

Be polite: Global Crypto will not enable, nor tolerate, racism, sexism, homophobia, xenophobia, and any other type of abusive or hateful communications and content. 

Be legal: Global Crypto will not endorse nor enable illegal activities. Sharing content and information that

breaks the law, condones or encourages unlawful activity (this includes breach of copyright, defamation and contempt of court) will result in your removal from the Global Crypto community. 

Enhance the experience: We're here to help each other, so remember that adding value to a conversation starts with staying on-topic, keeping it respectful, and being open to learn more about something we're all incredibly passionate about.

Advertising: Some advertising is permitted through our channels, with prior consent to be obtained from our leadership team. Please contact any of the administrators through a private message, if you'd like to disseminate advertising through our channels.

Shilling: We all have projects we love and respect. Constant shilling of the same project or endeavour, however, is not required, and will result in your removal from our Global Crypto channels.

User contact data: NO USER can contact any of the other users on the groups privately, without previous permission publicly. NO USER is allowed to access and use the contact details of other users for any reason whatsoever. You are legally bound to not share the con

tact details such as telephone numbers, and postal or email addresses of others (unless requested by a member of the community, although this is recommended to be shared privately to protect privacy).

Contravention of this point can lead to legal action.

If you see something, say something: If you spot a post that you believe doesn't meet our community guidelines, let us know. Pop an administrator a private message to alert us.

Suggestions: Think we could improve on our platforms, community, or have a question? Get in touch with an administrator through a private message.

Contravention of any of the above could result in a ban, with further serious action for serious offenders.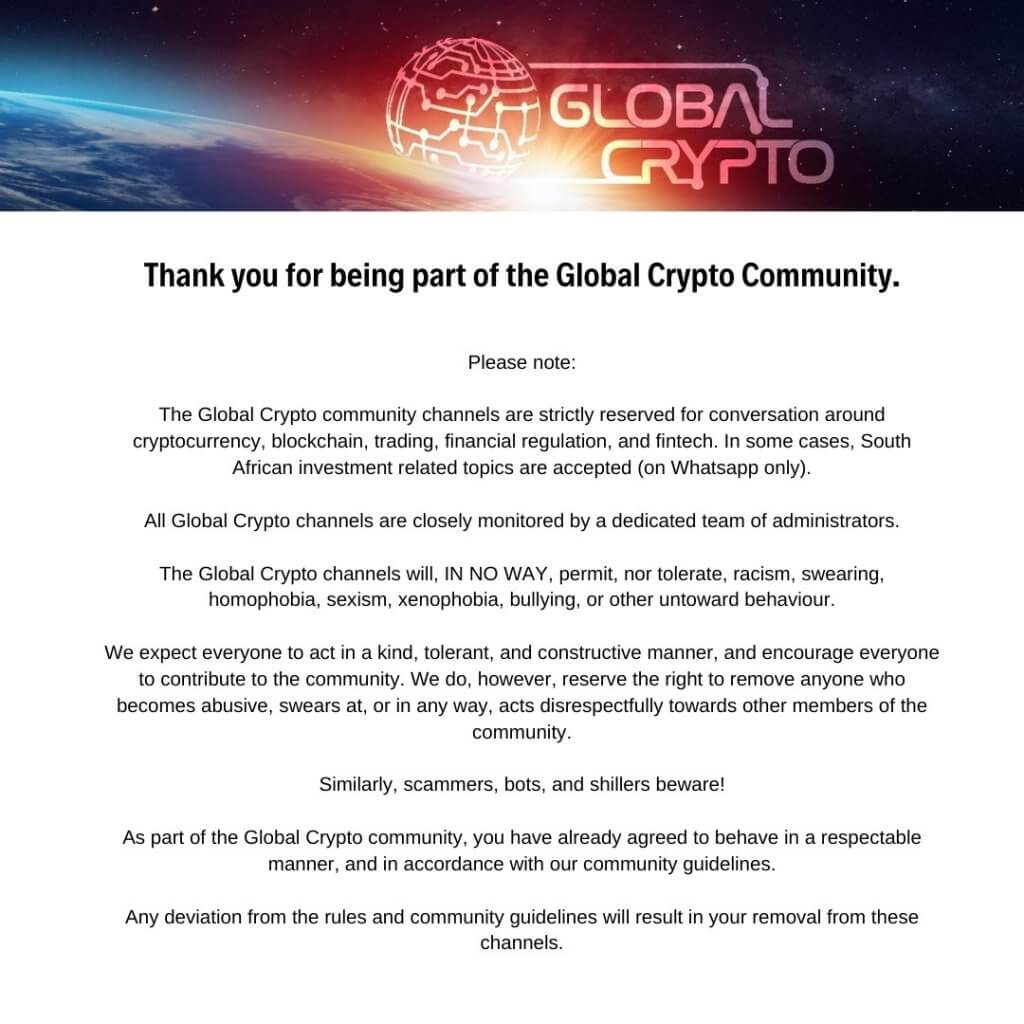 — – – – – – – – – – – – – – – – –