Reading Time:
3
minutes
Some South African crypto users woke up not to the alarm of the "Hadeda Ibis" above their roofs this morning, but instead to the news that one of their favourite crypto exchanges was down.
Users trying to access the year old exchange were greeted with the message "We're upgrading your experience and will be back in a few minutes."
The first alert to Global Crypto came through one of our trading Whatsapp Groups at 06h30 (CAT), with users immediately asking the CEO (who is on our groups) what was happening.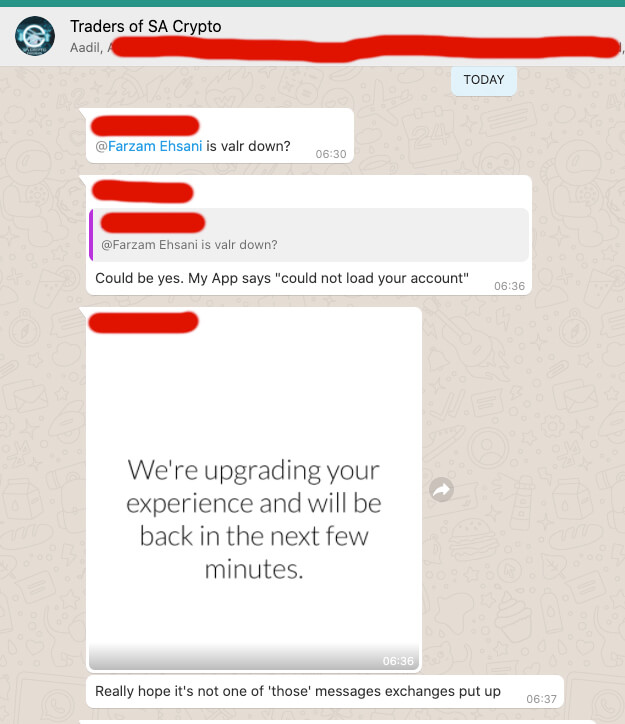 Global Crypto immediately reached out to CEO Ehsani, who emphasised they would communicate clearly on Twitter.
The official message was released at 06h40 (CAT) on the company's Twitter account, stating that they were undergoing "unscheduled maintenance". This is unlike many exchanges in the past who have used the moniker "scheduled maintenance":
VALR is undergoing unscheduled system maintenance. We've suspended deposits, withdrawals and trading.

We apologize for the inconvenience. We'll be back up shortly.

— VALR (@VALRdotcom) August 4, 2020
An hour later, and users were still in the dark as to what was happening at the exchange, who have just secured a $3.4 million investment from BitMEX's 100x and 4DI.
At this point, Global Crypto reached out to Ehsani again, this time asking for confirmation or denial of a security breach, user's biggest concerns at that stage.
His response, while brief amidst what must have been office chaos, was emphatic:
"Definitely not a security breach."
By 08h40 CAT, two and a half hours after the first alert to Global Crypto about the downtime, and VALR's official Twitter account had announced the issue was related to "banking integrations":
Update: we experienced a banking integration issue this morning.

We confirm all customer funds are safe.

We are still doing system checks before we come back online. We estimate we'll be back up in 30 minutes.

Thank you for your patience. https://t.co/uiMT6JOlym

— VALR (@VALRdotcom) August 4, 2020
Eventually, just before noon Central African Time, and after numerous approaches to VALR for additional word, the company published an official report on exactly what happened.
According to the statement released on Twitter, the company experienced a "banking integration issue", whereby some customer's funds had deposits allocated to them more than once. In an attempt to prevent the withdrawal of these now doubled balances, VALR immediately halted all operations on the exchange.
During this downtime, the statement claims that the company is currently exposed to a total of R102,450 (approx. US$6000) in losses, owing to customers who had withdrawn the double deposited ZAR or had bought additional crypto and withdrawn it from the exchange.
They emphasised that no customer funds were lost whatsoever, and that all losses were to VALR's account, while they continue  to contact customers who withdraw double deposited funds in hope of honest responses.
The full statement reads as follows:
VALR went offline this morning at 6:21am and we came back online at 9:47am. (Central African Time).
All customer funds are safe.
Here's an update on what happened:
Our monitors alerted us that some customer deposits were allocated to their account more than once (due to a banking integration issue), even though most were caught by our systems.
As soon as we learned of this we took VALR offline to safeguard customer funds as we investigated
We identified customer accounts that had been credited more than once and these accounts have been blocked to recover the incorrect fund allocations. (This is why some customers may still not be able to access their accounts even though we are back on line.)
We are going through these accounts to make any corrections and will unblock these accounts as soon as we can.
Some impacted customers tried to withdraw the extra funds from their accounts (either via ZAR withdrawals or by buying crypto and attempting to withdraw the crypto).
Our maximum exposure to losses stands at R102,450. We are trying to recover these funds from customers but in the worst case scenario this amount will be fully covered by VALR and not a single cent or satoshi will be lost by any customer.
We confirm that there was no security breach and this was an operational issue with our banking integration which we will continue to fully investigate and remedy. Deposits will resume once we have fully identified and remedied the issue.
ZAR withdrawals will be enabled shortly.
Crypto deposits are currently working and crypto withdrawals will be enabled soon.
We will always be transparent with you and will keep you updated as we have further information to share. 
According to the VALR's CEO, the exchange is back to full operation.
Global Crypto will update this story as and when more information becomes available.