Reading Time:
2
minutes
Update (17 Jan 2022)
The winners have been drawn. Well done and thanks to everyone that entered this giveaway. Stay tuned for more exciting giveaways soon!!

The world of NFT's is exploding, and after Collins Dictionary recently announced that NFT was the word of the year for 2021, it looks like 2022 may be the year for NFT's to explode!
Although the South African NFT scene still seems to growing slowly, we recently came across an exciting new project from a South African NFT Development team called Heads On A Platter. The project is headed up (no pun intended :P) by South African Internet veteran Vincent Maher, who is currently doing all the designs and publishing himself.

We giving away 4 of these awesome pieces of uniquely designed NFTs! (Giveaway at the end of the post)
The collection will eventually consist of 999 uniquely designed Heads that are served on Platters, each with their own story of how they finally succumbed to their death!
For example, #028 – Mrytle, seemed to be a nosy and hateful old duck, who was eventually celebrated with the biggest wake since the 70's! Some of the stories are hilarious, and some are rather morbid 🙂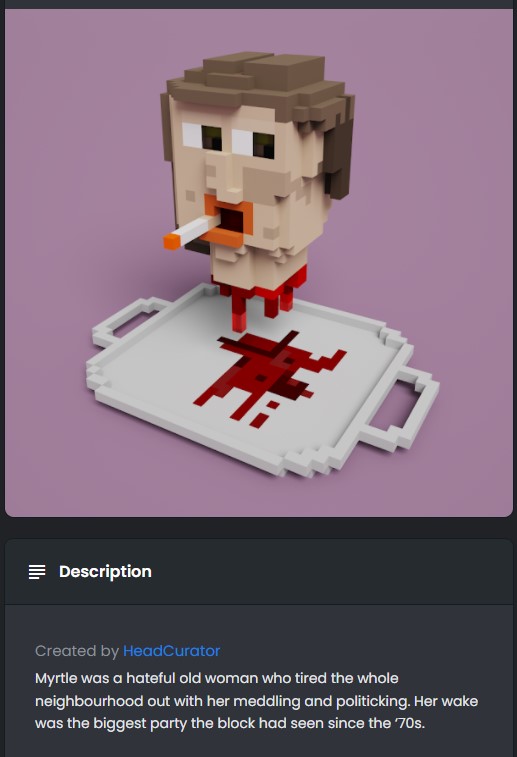 The team also put together quite a detailed Twitter thread on how the pieces are hand created and how the names and stories of each individual NFT is created.
Thread🧵

I had some offline questions about the tools and methods for making these NFTs so thought I'd share a bit about the process.

All the 3D modelling happens in MagicaVoxel by @ephtracy – this is an absolutely amazing free voxel art app.#NFT #NFTCommunity #NFTartists

— Heads on a Platter (@HQ4heads) December 31, 2021
At the time of writing there are 99 items list on the HOAP OpenSea collection – https://opensea.io/collection/heads-on-a-platter with more being added daily. The team also announced a sneak peek dropping today called "Error at the Chemical Plant" with some great looking pieces!
👀Sneak Peak

New set dropping tomorrow – Error at the Chemical Plant ⚗️⚡️ @ItsDannyTDJ @orangie wdyt?#NFT #NFTCommunity #nftcollector #NFTdrop pic.twitter.com/snT8Uerkej

— Heads on a Platter (@HQ4heads) January 2, 2022
Currently the floor price is 0.002 ETH, which is a STEAL! Going all the way up to 0.1 for #001 – James (no relation to our Editor @JamesPrestonZA :P)
After chatting to the guys from HOAP about the project, we have teamed up with them to giveaway 4 randomly selected NFT's to 4 of our readers who enter the below sweepstakes giveaway.
Competition closes at 23:59 on Sunday 16th January 2022. You will need an Ethereum wallet address for us to send the NFT to. The editors of Global Crypto decision is final once the draw has been made.
To enter you will need to complete the sweepstakes below and stand a chance to win!
Heads On A Platter NFT Giveaway