Reading Time:
3
minutes
Your favourite resource for crypto news through the last few bull runs is now about to be acquired by an exchange less than 2 and a half years old. It was reported by The Block yesterday that Binance were planning an acquisition of Coinmarketcap.com for the hefty price tag of $400 million. Such a figure would put it up there as one of the largest acquisitions in the crypto industry to date.
While many ponder the reason for such a high valuation purchase, Larry Cermak at The Block believes it could be because of the simply sensational traffic that Coinmarketcap generates.
BREAKING: Binance set to acquire CoinMarketCap for as much as $400 million. This likely makes it one of the largest acquisitions in crypto. https://t.co/VcleLkqsMS

— Larry Cermak (@lawmaster) March 31, 2020
207 million total visits in 6 months is a phenomenal feat, and couple those numbers with banner advertising revenue, and perhaps the value is a worthwhile investment for CZ and Binance? No statements have officially been released by Binance, but The Block are reporting that the acquisition is in its final stages, and will be a cash and stock deal.
CRYPTO CARD NOW AVAILABLE
The CoinMarketCap news comes only 5 days after the possibly more significant announcement of a new Debit Card. The card will act like a standard debit card, where funds from user's Binance crypto accounts will be debited as the card is used. Users can top up the specific card account with crypto from within the Binance app.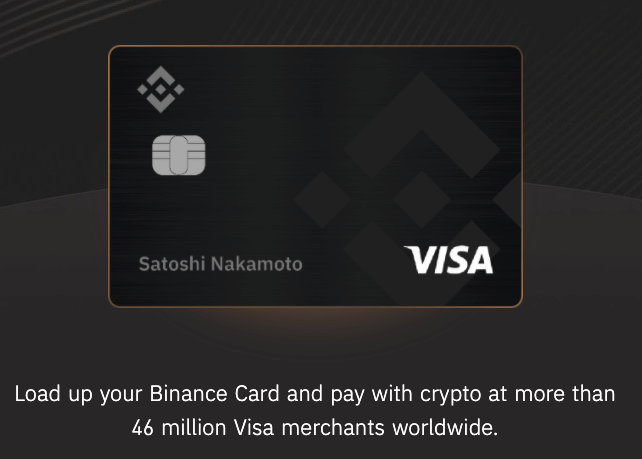 Binance have said they will release the card in a Beta rollout, and then upscale this rollout to a wider audience in coming weeks, including as many global markets as possible. While there was no official link to VISA, the homepage of the card application shows a VISA logo on the bottom right. Such a partnership would of course increase the ability to use the card at millions of outlets worldwide.
Users will need to pay a $15 registration fee in order to place their order and get in the queue for the new debit card.
BINANCE DEFIES DEFI?
And if that wasn't enough Binance news for one day, CZ tweeted an announcement on Monday (30 March) that the exchange would now be offering collateralised loans on their platform. With the surge in popularity of numerous DeFi (Decentralised Finance) platforms and the amounts of users utilising their services, Binance clearly saw an opportunity.
Need money and don't want to sell your #crypto? https://t.co/Q7fMXq7w9K

— CZ Binance 🔶🔶🔶 (@cz_binance) March 31, 2020
DeFi allows for users to put up their crypto as collateral and receive as much as 66% back in a stablecoin, usually DAI. This allows users to speculate on other financial ventures in US Dollar value without losing their crypto holdings, all within an automated, smart-contract based process. The average annual interest rate for these loans is currently about 8%, but is automatically set by the various platform's smart contracts based on numerous variables written into the algorithms.
It doesn't seem that Binance's collateralised loans will be stored in a blockchain environment like standard DeFi, instead likely on their centralised servers, but with a fixed interest rate of 7.92% per annum, it could be quite attractive for those looking for the same features as DeFi.