Reading Time:
4
minutes
We've hit a bit of a snag with our weekly newsletter, so we're publishing the whole thing on our site this afternoon. Grab yourself a coffee, settle in, and catch up on this week's news.
It's Cath in, again, for James who is – hopefully, by now, putting the final touches on his book so I can thereafter berate him for his terrible use of commas. Here's hoping – I have to find my fun somehow! 
This week, Luke Venediger and Marc Forrest helped out with the podcast – thank you, genius minds! – and you can give that a listen if you feel like giving your eyes a break. 
This week's newsletter is brought to you by AltCoinTrader. AltCoinTrader recently announced that they're introducing live Gold and Silver trading. You can read more about that here. 
And now, let's get on with the news. 
CoinDirect Introduces Credit Card Payments
We love new payment options – who doesn't?! And, thanks to CoinDirect, it's now possible to buy Bitcoin using your credit card. 
Global Crypto covered the story. 
McAfee Was Missing
Or is he? Reports spewed across social media revealed that, earlier this week, maverick man John McAfee had gone missing. Presumed detained, we waited around for news of his release, or proof of life. It arrived on Wednesday evening, with McAfee's Twitter account updating, releasing images of his release. His wife's account also confirmed they'd been released, but that they would not be returning to the Freedom Boat. Where he's off to next is anyone's guess, but what I really need to know is: where are his dogs? McAfee's two dogs had been living on the boat with him and his wife, and I cannot find any updates on their wellbeing. Help me find out! 
Financial Executives Believe In Blockchain
Well, it's not news to us, but it is good to see that financial executives are taking blockchain technologies seriously, and not cowering in the corner, trying to hold on to archaic systems. In fact, 9 out of 10 global executives in the financial services and insurance industry believe in the need for transformational digital change, leveraged through distributed ledger technology and Artificial Intelligence (AI). 
BTCManager shared highlights of this research report.
Here Comes A Hearing
Next week is set to be interesting, as the US Senate Banking Committee will hold a hearing on regulatory frameworks for cryptocurrencies and blockchain technologies. This hearing isn't the first time the Senate has paid attention to crypto; far from it, indeed. Just recently, special hearings were held around Facebook's Libra too. 
Coindesk tells us more.
And Coingape shared further details. 
Someone Starting Out?
While most of us like to think we're early adopters and somewhat jaded in our approach, the world of cryptocurrency is just opening up to most of the world. This nifty little resource from Luno outlines some of the essential steps people should take before they buy their first bit of the BTC pie. 
Fighting Fake News
The New York Times is using the Hyperledger Fabric permissioned blockchain to guarantee the source of digital files. The NYT's Provenance Project aims to use blockchain technologies to fight misinformation in the media, and it's set to become a scalable system for publications, big and small. 
Building A Business Case
The World Economic Forum has released a really useful report on how to build a business case for blockchain technologies, applicable to your business. Exploring a variety of industries and sectors, while highlighting some advantages and disadvantages, this is an important resource for anyone looking to implement blockchain tech within their company.
Shell Makes A Big Blockchain Move
Shell has just announced a big investment into LO3 Energy's electricity trading blockchain in the US. Blockchain and power? Huh. I hadn't thought of that one yet, but it's a significant development in the arena, and one that brings together so many good things: renewable energy, blockchain technologies, and a company with the right clout to really rev things up. 
REC Protocol covered this story.
Podcast Of The Week


Our very own James interviewed one of the co-founders of a new exchange on the international market. James chatted to Richard Lane of Aquarius Exchange, and learnt more about their team's drive to solve one of the biggest problems in crypto trading: 
Tweet Of The Week
This tweet made me happy. The African continent is ripe for blockchain adoption and, strangely enough, we're often ahead of the game when it comes to payment technologies (here's looking at you, M-Pesa!) This week, the ICT Cabinet Secretary in Kenya released The Kenya Blockchain Taskforce Report. Keep your eyes on this continent, folks.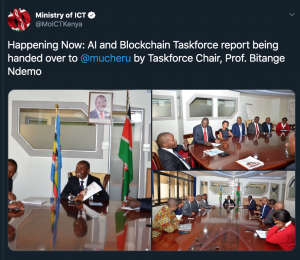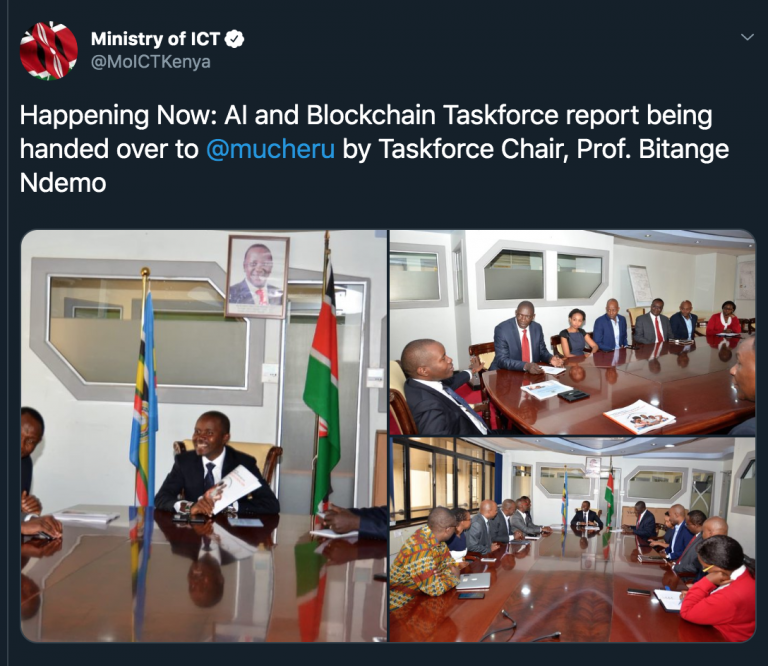 And That's It For This Week!
That's what you need to know in Blockchain this week. If you have any feedback, or would like to share a story with us, simply reply to this email, or Tweet us on @Global Crypto_. 
We'll chat to you again next week! 
Cath and the Team