Reading Time:
2
minutes
Elon Musk has, yet again, created market havoc with his tweets. Musk took to Twitter to announce that electric vehicle manufacturer, Tesla, will no longer accept Bitcoin as payment for its vehicles. The announcement comes less than 2 months after Tesla started to accept Bitcoin.
The news came as quite a shock to the crypto industry. Musk cited environmental concerns as an influencing factor for the company's decision:
"We are concerned about rapidly increasing use of fossil fuels for Bitcoin mining and transactions, especially coal, which has the worst emissions of any fuel."
Tesla & Bitcoin pic.twitter.com/YSswJmVZhP

— Elon Musk (@elonmusk) May 12, 2021
Tesla began accepting Bitcoin as payment in late March 2021, after the company purchased $1.5 billion worth of Bitcoin. Musk then outlined that  the company would not sell its Bitcoin reserves, but rather hold it until such a time that mining transitions to a more sustainable energy. Tesla intends to use Bitcoin for transactions, as soon as the mining process becomes more environmentally friendly.
The price of Bitcoin has since dropped more than 10% over the past 24 hours, according to CoinMarketCap, and is currently trading at $50,870
Musk added that Tesla is looking at other cryptocurrencies that use less than 1% of the transaction/energy that Bitcoin uses. According to data by TRG Datacenters, a Bitcoin transaction uses 707KWh per transaction, whilst the likes of XRP, uses only 0.0079KWh per transaction.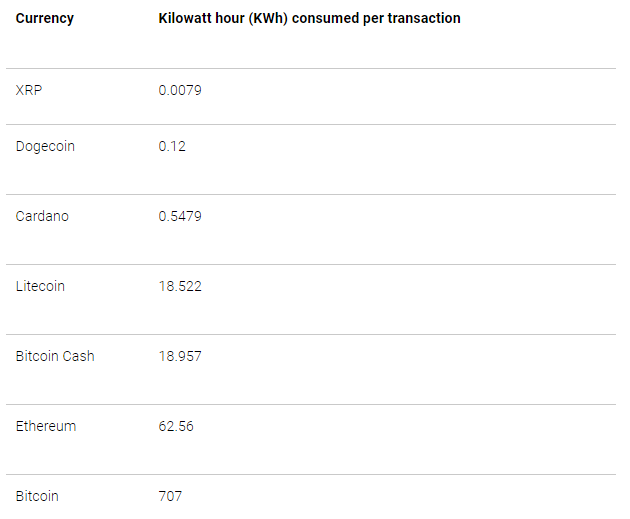 It seems that Musk may have been looking at alternatives to Bitcoin when he put up a Twitter poll earlier this week, asking if Tesla should start accepting Dogecoin payments:
Do you want Tesla to accept Doge?

— Elon Musk (@elonmusk) May 11, 2021
Feature image by NiG-News from flickr