Reading Time:
8
minutes
When the sun rose on Saturday morning the 7th of September, few – even in Cape Town – realised just how hot a day the city was in for. After months of bear-market-like wind, rain and only-just-above-freezing temperatures, Cape Town hadn't had a chance to show its splendour. But it chose the first Saturday of Spring to do just that.
It would seem the first Saturday of Spring in the Southern Hemisphere was a remarkably fitting day to host the inaugural Crypto Fest, a festival of crypto enthusiasts put together by industry pioneers Bitcoin Events, the same crew that sweat it out for the six-year-running Blockchain Africa conferences.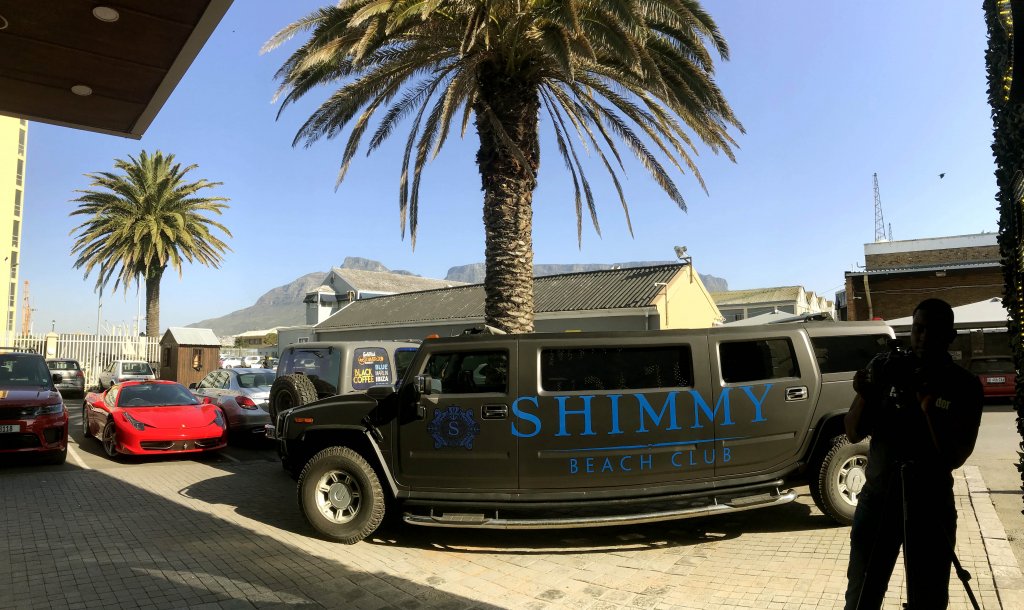 This was a Spring day that Cape Town will never let anyone privileged enough to experience it forget. For those dedicated individuals committed to sitting through each session non-stop from 11:30 until 18:30, they will have to wait like altcoin bag holders until another belter of a clear, still and sunny Cape Town day comes along as good as Saturday's.
Crypto Fest saw over 250 people come from all over the world to engage with, talk about, present on, dialogue, and learn everything this still nascent crypto trading industry has going for it. Focussing on payments, investing, trading and even touching on social good opportunities, Crypto Fest was a first-of-its-kind event that looked to incorporate the excitement and dynamism of music festivals more commonly experienced by Rocking The Daisies goers.
And while Good Luck didn't take to this stage, the venue itself provided equally vivacious energy. Held at the Waterfront's Shimmy Beach Club, with its sapphire square glass pool raised off ground level, its equally bluish ocean lapping the pier surrounding it, a deck bar of A-list party proportions and a club of world-beating sound capabilities, it really did play a significant role in the act of a memorable day.
While I'm sure the event organisers will attest that the energy was at times almost too much to take in, with excited crypto enthusiasts loudly debating with exchanges from all over the world in the exhibition area, it was endurable – and attendees understood this was a festival, not a conference. I'm just as sure the organisers will introduce short breaks at the next event, with attendees having to come and go as they decided on which presentations were most likely to provide the most value in an entire-day, non-stop program. These would be the only drawbacks from an otherwise outstanding first event, and ones I have already received acknowledgement from the Bitcoin Events team.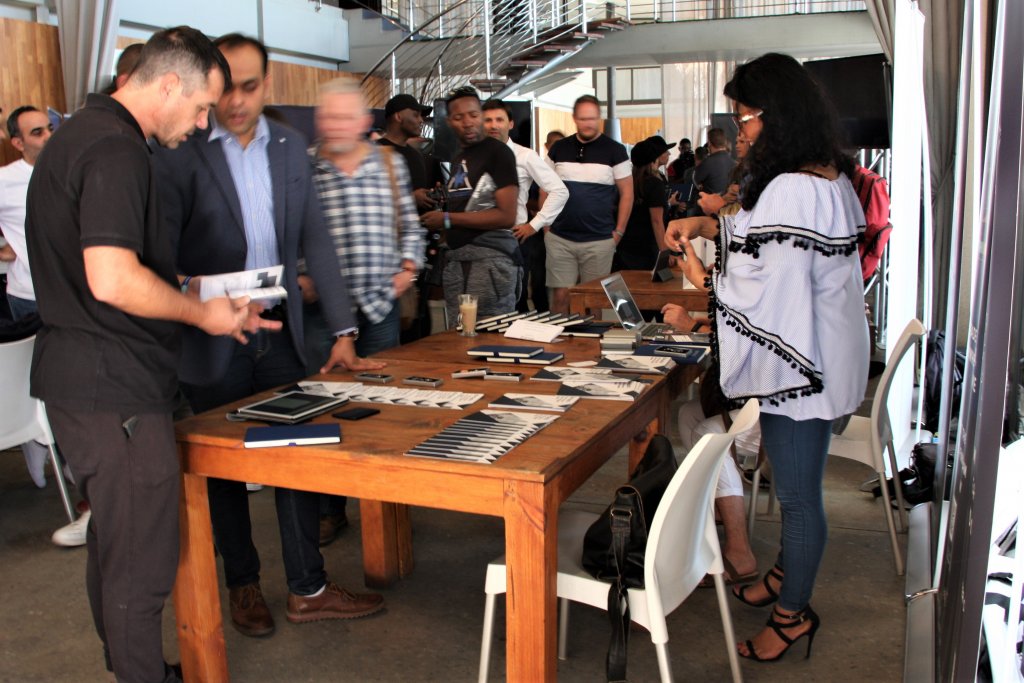 In terms of valuable presentations, there were many. With Richard de Sousa getting proceedings underway with a particularly passionate overview of why he believes we're seeing a significant revolution take place before our very eyes. In terms of passion though, the audience member who asked Richard a few questions was deeply passionate in his querying de Sousa on early videos mentioning now-proven MLM Schemes, almost admonishing de Sousa to take them down. It's passion like this that makes crypto enthusiasts so unique.
PRESENTATIONS
Khaya Maloney, country manager for OKex took us through the opportunities available with derivatives trading. Shantnu Saxena presented why cryptocurrencies were being so closely watched by institutional investors and the value they see in the assets.
CRYPTO BATTLE: BITCOIN v BITCOIN CASH v BITCOIN SV
After these it was one of the highlights of the day: The showdown between Bitcoin, Bitcoin Cash, and Bitcoin SV. I and my Social Media team have been reprimanded on Twitter for referring to Bitcoin as Bitcoin Core, and while I believe this is a helpful colloquial term when contrasting the three protocols sharing the same historical blockchain, I will leave my explanation for a separate article.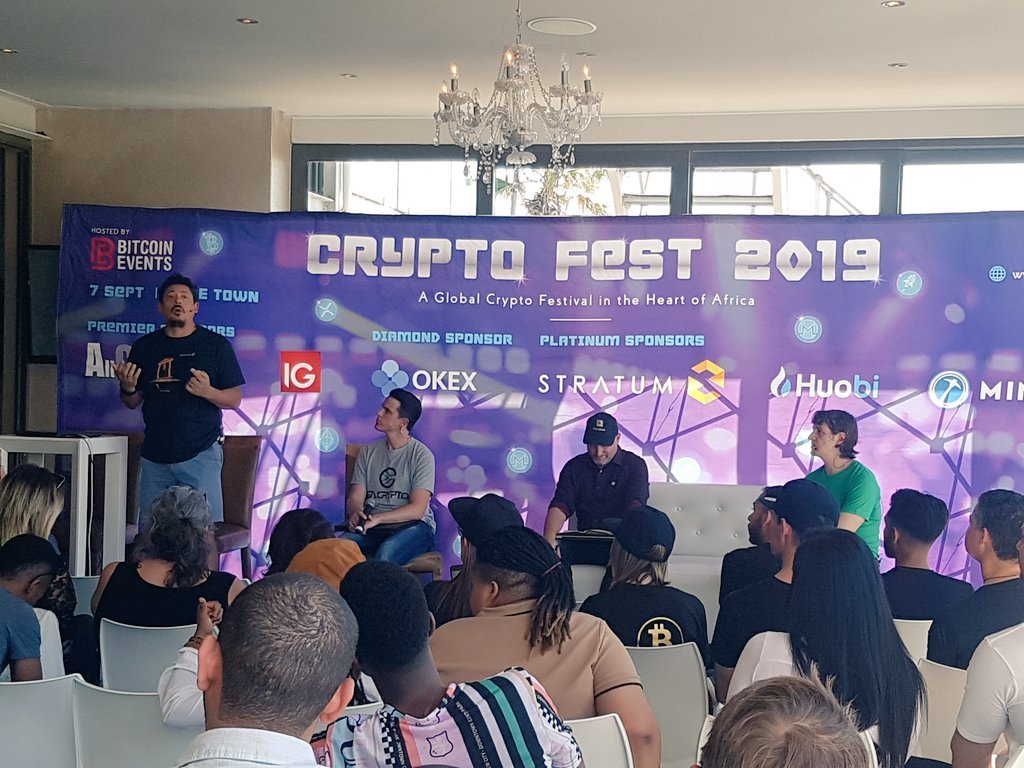 Rocelo Lopes, CEO of Stratum, was for me the star of the show with his bodacious charisma and care free choice of words. But his arguments weren't solid enough to make a strong case for Bitcoin Cash. As moderator, for me I have to say it was the CEO of Bitcoin SV Wallet Centbee, Lorien Gamaroff who actually made the most lasting impression on the audience. While the majority of crypto enthusiasts view Craig Wright and his supported Bitcoin fork "Bitcoin SV" as somewhat of a hopeless lost cause, Gamaroff provides a ray of light in their ecosystem, seemingly genuinely convinced of the blockchain's ability to achieve the vision of Satoshi Nakamoto for a decentralised, peer-to-peer digital cash.
From my perspective, Gamaroff was the clear winner of the debate, but many educated enthusiasts would still doubt the blockchain's ability to attract passionate and purpose driven developers to pry away the wholly committed volunteer Bitcoin developers and community. Warren Gray, of CoinEd, provided a solid representation for Bitcoin, and at times it seemed as though the debate was being fought between Gamaroff and him.
REVOLUTION?
In a treat for festival attendees, Simon Dingle was due next after the delicious debate. Dingle is one South Africa's most prominent speakers in the Tech space, if not in general, and having him perform his provocative and inspiring material is always a big draw card for many tech geeks globally. Simon made a revolution-like call to arms for crypto lovers everywhere, paraphrasing the oft-quoted saying misattributed to Gandhi (it was more directly spoken by unionist Nicholas Klein): "First they ignore you, then they laugh at you, then they fight you, then you win." From this narrative, he posits that we are entering the "fighting phase" of crypto's evolution, and we need to be prepared for an almighty battle.
Following Dingle's rousing call to arms, came an accompanying call to action: Be proud of South Africa and build it. Ironically, from a Brit. Abraham Cambridge, CEO of The Sun Exchange, is from England but now lives and trades here in South Africa. And his passion for the country and its energy opportunities is infectious.
Martin Harris, Market Analyst for trading giant IG, provided some unique insights into how to better oneself as a trader and investor, with detailed chart examples and trend disciplines to apply. Following Martin was serial digital entrepreneur John Lombela, who is not only a founding partner at SA Digital Assets, he is also the MD of Cryptovecs Capital, an investment firm investing into African blockchain startups.
Speaking of African blockchain startups, would a South African event focused on crypto-trading be complete without one of the country's great disruptors? Farzam Ehsani, CEO of VALR, took to the stage next and detailed his experience in trying to build a tech startup in South Africa, specifically a crypto startup no less. A riveting account from a natural born disruptor, disrupting a disruptive industry.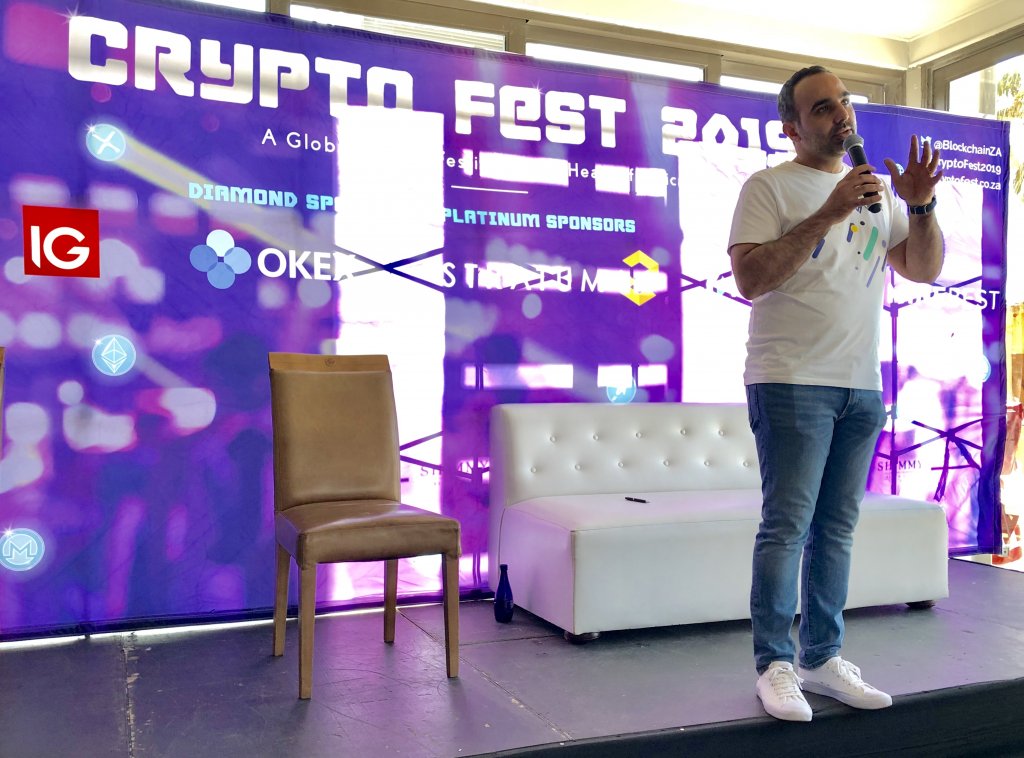 It was my poor fortune to follow Ehsani, with a presentation on the effects news can have on crypto prices. It was difficult to follow Ehsani, but on the bright side, he attracted a remarkable crowd. The conclusion of my talk probably disappointed the audience: News technically shouldn't affect the crypto markets, because there is no incentive to invest in 99% of cryptoassets outside of speculation. I'll turn my talk into a post in the coming days to explain this position.
This segued quite neatly into the next battle of the day: Bitcoin versus Gold. Hosted by one of Africa's great crypto podcasters Grey Jabesi, and comprising of Global Crypto and Avantcore's very own Graeme Tennant, along with Richard de Sousa, Martin Harris, Minebest VP Piotr Tylczynsk, it made for intriguing listening.
While Tylczynsk was strongly pro Bitcoin as the asset of choice, De Sousa and Tennant were neutral on the matter, but explained why Bitcoin was such a strong contender to replace Gold in coming decades. Harris however was tasked with defending Gold, and he did a fine job showcasing the commodity's ability to maintain a stable value no matter the economic environment. There was no real winner in the battle, but it's highly unlikely Bitcoin bulls would have felt any more inclined to exit some of their Bitcoin positions in favour of Gold.
Following on from the day's second battle came Ferrari-driving, model-hugging, charismatic Rocelo Lopes. Lopes is the definition of a serial crypto entrepreneur, and his punk dress code and anarchist ideologies fit so well into his animated personality and speaking style. His explanation of Stratum's (where he is CEO) latest venture excited even the most sleepy (or inebriated?) talk attendee.
CRYPTO FOR SOCIAL GOOD
It was then into some of the crypto for social good material many of the audience were keen on hearing, with Connie Gallipi of Bitgive and Vojtech Simetka of Blockchain for Humanity both presenting in a joint talk about how their projects are allowing for blockchain based transparent donations and leading the way for a future of more well-managed NGOs. After the duo's well handled double talk, was a main attraction: Athena Yu of Binance's Blockchain for Charity foundation. Yu shared just how passionate Binance are about social good, and just how much they're proving that with astonishing figures of donations going into Uganda through Binance coin wallets in recent months.
The opportunities for social upliftment through blockchain and crypto are simply staggering, and festival organisers are to be applauded for including such an important topic in the program.
By now it was 17:05, and we were deep into the afternoon, and on the home stretch toward Shimmy sundowners on the sea. Special acknowledgment needs to go to the remaining speakers here, as all were aware that their slots required extra effort to keep the attention of the remaining audience.
Having said that though, these were intriguing topics. Many attendees were excited to hear from new market disruptor Revix, who have been gaining significant traction in the market of late. Co-founder Louie Buys did a fine job explaining just how they've built their unique platform.
To close off the talks were Xago's Jurgen Kuhnel, who took us through Ripple's trust potential to replace current banking infrastructure, followed by the CEO of new noise-maker in the industry, Earle Loxton, CEO of DCX Capital. Having just been launched on the Easy Equities platform, and backed by Michael Jordaan, DCX10's investment token allows investors to bet on the Top 10 cryptocurrencies in a single token, with the Top 10 assets weighted by market cap.
And to conclude the frenetic festival was a panel discussion about the benefits or dangers of Facebook's Libra coin. Again moderated by the knowledgeable Grey Jabesi, this panel saw some new faces: With Claire Hall hailing from Sydney Australia, Prof. Angela Itzikowitz of ENS Africa, Marius Reitz of Luno, and then Graeme Tennant again joining the team on stage. The general consensus on Libra is that it detracts from the true purpose of cryptocurrencies, although some of the panel believe there is room for a well legislated cryptocurrency whose founders are in bed with the regulators. It was an intense dialogue which provoked many a question around big corporates gaining control of our financial system versus big government. Which would you prefer? The answer for most is neither.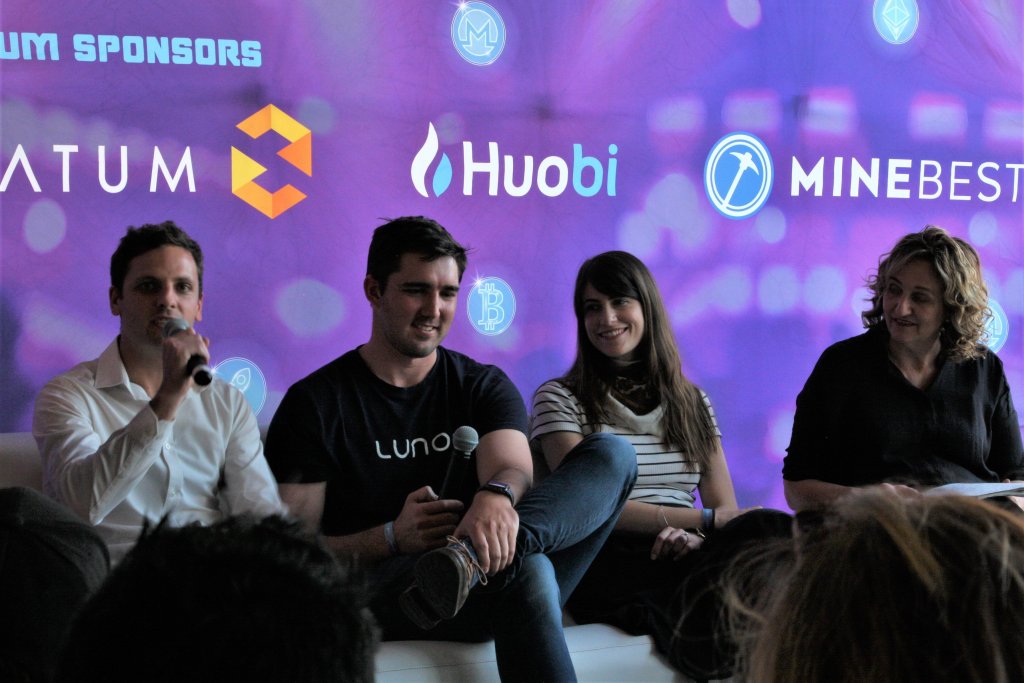 A CAPE TOWN SUNSET
And just like that, Crypto Fest 2019 was over. After a little thank you to the sponsors and a Skype Call (via Quantum Wormhole Reader) from the future, the sun was setting on a scintillating Cape Town sea, and it was time for purple and blue crypto cocktails and an afterparty at a venue to remember.
The day had seen hundreds of new ideas sparked, countless opportunities created through serendipitous meetings, and minds educated to what is possible with cryptoassets. The overwhelming narrative not only at Cryptofest but even at recent events around the country, is that the finance and investment industry is undergoing an almighty upheaval, and that upheaval may well cause clampdowns and restrictions, but it is an inevitable upheaval, and those down the rabbit hole first, will know exactly how to behave at the Mad Tea Party.
Here's to the Mad Hatters changing the world.
— – – – – – – – – – – – – – – – – – – –
Here are some photos of the memorable day…