Reading Time:
2
minutes
Basketball superstar LeBron James is the latest celebrity to partner with cryptocurrency exchange Crypto.com for a dazzling marketing campaign, which already includes movie actor Matt Damon and naming rights for a Los Angeles sports arena.
This past Friday, Crypto.com as well as James's non-profit foundation, The LeBron James Family Foundation (LJFF), announced an ongoing partnership that will support web3 related "educational and workforce development opportunities" that will help families and students create the "strong foundation in Web3 and blockchain-based decentralized applications."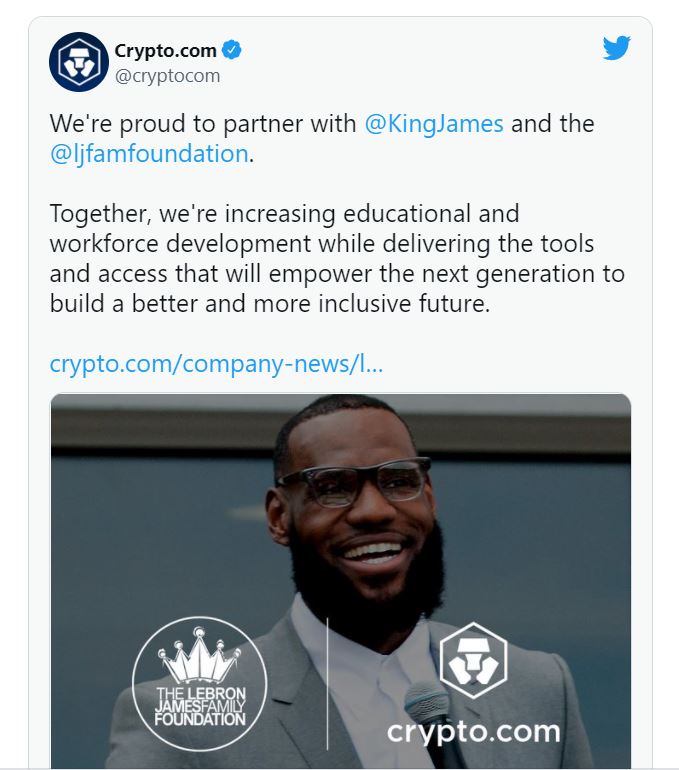 James, I PROMISE program started in 2018 with Akron Public Schools. It offers over 1,600 students and their families essential resources and family programs to ensure their success in the classroom and beyond.
The LJFF said in its press announcement.
"Building on a strong basis of educational empowerment, the partnership will give students and families connected to the I PROMISE program access to the tools and educational resources needed to participate and succeed in building Web3, which is the future of the internet."
The cryptocurrency platform is set to launch several education and job-training initiatives on Bitcoin, cryptocurrency, and other related technologies.
Crypto.com's partnership with James continues its mainstream marketing campaigns, and in recent months, the crypto firm has engaged Hollywood stars which have cost the company more than $1 billion.
In October 2021, Crypto.com premiered TV commercials starring Damon, who led the company's mainstream marketing campaigns. The company spent $100 million to produce the Damon-led series of ads.
Crypto.com did not comment whether James, under the new partnership, will appear in a TV commercial. The crypto giant is currently the fifth largest crypto exchange with a daily trade volume of about $3 billion, with over 10 million users worldwide.