Reading Time:
3
minutes
Press Release: Tuesday, November 27 2019, 13:00 CAT | Source: Luno
In what has been a tough week for cryptocurrencies, the price of Bitcoin dropped to its lowest level in six months. The current price on the country's most popular cryptocurrency exchange, Luno, is R114 851 after a week of sustained downward pressure.
Bitcoin price over one year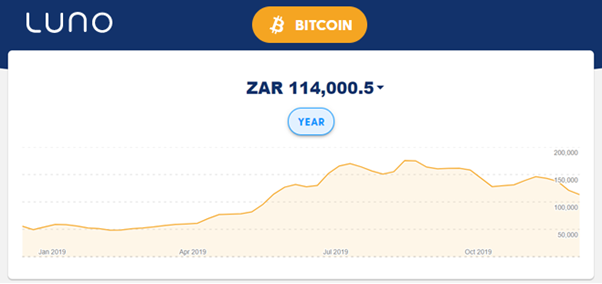 Marius Reitz, Luno's GM for Africa, says that while volatility is par for the course in cryptocurrency, there are several possible reasons for the decline and that there does not appear to be a single trigger for the sell-off. "As an exchange, we can only speculate, but we think that mining capitulation is likely to be one of the main factors as this was also behind the 50% price drop in November 2018."
He explains that cryptocurrency miners keep the Bitcoin network running and their performance can be tracked daily by hash rates, the amount of computing power dedicated to the Bitcoin network. "When smaller miners are unable to continue operations due to a Bitcoin price drop, since their costs remain steady, they exit the market and we see this in the decline in the hash rate. Crypto miners, who are large Bitcoin holders, start selling Bitcoin to keep operations running and this results in a spill-over effect for other miners too," he says.
According to Reitz, a second interesting factor is that large crypto miners are incentivised to push prices to production cost to take out the smaller miners and consolidate hashing power. "Currently, indications are that the cost of production is around R88 000 ($6 000). The price has dipped into that range in the past week."
The other major coins, Ethereum now at R2 155 ($146) and Bitcoin Cash at R3 100 ($210), have both followed Bitcoin lower.
Reitz says the current price drop follows a period of ongoing market uncertainty. "Investors may be starting to look to the year end and closing positions which they are unsure about. In addition, negative sentiment is affecting all asset classes, driven by the global geopolitical news flow. The People's Bank of China warned against the risk of trading in cryptocurrencies last week, which had some influence on the price of cryptocurrencies."
Despite the drop, Reitz says a longer-term perspective is important. "Most major coins are, in fact, trading higher than they were 12 months ago. Bitcoin and other cryptocurrencies have great potential to be effective tools for storing, maintaining and exchanging value – this hasn't changed. In fact, people in South Africa are buying cryptocurrency for the first time every day due to the drop in prices."
Cryptocurrencies are a new asset class, so there is a higher level of volatility compared with traditional trading. This is further fuelled by the relatively low levels of liquidity and the use of the coins for speculation.
"As the benefits of cryptocurrencies become clear, more people and businesses will hold the coins for their utility value, which will reduce speculation and volatility. As regulation is introduced and the functionality of the coins increases, the true price will become more consistent," says Reitz.
Regulation of cryptocurrencies across the globe continues to be shaped and is one of the biggest challenges facing cryptocurrencies globally. "We are very much in favour of regulation and are actively working with a number of central banks and financial regulators to drive regulation in the cryptocurrency industry. Although we are not required by law to do so, we are self-regulating which means we operate as if we were fully regulated," he concludes.
— – – – – – – – – – – – – – – – – – –
This article is a Press Release received from Luno. Global Crypto did not receive any form of compensation for its publication, and as this material is deemed newsworthy for the Southern African blockchain industry, it was thus published accordingly.