Reading Time:
2
minutes
According to a report by JP Morgan Chase, the largest bank in the US by assets, it appears that  The Grayscale Bitcoin Trust is outperforming gold exchange-traded funds.
The report highlighted the impressive contrast between the October flow trajectory for the Grayscale Bitcoin Trust and the equivalent flow trajectory for gold ETFs. The flow trajectory for the Grayscale Bitcoin Trust became considerably steeper while gold ETFs remained primarily flat.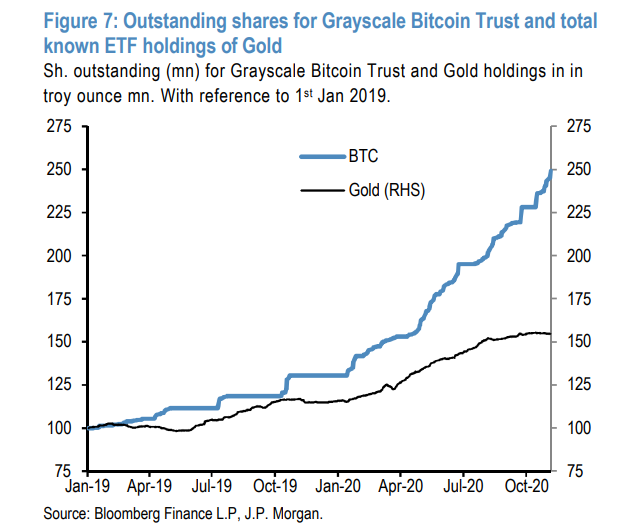 "This contrast lends support to the idea that some investors that previously invested in gold ETFs such as family offices, may be looking at bitcoin as an alternative to gold."
JP Morgan is of the view that the ascension of Grayscale Bitcoin Trust suggests that Bitcoin demand is not only driven by millennials and retail investors, but also institutional investors, including family offices and asset managers. 
"The potential long-term upside for bitcoin is considerable if it competes more intensely with gold as an "alternative" currency given that the market cap of bitcoin would have to rise 10 times from here to match the total private sector investment in gold via ETFs or bars and coins."
The report, however, also mentioned Bitcoin looks overbought according to the CME futures position indicator, as shown in Figure 8 below: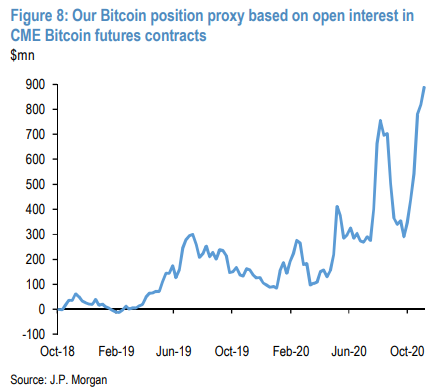 "The sharp spike in prices this week appears to have taken bitcoin close to overbought levels on our momentum signal framework, something that could potentially trigger profit taking or mean reversion flows."
Feature image by BackgroundNow from flickr