Reading Time:
4
minutes
Note from James Preston, Managing Editor: I asked Catherine, our Editor here at Global Crypto to put together a little something for Women's Day, and she suggested a piece that "celebrates women in blockchain". Great idea! But, typically, Catherine omitted herself from the article, because her humility steers her to do such deferential things. Consequently, you will note that the fifth and final woman celebrated in Southern African blockchain is Catherine herself. I added her to the list, because her understanding of the technology is mightily impressive, but her ability to write about it is arguably second to none!
Enjoy this short celebration of some of the key women in the space, as we drive toward societal equality, especially in the Tech space!
— – – – – – – – – – – – –
Blockchain technologies have shaken up the world of finance. But, from the outside, the worlds of cryptocurrencies, fintech, and finance, look a lot like an exclusive boys' club.
We need to change that perception, because, to be frank, it's wrong. Sure, most industries are headed up by a boys' club (name me one that isn't), but in the world of fintech and blockchain, women are often leading the charge. We're showcasing three five of our top women in blockchain in Southern Africa, to show you just how fierce our blockchain industry is:
BEYOND THE TRIALS: ALAKANANI ITIRELENG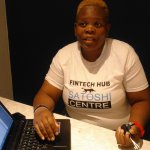 Known as "The Bitcoin Lady", Alakanani is a shining ray of light in a dark world. Despite immense challenges, including her location and lack of funding, Alakanani continues to pioneer in her home country of Botswana. Her story is one of remarkable hope. She tragically lost her son to illness in the late 2010s, but in her battle to fund her son's treatment, she heard about Bitcoin as a way to accept international donations.
This led Alakanani down a rabbit trail that has seen her grow from becoming the first proponent of Bitcoin in her country, to become one of the leading blockchain influencers on the African continent. A trained teacher, she has since transferred her teaching ability from traditional subjects to teaching Blockchain tech in her popular "Satoshi Centre". You can watch Alakanani being interviewed by James at Blockchain Africa 2019, or her recent interview on The Keiser Report:
Follow Bitcoin Lady on Twitter

SHAKING IT UP: KIRSTY BISSET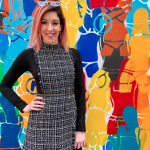 As CEO of a fintech-focused marketing solutions agency, Kirsty Bisset is no stranger to shaking it up. SwiftX is not her first rodeo, as she's successfully launched several businesses into the world, and turned them into true success stories. Kirsty brings chutzpah, skill, and extreme experience to the table. Her recent reflections on SwiftX's growth and approach revealed her motivation behind backing blockchain technologies:
Find Kirsty on Twitter | Find Kirsty on LinkedIn

WISDOM & VISION: SONYA KUHNEL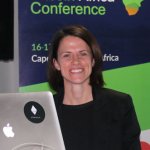 One of the first South African women to enter the blockchain realm, Sonya Kuhnel started a Bitcoin payment company in 2013. Sonya then went on to launch Bitcoin Events, a specialist conferencing and event coordination company that focuses on the blockchain industry. And, in keeping up her yearly pace, Sonya co-founded the Blockchain Academy in 2015. As an unstoppable force in the world of blockchain technologies. Sonya is also the co-founder and COO of Xago. But it's not just the level of work Sonya puts into this unique landscape; it's her wisdom too. A fervent believer in the inherent opportunities of blockchain technologies, Sonya is keenly inspired to help others enter, understand, and stay safe in the world of BTC and blockchain. Listen to this interview with Sonya, as hosted by CliffCentral:
Find Sonya on Twitter | Find Sonya on LinkedIn

A LEGEND WHO LEADS: MONICA SINGER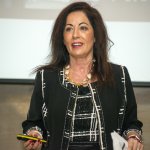 The world of finance in South Africa has a legend in its ranks, and that legend is none other than Monica Singer. After 18 years at Strate, Monica migrated her energies towards Consensys, and now the South African lead for the New York-based company. With a portfolio that reads like a business textbook, and accolades to boot, Monica's not afraid of ushering in change. As she absolutely believes, and works towards enabling, "blockchain will change everything". Learn more from Monica's recent talk at Blockchain Africa 2019:

DECENTRALIZED WORD WOMAN: CATHERINE JENKIN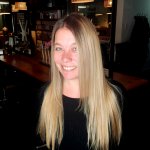 Catherine Jenkin, or more affectionately known as "Cath", is, as stated, one of the most talented wordsmiths you'll find South of the Sahara. And the fact that she is a tech geek just makes this industry all the more richer. Cath started in tech by contributing to one of the very first online forums in South Africa in the mid nineties, and has been digitally innovating ever since. A whizz in the digital marketing scene, Cath specialises in copywriting and editing, having edited some of SA's great entrepreneurs and authors, including both of digital marketing guru Mike Saunders' books. As an innovator, Cath had been watching Blockchain tech from as early as 2014, and we couldn't have asked for a better person to handle the editing of our little baby, Global Crypto. Here is Cath being interviewed after speaking at a Digital conference in Durban back in 2014:
There are, of course, countless other women in the Blockchain space here in Southern Africa, and this Women's Month, and specifically Women's Day, we at Global Crypto honour each and every one of you as you set a new standard and blaze a new trail in a world already dominated by men, let alone an industry overwhelmed by them. Don't give up. We honour you.