Reading Time:
6
minutes
It's hard to comprehend the fact that exactly 372 days ago, Blockchain Africa was abuzz with people talking about one of the most innovative technologies since the internet itself. Investec's Sandton headquarters played host to Africa's blockchain leaders, arguably none more so at the time than Investec's very own Blockchain lead Chris Becker who made a big announcement that day (crypto custody).
753 people filled the conference venue of the magnificent Investec HQ, and this in the height of a bear market!
No one could have predicted what would happen in 24 hours time…
The World Health Organisation declared a global pandemic, and markets everywhere collapsed, including cryptoassets.
Bitcoin crashed to astonishing depths in its biggest daily drop in history, losing $4200 of its value to close the day on $4600.
Ethereum crashed to $108.
People stared at their phones, stunned by the news, overwhelmed at what the future held. And the conference, Bitcoin Events' final in-person event since, closed on a sombre tone.
Who would have thought that 372 days on, Bitcoin would have appreciated 10x, Ethereum 16x, and Bitcoin Events would host their largest events in their history by attendee numbers? It is simply remarkable how world events have dictated society in the past year, and very few of us would have predicted back then that our industry would have benefitted so greatly.
And yet here we are. Bitcoin being tweeted about by Elon Musk, bought up by Morgan Stanley, Cathie Woods, and MicroStrategy – and Blockchain Africa 2021 entirely online with 3623 people watching! Life is unpredictable, but isn't that what makes it so fun?
Bitcoin Events had plenty of practice with virtual events, having run their inaugural DeFi conference virtually a few months after Blockchain Africa 2020, and then their second CryptoFest in November 2020 online as well. By this week, the team had their virtual events running like well-oiled machines.
Despite the well-drilled flow of the team, virtual events are always prone to technical challenges, and so it was with today's conference start, much to the disappointment of the few early attendees. But within only a few minutes things were back up and running, and the exceptional John Lombela was addressing the 396 early-birds.
Lombela is the perfect MC. With his flamboyant charisma he commands attention and interacted flawlessly with the various speakers – having operated in numerous virtual platforms, I can tell you this is no easy task!
Lombela quickly handed over to Global Crypto Leader at PwC (formerly Price Waterhouse Coopers) Henri Arslanian, who gave their overview for how blockchain will feasibly pervade every single aspect of society. The much acclaimed Ben Zhou was next, who had a busy day. CEO of the world's new favourite crypto derivatives exchange ByBit, Zhou proclaimed why cryptoassets are a new form of wealth generation like the estate markets of old, declaring ByBit's vision to facilitate this wealth creation.
Blockchain and Trade Finance were covered next by the Deputy CEO of the Southern African Trade & Finance Bank and DLTLedger's Atul Patel. It was then onto the visionary breakdown of Centralised Finance versus Decentralised Finance by Crypto.com's GM for Europe Mariana Gospodinova, who provided a rousing overview of what the future holds for decentralised finance, and why Crypto.com are so bullish on the many financial products decentralised finance offers.
Institutional Tokenisation, Encryption and Liquidity were all covered extensively in the sessions that followed, but there was no doubt that Cardano's Charles Hoskinson stole the show after lunch.
Due to the brand new Covid-19 outbreak in China, Hoskinson (at the time in Hong Kong) was unable to attend last year's event despite being scheduled to travel to Johannesburg to speak. So to have him reschedule his talk for 2021 was a treat for attendees, especially considering Cardano's neoteric approach to the African continent.
Hoskinson, a co-founder of Ethereum and founder of the similar (but distinctly novel) platform Cardano, outlaid why they believe Africa is so ripe for blockchain adoption, and why Cardano aims to be a key underpinning provider of infrastructure to this adoption. Hoskinson closed his keynote address by announcing that investment into Africa is the best investment a business can make, as well as the most rewarding.
Users can watch the entire talk from Hoskinson's home office in Colorado here:
Privacy project Dash were then suitably up next in a reorganised program, with Nigeria's lead Nathaniel Luz advocating that cryptoasset adoption was either happening in the next ten years, or not at all – a big claim considering his own country's risqué opinions on the technology.
Crowd favourite and Brazilian wiz Rocelo Lopes was once again in fine spirits with his loud T-Shirt and equally bombastic attitude toward how crypto is dominating global finance faster than even he expected.
The luminously skilled Tony Obiajuru of CryptoTV Plus then hosted an alluring and provocative panel around Ethereum 2.0 and Decentralised Finance. DeFi extraordinaire and AltCoinTrader CEO Richard de Sousa's eminence was profound as usual, as he argued that DeFi would consume all forms of financial products in the global economy in coming years, with his panelists not quite as confident as to the grandiosity of his perspective, but excited nonetheless.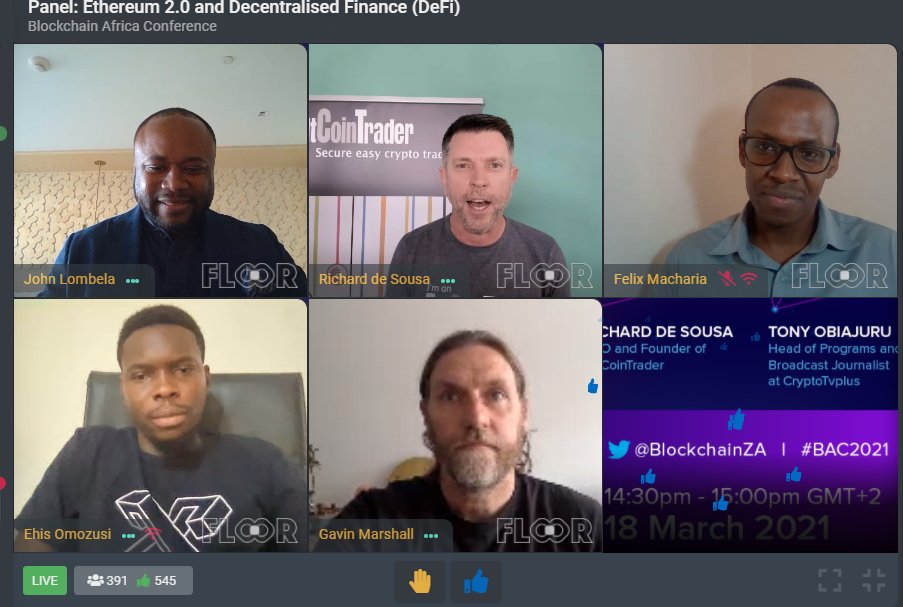 It was then another equally absorbing panel discussion with some of Africa's leading cryptoasset exchange executives, including the likes of Luno's Marius Reitz, Binance's Brenton Naicker, with representatives from Pesabase, Quidax, and the African Digital Asset Foundation respectively. This fascinating analysis about adoption in Africa was hosted by VALR's CEO Farzam Ehsani, a previous MC of Blockchain Africa in the past.
As expected, all platforms in the panel reported higher than expected user numbers and volumes, and believed 2021 was going to be a significant year for the industry.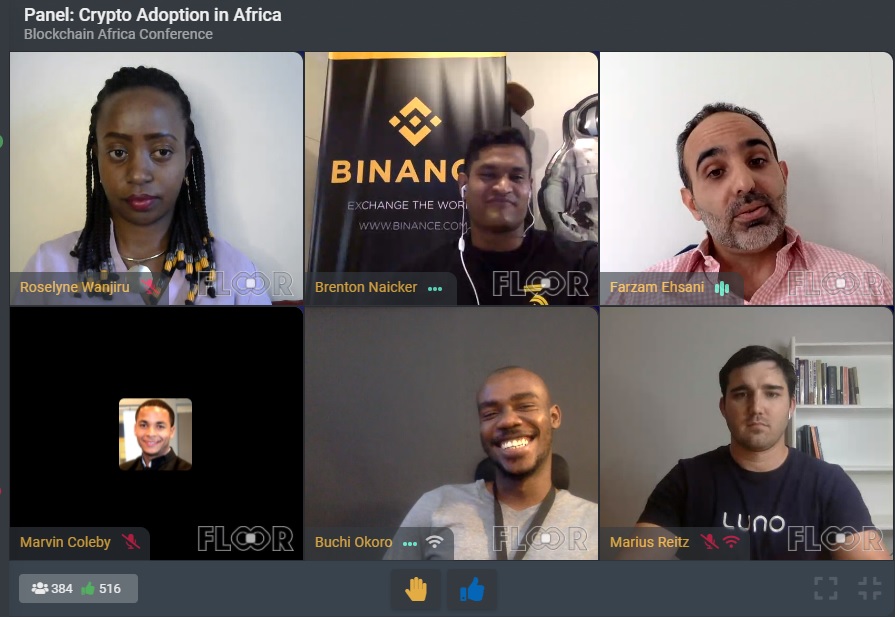 After rousing vision outlaid by some of the largest crypto platforms in the world, it was onto quite possibly the most anticipated event of the day (for the retail public at least), with crypto's biggest name in media, Peter McCormack hosting Dan Held among others in what was surely set to be an explosive "fireside chat" around institutional adoption.
Explosive it was, as Peter went straight to the point: He was focussing on Bitcoin, and Bitcoin only, "because that is all I am interested in," he boldly declared, citing intellectual honesty as his motive.
Crypto.com's Teana Baker-Taylor immediately exposed some intriguing news though, stating that the platform was going far beyond Bitcoin by building an NFT platform in addition to their myriad of other crypto products. The platform formerly known as Monaco have grown exponentially since the rebrand, and this statement was surely strategically timed?
Dan Held expounded on his reasons for Bitcoin's success not only to date, but ongoingly, reiterating that it is "Digital Gold", an opinion he has "held" since first discovering Bitcoin back in 2011, and one that is now being adopted finally by mainstream economists and institutions alike.
Minebest's Peter Tylczynski wholeheartedly agreed with Held's perspective, saying he had seen a mentality shift from institutional executives, indicating bigger things were to come for Bitcoin in the year ahead, citing the IMF's interest in the world's largest (and first) cryptocurrency by market cap.
Ben Zhou, CEO of ByBit, returned for the fireside and said that 2021 had been a year of institutional adoption, and believes that the US Federal Reserve's printing of 30% of all US Dollars in existence in the last 12 months alone was to blame (or thank?) for the adoption.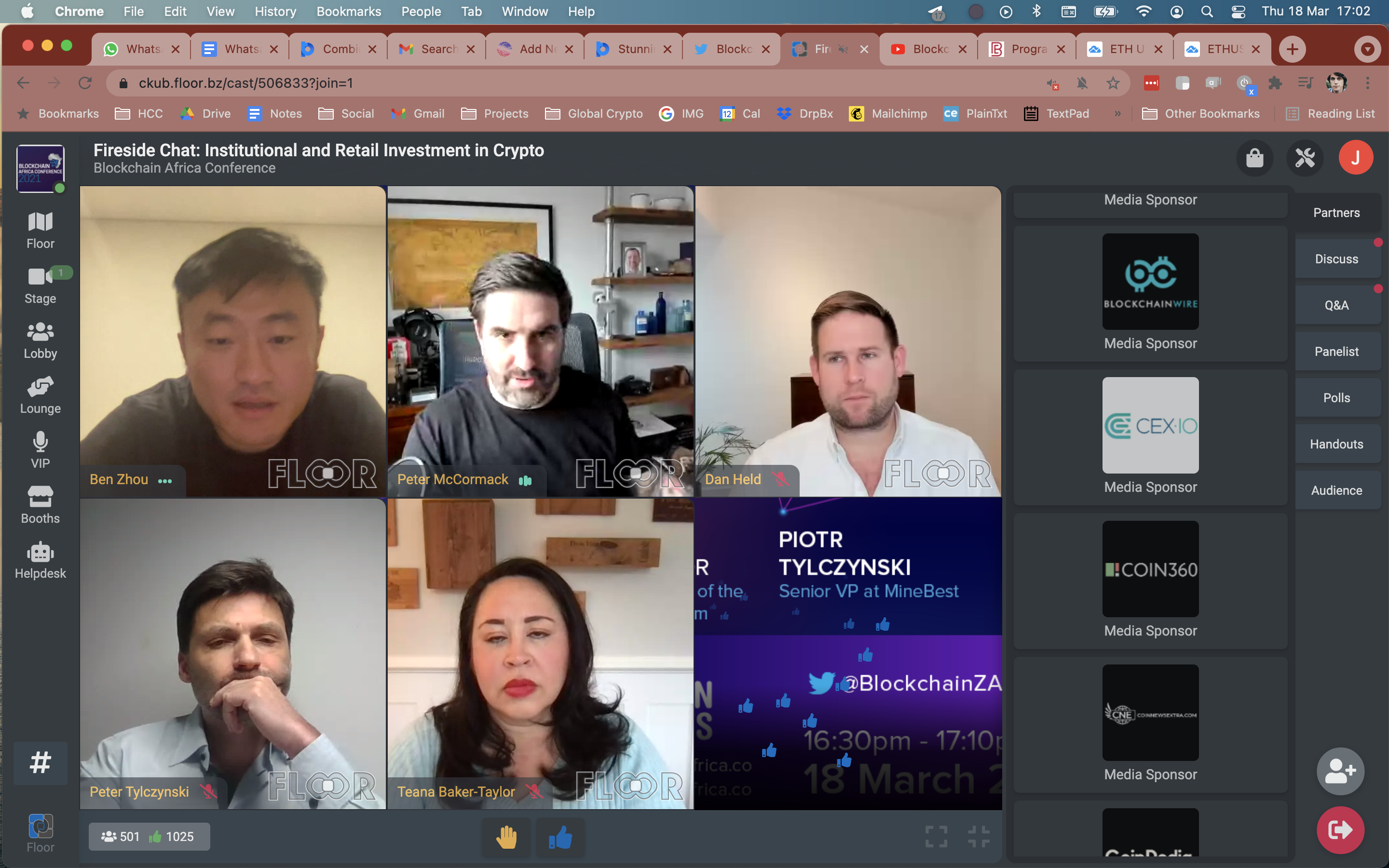 The gripping fireside chat was over all too quickly, but the appetite for more was satisfied with Stellar's Development Foundation CEO Denelle Dixon closing out day one's sessions by boldly stating that the network founded by Tim Draper was in the process building a truly global financial infrastructure. The Stellar Network has seen sumptuous success in the last five years, and to see the progress the foundation has made in the last half decade was nothing short of inspirational.
And before I could reach for my rather lowly third cup of coffee for the day, the sessions were closed by the eminent MC Mr Lombela, and it was time to give my computer, and bandwidth, a break.
We'll be back tomorrow with more comprehensive coverage of Africa's leading blockchain event, and up to the minute Twitter updates.
Until then, hodl.
See you tomorrow.