Reading Time:
3
minutes
In October last year, Global Crypto reported on BitClub's seeming "out of the blue" GPU Mining Pool freeze, which raised a number of red flags about a suspicious operation. While BitClub always raised eyebrows by promising incongruent returns and hyping potential investors up at free "wealth seminars", that October 2018 announcement was the first sign of deficiency.
It would seem the next, far weightier, and possibly final, sign has appeared. The very founders of BitClub themselves have been charged with conspiracy to commit wire fraud and the sale of unregistered securities.
The United States Department of Justice released a statement on Tuesday 10 December stating that they had arrested three men in connection with the operation. Matthew Brent Goettsche and Jobadiah Sinclair Weeks were charged with conspiracy to commit wire fraud along with offering and selling unregistered securities, a charge also brought against partner Joseph Frank Abel. A fourth defendant, Silviu Catalin Balaci, was arrested in Germany shortly after, while two defendants remain at large with their identities disclosed.
According to the FBI's investigations, BitClub was a fraudulent scheme founded in April 2014 that solicited money from investors. In email evidence gathered by investigators, Matt Goettsche conjured up the scheme with his conspirators saying that they should target "dumb investors" who were like "sheep", adding they should "build the model on the backs of idiots".
The men then set out an elaborate plan of creating a mirage of cryptocurrency mining. Thanks to the complexity of cryptocurrency that few retail investors understand, they were able to convince victims that BitClub was mining digital assets such as Bitcoin and Ethereum through their online portal. Investors only needed to "buy mines" at their secure locations, and "watch the returns come in".
The Attorney handling the case said that their investigations found that BitClub's communications were nothing more than elaborate lies and the operation was "a modern, high-tech Ponzi scheme".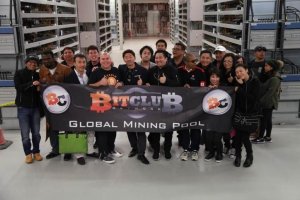 According to the investigation, BitClub generated a staggering $722 million from unsuspecting victims, which the US Justice Department will aim to claw back from the suspects, all of whom are in custody until their bail hearings, the dates of which are yet to be confirmed.
The department is calling on anyone who believes they are victims of the case to visit a uniquely created link on their website, where they can fill out forms and submit for use in the investigation.
Yet again, the ugly side of human nature rears its head in the world of cryptocurrency. Due to its complex and very difficult to understand infrastructure, coupled with humanity's inherent greed, fraud cases like this will continue to be unearthed. But these cases should not detract from the incredible work being done by authentic developers building on the Bitcoin and Ethereum networks, along with the many other legitimate blockchain projects.
Global Crypto was built to assist in the education of cryptoasset enthusiasts, and we encourage anyone seeking to find out more about cryptoassets to join one of either our Telegram or Whatsapp groups, or contact our team on Twitter or Facebook at any time.
No money is easy. And the arrest of these BitClub founders prove that even when you think you've made "an easy" $722 million, you'll eventually have to pay for it.