Reading Time:
2
minutes
Press Release: Wednesday, January 19 2022, 07:45 CAT | Source: Binance
Binance, the world's leading blockchain and cryptocurrency infrastructure provider, has completed the 18th quarterly burn, via the newly introduced BNB Auto-Burn procedure. A total of 1,684,387.11 BNB was removed from circulation using the new protocol, which can be tracked using bnbburn.info – a platform built by the BSC community. This amount includes an additional 6,296.305493 BNB that was effectively burned via the Pioneer Burn Program.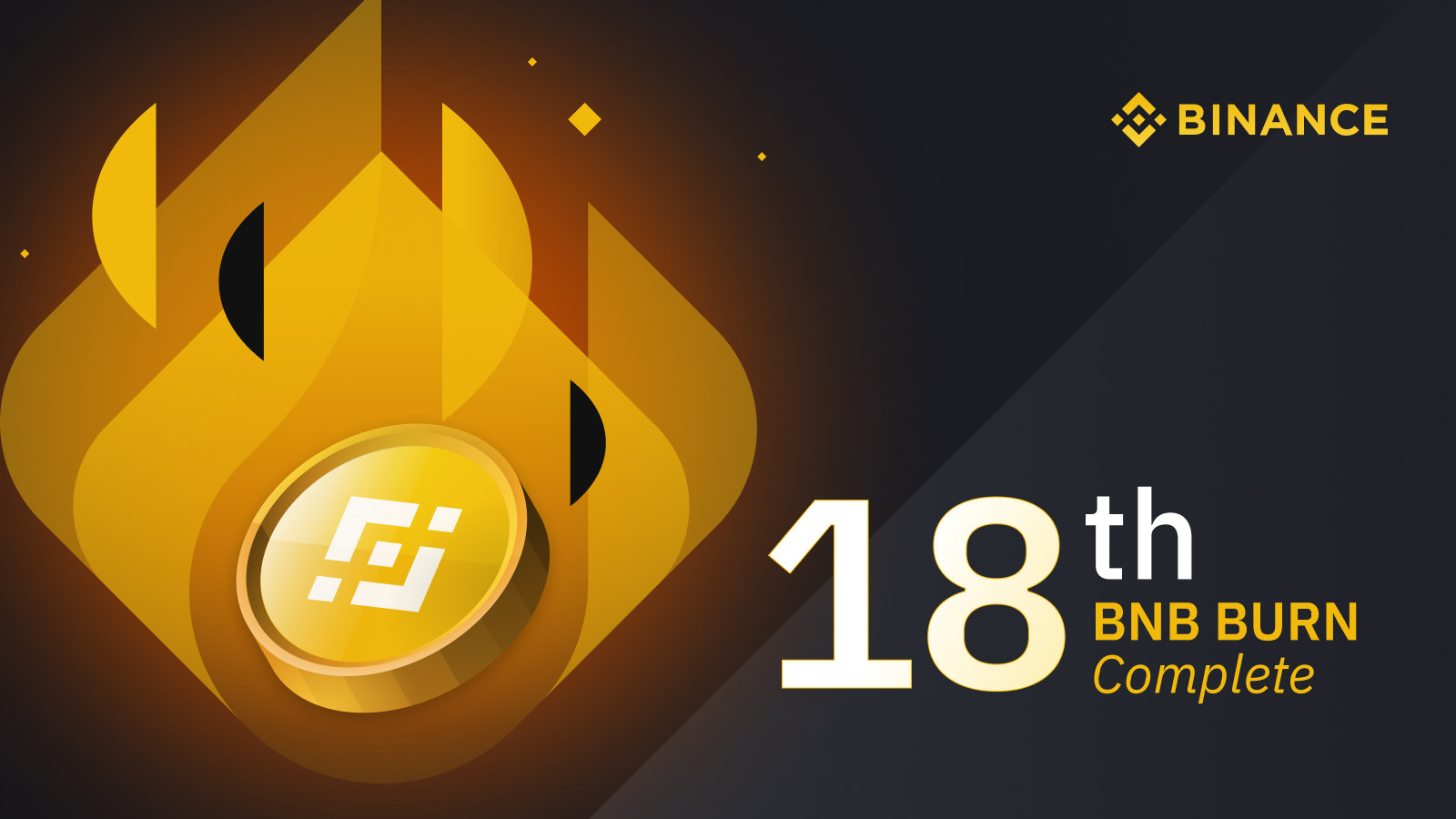 As part of BNB's journey to greater innovation, Binance announced BNB Auto-Burn in December 2021, a new mechanism designed to further enhance a healthy blockchain ecosystem together with the BSC and BNB communities.
"The implementation of the BNB Auto-Burn is a natural next step in BNB's journey and will help the BNB community grow through providing greater autonomy, transparency and predictability." said Changpeng Zhao (CZ), co-founder and CEO of Binance.
BNB Auto-Burn will be both autonomous and automatic and will be self-adjusting in that the burn amount will be based on the price of BNB, which, in turn, reflects the supply and demand for BNB, as well as the number of blocks produced during a quarter calculated on the basis of on-chain information.  The BNB Auto-Burn formula is based on the price of BNB, as well as the number of blocks produced during a quarter:

Further information on the formula and its variables are detailed in Binance's blog post.
BNB is its own living, breathing ecosystem and the BNB Auto-Burn is a part of its evolution. In addition to being the native token that "fuels" transactions on BSC (similar to gas on Ethereum), BNB is also necessary to participate in the decentralized on-chain governance of BSC. Both BSC and BNB are supported by a community of users, developers, validators, and delegators. Binance does not control or operate BSC.
Since its introduction in 2017, BNB continues to evolve as a result of the community's feedback and support. The introduction of the BNB Auto-Burn is the next phase in the development of BSC. More importantly, the move cements the continuing evolution of BNB, which enhances its ability to help Build 'N' Build  the blockchain ecosystem.
BNB Auto-Burn will continue to follow the quarterly schedule of the original BNB Burn, and the value will remain publicly available at bnbburn.info. BNB Auto-Burn will be halted when the total circulation of BNB drops below 100 million.
— – – – – – – – – – – – – – – – – – –
This article is a Press Release received from Binance. Global Crypto did not receive any form of compensation for its publication, and as this material is deemed newsworthy for the Southern African blockchain industry, it was thus published accordingly.