Reading Time:
4
minutes
As a media platform headquartered out of Africa, we wanted to run a series that highlights some of the leading voices that are impacting the blockchain industry on the Mother Continent. And there is arguably no better "mother voice" than that of our very own Senior Editor, Catherine Jenkin.
It may come across as a little narcissistic profiling an influencer of your own platform, but I'm sure you'll forgive us, because today our Senior Editor celebrates her 40th birthday. There couldn't be a better person to profile, on such a fitting day.
Catherine is truly a digital pioneer, in so many senses of the word. She was one of the very first internet users in the late adopting South Africa. Although the country has become a leading tech innovator in recent years through the acceleration of innovation out of the Silicon Cape, back in the early nineties, the Republic was battling to come to grips with its apartheid history, and so technological adoption was slow.
So slow in fact, that less that 10% of the country's population were connected to the internet by the end of the millennium.
Despite this, Catherine inherently knew that the internet would change the world. And as an activist by nature, a wordsmith, a passionate reporter, and downright brilliant writer, she did all she possibly could to make sure she was connected to the world wide web.
And connect she did.
Starting up some of the first blogs on the African continent, trolling the earliest chat rooms (the best part of nineties internet), and installing the latest version of Netscape at each release, Cath became the go to voice on internet media. So fast and intuitive was Cath's adoption that it would not surprise me if she was South Africa's very first female blogger. Perhaps even first outright blogger.
Catherine's parents were something special. She was raised in a home where possibility was honoured and everyone had a chance to make a difference. Everyone. That included people of colour who were legally separated from numerous societal activities under the draconian apartheid regime. The Jenkins clan did everything within their power to support people of colour who needed shelter, advice, education, even basic food provisions.
Such support came at a cost though. Jenkin's father had to relocate to a smaller town as his life became endangered, and their friends had all but abandoned them. With no friends and little choice for grand careers, the clan focused on making a difference where they were. And judging by the legacy left by both of Catherine's parents revealed by local newspaper clippings, it would seem it was some difference.
It was this upbringing in simple and humble surroundings that forged Catherine. She, like her parents before her, absorbed their passion for injustice and desire to make things right. She saw first hand how important it was to make a difference for the disadvantaged and downright marginalised, and her career took on a similar trajectory.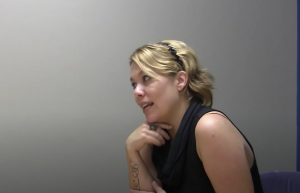 Commencing her career in the media industry, Catherine went straight to work on her passion: The pen typewriter keyboard. Catherine knew from many years trolling nineties chat rooms and conspiracy forums behind a clickety mechanical computer keyboard that she wanted to be a writer. And after flying through her BA in English and Communications at the University of South Africa, a writer she was destined to become.
After achieving a fast and successful University degree, Catherine's digital prowess caused her to focus her prodigious skills and talent on social upliftment. This led to running the websites and digital media for the Non-Profit organisation Info4Africa, a self-funded charity that helps disadvantaged people access services such as hospice, legal, HIV testing, and rape counselling.
The apple doesn't fall far from the tree.
It was this very conviction for justice that led Catherine to Bitcoin. As a tech innovator and digital whiz, Catherine found herself hearing more and more about "Satoshi Nakamoto's Bitcoin". When she did the research and read the whitepaper, she realised this was revolutionary.
While billions of people starved due to repulsively corrupt economic systems, here was the first truly digital money, but money that would be entirely free from those egregious systems. Independent, sovereign, internet money. This was was the next layer of the internet, and if the internet was the next layer of human evolution, then who knew what was to come with a truly decentralised internet money.
It wasn't long after this exciting discovery that I as Executive Editor of Global Crypto sat down with my good friend for a coffee at a local Durban hotspot.
No, not a Coronavirus hotspot (at the time), but one of those coffee houses where you'd bump into anyone who's anyone and hear about the latest gossip in the city's aristocratic spheres.
At the time, we were still "SA Crypto", as our focus was to report on the South African industry. I told Catherine of what we were building, and her eyes sparkled. Knowing her expertise and seeing a glint of passion for Bitcoin's promise, I asked her if she would assist us in building the country's first dedicated news site for the industry.
The rest is history.
That was in late 2016. Since then, SA Crypto has grown to a community base of over 5000 people, and rebranded to focus on the industry internationally.
Catherine has been instrumental in the building of this brand. Her expertise and understanding of the technology (and its vastly changing landscape) have positioned us as one of the most relevant voices in the space, certainly on the African continent. There is just absolutely no way we would be where we are today without Catherine's hard work.
To top it all off, Catherine captured the heart of a blockchain developer. This software engineer has been one of Catherine's merriest friends in the mid nineties. Come full circle, and he was helping "SA Crypto" position themselves as the go-to resource for cryptoasset mining information, streaming our very first video on our YouTube channel back in February 2018.
Talk about serendipity.
Catherine's life is one of serendipity. And today, after 40 years of being in this world, she has sprinkled that providence on everyone that has had the privilege of knowing her.
Happy birthday to a leading African Blockchain voice. Happy birthday to our Senior Editor. Happy birthday Catherine.
Thank you.
Head on over to her Twitter profile and join us in spamming her account with birthday wishes! 🙂