Reading Time:
10
minutes
Special thanks to our partner PrimeXBT for this detailed analysis of the SPARK Airdrop:
XRP holders will be excited to know that by simply holding tokens from Ripple's cryptocurrency arm, they will be entitled to a new token on a 1:1 basis. This new token, known as SPARK, comes about as a utility fork of the XRP blockchain.
The people behind this new token are from a new decentralized network that is bringing full smart contract functionality to the XRP ecosystem called the Flare Network. Flare is the first Turing complete Federated Byzantine Agreement network and incorporates the Ethereum Virtual Machine.
The function of this new network is to allow any existing Ethereum application to be deployed on Flare including Decentralized Finance. Spark is Flare's native token and can be used to collateralize the trustless issuance of FXRP, a fully trustless representation of XRP on Flare.
Because FXRP is minted on Flare from XRP, on the XRP Ledger, and can then be settled back to the XRP Ledger, there is something to look forward to for XRP fans and holders
Spark is being handed out only to people who have an XRP balance at 00:00 GMT on 12/12/20. The amount of XRP dictates the amount of Spark that a person will have.
What is Spark token?
Currently, XRP's main utility has been towards cross border payments and internal banking settlements as this is the aim of Ripple, the parent company. However, Spark token is quite different from this, and actually has nothing to do with Ripple.
The Spark token comes from a new company, called the Flare Network, which is a distributed network running the Avalanche consensus protocol adapted to Federated Byzantine Agreement and leveraging the Ethereum Virtual Machine.
This allows the new network to deploy existing Ethereum applications on Flare and allows the network to be integrated in decentralized Finance. The role of the token is to colaterize the trustless issuance of FXRP on Flare. These tokens will also be used to generate useful data on Flare through an oracle system, and they are also used for network governance and spam prevention.
When there is an issuance of FXRP and the oracle system is used, there are opportunities where a level of cash flow can be provided to Spark token holders. The Spark tokens do have their roots in XRP though as FXRP is minted on Flare from XRP on the XRP Ledger and because of this, it can then be settled back to the XRP Ledger.
How many spark tokens will be given?
The initial issuance of Spark Tokens will be given to those who currently hold XRP in the form of an airdrop. This means of distribution indicates that the creation of Spark Tokens airdropped will of course closely mirror what is currently available in XRP.
The current circulating supply of XRP is around 45 billion. However, there is a set amount of Spark tokens that will be created — and that figure is 100 billion. This means that with XRP having 45 billion, 45 billion out of a total of 100 billion Sparks will be airdropped to XRP holders — just under half of the tokens.
The balance 55 billion Sparks will go to Flare Networks Limited and Flare Foundation.
The final figure to be determined by the airdrop will become clearer when a snapshot is taken on December 12 when it will be determined how many Sparks one will get based on how many XRP they hold.
How much is the XRP fork worth?
Because many people will be receiving this free token airdrop by the simple virtue of holding XRP, there will be a lot of questions about its value at launch — and even how its value will change after the airdrop.
In terms of a starting price when it goes live and is available to the general market, the prediction is quite speculative currently as there is no set price. The official website claims that there is no fixed value for spark token, but there is evidence of a number of exchanges supporting this project which will mean a marketshould bloom for it.
As has happened with forks in the past, the price of the newly forked coin is bound to be a lot lower than the token it was forked off. Currently, XRP is experiencing a big price surge thanks in part to the Spark announcement and is trading at around $0.62.
Looking at the role of the token and its place in the burgeoning ecosystem, there is certainly room for a utility token that bridges to Ethereum and offers another path to DeFi. The DeFi space has exploded in 2020 and looks to be finding its foundation going forward. Spark token and the Flare Network could well be a solid choice for DeFi going forward, which would drive the price up.
How much will I receive?
While the price of the Spark token at its airdrop time is unknown — but expected to be less than the price of XRP — the amount that will be airdropped is known. It has been made rather easy by the fork causing a 1:1 drop of Spark to XRP.
This means that for every XRP in circulation there will be one Spark token distributed and on a more micro level it means that depending on how many XRP tokens an individual is holding on December 12 means they will receive the same amount in Spark.
This is a free token airdrop that is determined on how much XRP one holds, and as such, it makes sense for believers in XRP to buy up and hold as much XRP as they can for this event.
In fact, this has been clearly seen as one of the main reasons XRP's price has been spiking in the past few weeks. XRP fans have been clearly buying up as many coins as they can in order to benefit from the fork which will result in an equal amount of Spark tokens as well.
How to claim free SPARK tokens?
The idea of an airdrop, and especially one based off of a fork, will have a few people confused as to how they receive these Spark tokens, and would like to understand more about the distribution of the tokens to all XRP holders.
Essentially, anyone who holds XRP in self-custody services can participate in this airdrop and will be eligible to receive the Spark tokens. However, actually claiming Spark will require some work and will differ depending on the type of wallet or exchange that you are using.
The main way to claim Spark is through the XRP toolkit. You can claim Spark by adding a message key, representing a Flare address, to your XRP Ledger account. By doing this, you are now affecting security, message keys are only informational. Your message key will be public on the XRP Ledger and used by the Flare Network to determine where to distribute your Spark tokens.
The Flare Network uses the same address format as the Ethereum Network. You use an address from an Ethereum wallet to produce a message key and claim Spark tokens. The same address will later be used on the Flare Network to access your Spark tokens.
This can be done in the following three steps
 Step 1: Get the Wallet
It is important to first get an Ethereum wallet, such as MetaMask, as well as Ledger devices. By doing this you will be able to use those wallets with coming Flare Network interfaces, similar to Uniswap and Ledger Live to view, send and receive Spark tokens.
You can use other Ethereum wallets that are not MetaMask or a Ledger device, but you just need to make sure that you have a backup of the secret key or recovery words. Also, If your wallet that you use is actually not  incompatible with the Flare Network, there is an option where you can use your secret key or recovery words to migrate your claimed Spark tokens to a new wallet.
Step 2: Copy Address
Having now set up your Ethereum wallet to which you hold the secret key or recovery words, you will need to copy the address. It is probably best to use a new address, one without any other assets. Below is an example of how to do this with Metamask — first,  open the extension and click on your address.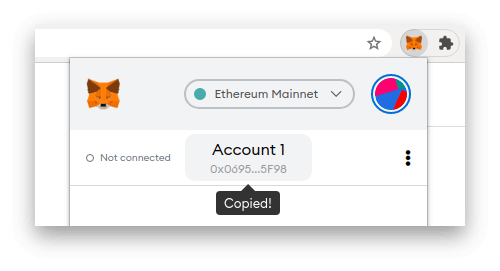 For those using a Ledger Nano X or Ledger Nano S, first plug in and unlock the device, then click Receive, select your desired Ethereum account, click Continue and copy the displayed addresses shown below.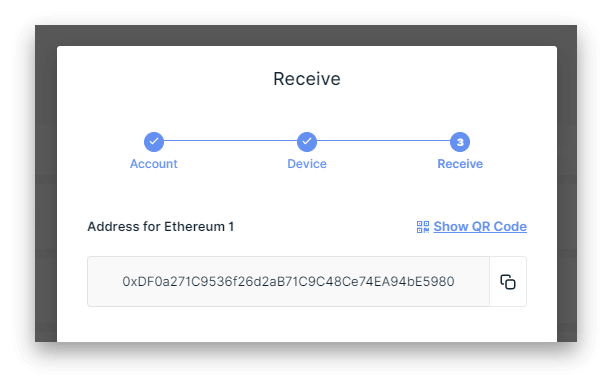 In the end, regardless of the Ethereum wallet you use, just make sure you copy the Ethereum address that you'd like to later use on the Flare Network. Your tokens will be distributed to this address on the Flare Network after launch.
Step 3: Set The Message Key
The final step will have you setting the message key. Once you have copied your Flare address, go to the XRP Toolkit and connect your XRP wallet. This will need you to go to Properties in the Account menu and paste your copied address in the message key field. XRP Toolkit will offer to convert your Flare address to the required format for storing it as a message key on the XRP Ledger. Click on the suggested format, then click the Update button to proceed.

Having clicked update, you will be required to review the transaction. Take some time to review all transaction details in your connected wallet and only confirm if the message key corresponds to your intended address. Once you have signed and submitted this, you are ready to receive your spark distribution.
Spark Airdrop And XRP Price
It has already been seen that the news of Spark's integration along the XRP rails has had a role to play in the price of XRP. The price of XRP climbed by 123 percent in just thirty days around the announcement of this airdrop, but there are also other factors at play.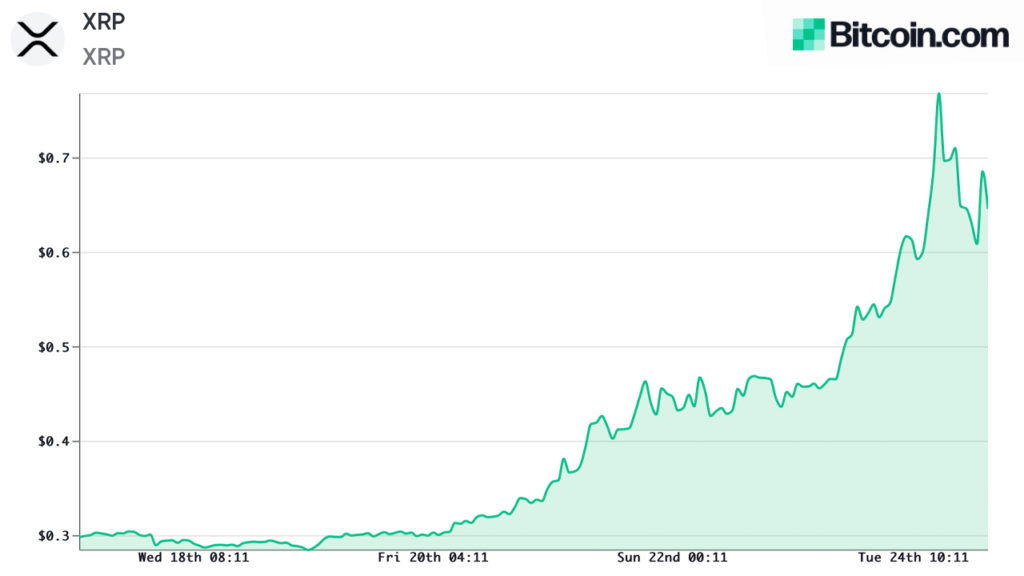 The price of XRP is also often determined by the health of the cryptocurrency market, and that is then determined by how Bitcoin's is doing. As it stands, Bitcoin is trying to topple over $20,000 and is driving the entire market up, but the XRP market will use this and probably grow even more before December 12.
As is often the case, speculation and price movements are known to move on rumors, rather than full events. So, in the lead up to December 12, there is likely to be much more XRP price action as more and more people try to buy up XRP in order to receive more Spark.
XRP has its own price barriers and resistances, and the major one is the $1 mark. If XRP is able to come close to that in the coming days before Spark, there is likely to be enough buying interest that the $1 mark could be breached, and even that XRP could stay above that as Spark also adds some more legitimacy and utility to XRP.
The airdrop of Spark token to XRP holders might then encourage them to use the protocol. How this works is, holders can deposit their Spark tokens onto the Flare Network, which then trustlessly mints FXRP on Flare Network, which is more or less similar to the actual XRP token and has the same value, except that it is interoperable with the ETH and other blockchains that utilise the Ethereum Virtual Machine (EVM).
XRP trading strategy
With this event lined up and expected to move the price of XRP around a lot in the coming weeks leading to it, and even afterwards, it is important to have a strategy as to handle the XRP price, and also to decide what to do with the Spark.
As mentioned above, the growth of the XRP market will probably continue until the 12th of December as more and more XRP will be sought and bought by users. This is also going to see the price keep rising thanks to a healthy Bitcoin price and cryptocurrency market.
Assuming that the height of the price of XRP will probably be just before the airdrop, investors can start to make strategies around that. If there is still a few weeks or days before the airdrop, it might be a good time to buy as the expectation is the value will rise.
However, once the event has happened, history dictates that the price will likely see a fall as the incentive to own XRP in the short term will be over and many people will sell at the new heightened price causing a quick collapse.
This is very much about timing. Accumulating XRP before the event goes live, and while the price is still rising is a good way to get cheaper coins — and benefit from the Spark Airdrop — but then one needs to be mindful to sell just after the airdrop when the price will likely plummet.
FAQ
Will Spark tokens have value?
The Spark token's value is uncertain at the moment, but it certainly will have value when it is released, and that value is expected to probably climb in the long run. Because the Spark token is addressing DeFi and key utility cases in this arena, there is a use for it. More so, because it is based around an established blockchain, and forked from XRP, it holds a lot more legitimacy.
Conclusion
The Spark Token Airdrop is a major event in that it is a new utility token that will offer the opportunity to grow out of the DeFi space. It is also a major event for XRP as the fork will come off the Ripple blockchain and have a role to play there.
In terms of traders, this has already had an impact for them as the price of XRP has more than doubled since the news broke of Spark Token. However, there is still much more action to come and it is worth being a part of.
To start trading XRP, PrimeXBT offers a free account sign up which is easy to do and quick to get started. Click here to sign up and to start trading XRP in order to benefit from the volatile market.
Disclaimer: The information provided in this article is collected and collaborated from a number of different sources and should not be taken as investing advice. It is much safer and smarter for any user looking to invest in cryptocurrency to do their own research and to understand the risk associated with it.