Reading Time:
< 1
minutes
Ukraine's vice prime minister and minister of digital transformation, Mykhailo Fedorov, tweeted the news on Wednesday morning, along with the country's official DOGE wallet address, in an attempt to solicit donations in the dog-themed cryptocurrency.
In a tweet, the Vp revealed that Ukraine would now accept cryptocurrency donations in Dogecoin (DOGE) from supporters of the conflict with Russia. "Now even meme can support our army and save lives from Russian invaders," He tagged billionaire and DOGE promoter Elon Musk.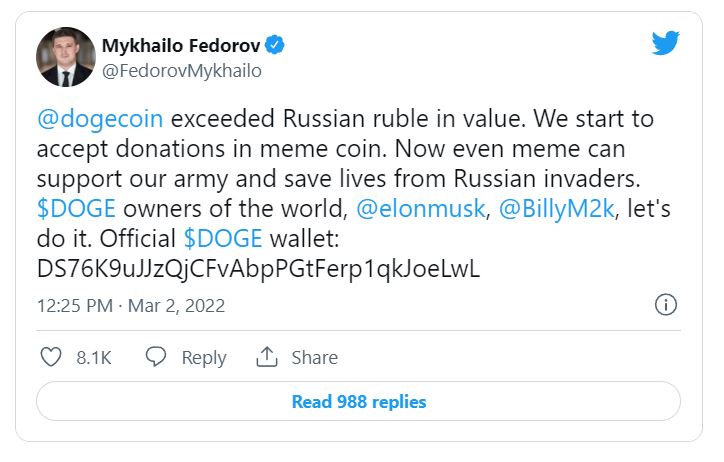 Ukraine has increased its cryptocurrency donation efforts in recent days, adding SOL and DOT donation addresses in addition to DOGE. Only bitcoin (BTC), ether (ETH), and tether (USDT) were listed in Ukraine's initial announcement accepting cryptocurrency donations.
So far, the crypto donation effort has raised more than $40 million, including additional contributions that poured in after Ukraine announced that it might conduct an airdrop to donors.
Markus, the founder of Dogecoin, responded to Federov via Twitter, saying he had personally "sent some" DOGE as a donation.
"Dogecoin users aren't usually wealthy, and dogecoin is generally used for small transactions, but we're a caring and passionate bunch," Markus tweeted. "Those who want to help will offer what they can, and I hope the country will be able to heal and rebuild stronger as a result of all of this."
According to reports, Ukraine's official DOGE wallet had received over 300 donations totaling approximately 272,000 DOGE, or $35,360.