Reading Time:
2
minutes
Press Release: Tuesday, February 02 2021, 12:30 CAT | Source: Binance
Binance, the world's leading cryptocurrency exchange, is proud to bring you our latest Webinar for the South African market. The cryptocurrency market has recently crossed the $1 Trillion mark, but it still offers users a unique opportunity, as you can trade 24/7 and for as little as R100 to get involved.
Register here to attend the FREE Workshop on Thursday February 4th at 6:00PM SAST
Trading Bots & Binance: An Online Workshop
If you think of trading –  most people imagine hours of looking at screens, checking markets and always being awake. The truth however is that trading can be easy, automated and make you money while you sleep.
Trading Bots – are strategies that you create that can trade for you based on some rules you choose. Whether you're sleeping, in a boardroom or on the beach – these bots check the markets and execute trades for you, 24/7, 365. It may sound complex but thanks to QuidPro users can easily create trading bots for Binance 100% free, and even test these in demo mode before risking a cent!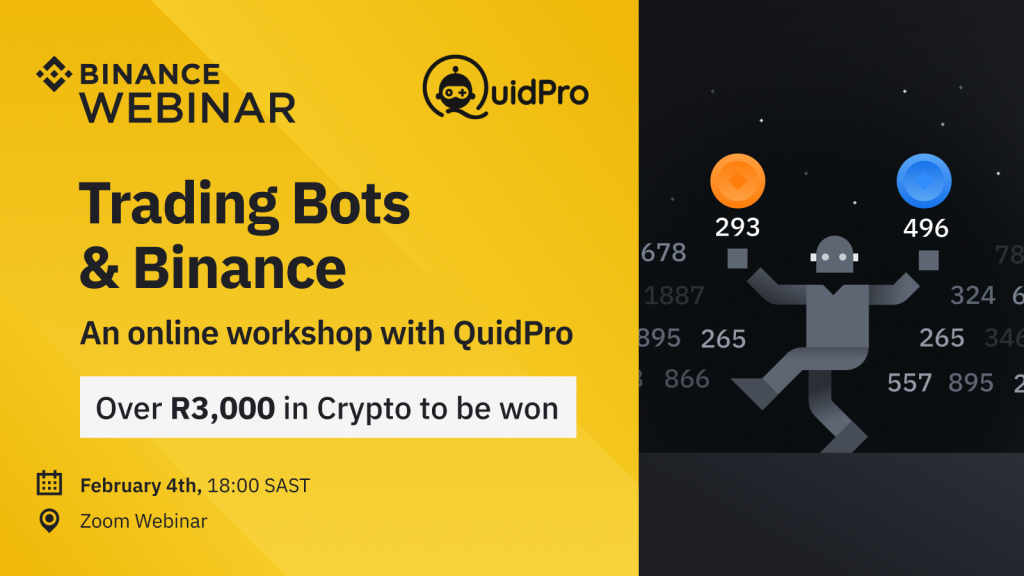 Join us for Binance South Africa's latest webinar , this Thursday February 4th at 6:00PM.  We will be showing you all how to create and use trading bots COMPLETELY FREE on your Binance account. There will be over R3,000 in crypto prizes for attendees.
——
GIVEAWAY : Over R3,000 in Crypto up for grabs, compliments of Binance SA
To qualify, you need to have a Binance account which you can set up in 60 seconds below:
https://www.binance.com/en/register?ref=M91NXGWT
Location: Zoom Webinar
Date and Time: February 4th, 18:00 SAST
Register Now: https://www.eventbrite.com/e/trading-bots-binance-an-online-workshop-tickets-139078741259
Webinar Highlights
Understand the very basics of Trading Bots
Learn how to create and launch your own Bots on Binance, 100% FREE
Win Official Binance Merchandise and a prize pool of over R3,000 in Crypto
Thanks to our partner QuidPro for their support
— – – – – – – – – – – – – – – – – – –
This article is a Press Release received from Binance. Global Crypto did not receive any form of compensation for its publication, and as this material is deemed newsworthy for the Southern African blockchain industry, it was thus published accordingly.