Reading Time:
4
minutes
As reported yesterday morning, there were some very strange trades on popular exchange VALR in the late hours of Thursday night 2 January. Since reporting on the incident, Global Crypto has received a number of complaints arguing that the article was one-sided in favour of the lucky traders who bought the Bitcoin at those low prices, instead of highlighting just how unlucky the trader who sold the Bitcoin was.
I feel this is fair comment, and when I ran the math on the only data I had on hand, it does indeed look like someone woke up with a very big headache on Friday morning. The trader who "market sold" their Bitcoin via API on Thursday night 2 January lost a lot of money, and they must surely be extremely upset about it.
Unfortunately, Global Crypto doesn't have access to VALR's entire order history, but we do have a screenshot from some of the trading that occurred at the time of the incident. Thanks to "StormTradingMat" on Twitter, who hails from Stellenbosch in the Western Cape, for providing us with his data. Unfortunately we're unable to ascertain the total number of Bitcoin sold in that Market Order executed via API. If you're able to assist, please reach out to us on info@globalcrypto.tv
In the meantime though, we have run the calculations using that provided screenshot.
We have divided the data into three segments, in the possibility that there were numerous traders selling Bitcoin at market price at the time. The reason we have done this is because there are a number of trades that executed at exactly the same time on Thursday night: 23:33:36. So there is the possibility that this was one trader using an API, and that all orders after 23:33:36 were other traders.
It is of course possible that the same trader simply executed a new trade two minutes after the previous one executed. So keep these possibilities in mind as you read the data.
Bottomline is: Traders lost more than R500,000 in value on Thursday night – and this is based on the screenshot we have on hand. According to some traders on the Global Crypto whatsapp group and on Twitter, the amount sold at that specific time was approximately 11 BTC. But that screenshot shows the most surprising of the orders, which were Bitcoin being sold at R10136, R3000, R1880, R690, R500, and R501 respectively. So it is here that we can work out the worst of the damage.
And that damage is significant indeed. On that screenshot alone, traders sold 6.09 Bitcoin using a Market Order, and this went into VALR's buy book, which at the time did not have that amount of Bitcoin for sale at market value, meaning lucky buyers who placed cheeky buy orders had their orders filled – and the seller/s was extremely unlucky.
In total, in that short period of slippage, that 6.09 Bitcoin was sold for R122,890, at an average price of R20,160 per Bitcoin. If that Bitcoin was sold at the market value of R102,508 per BTC at the time of trading, that 6.09 Bitcoin should have been worth R624,837. Meaning a trader/s lost out on R501,946 worth of Rand value.
If the trader who Market Sold at 23:33:36 was one trader (and the other trades were from different people), then that 23:33 seller sold a total of 3.61 Bitcoin for only R57,377. That 3.61 Bitcoin should have sold for R371,017, meaning the 23:33:36 trader lost out on R313,640 in Rand value. Again, bearing in mind this is based on the trade history we have on record.
You can see our calculations on this Google Sheet here, with the total averages in the below screenshot: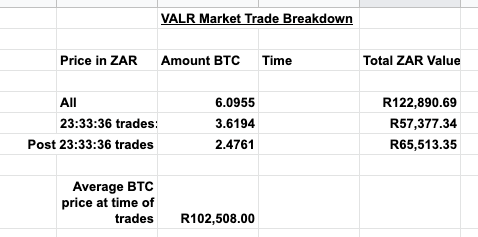 Whichever way you look at it, some people lost out on a lot of money on Thursday night. Potentially over half a million Rand. This is why it is so important to be responsible when trading with bots and APIs, because you won't be given warnings about low volume when placing Market Orders. We hope that this trader(s) had a lot more Bitcoin being sold at the time, and therefore their average price was much higher than the value of these orders captured in the screenshot. But if not, that's some serious damage.
If this unlucky trader(s) could reach out to us, we'd love to chat to you and get your side of the story, finding out exactly what happened that fateful night: info@globalcrypto.tv
Again, be very careful when trading via APIs and trading software. While they can be very helpful in automating your trading, you're at the mercy of the market without the warnings implemented on exchange's websites. Of course you are vulnerable to malicious attackers gaining control of those APIs and thus your exchange accounts as well.
Stay safe out there. And practice responsible exchange security!
Image by www_slon_pics from Pixabay