Reading Time:
3
minutes
Litecoin has announced that it has teamed up with Bibox Exchange and Ternio to release a special edition Litecoin BlockCard. The soon to be released debit card will enable users to spend the value of their cryptocurrency either online or in physical store locations, anywhere in the world where major credit cards are accepted. This special edition card will leverage the existing BlockCard platform Ternio has released.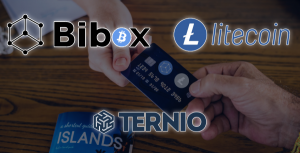 The Litecoin Foundation, Bibox Exchange, and Ternio want to give crypto holders the ability to spend cryptocurrency with the same ease as traditional credit cards. Through this collaboration, these three companies will help propel the adoption of crypto spending in everyday life. Customers will have the ability to make deposits in various cryptocurrencies and then keep their spendable value in Litecoin (LTC), Bibox Token (BIX), or Ternio (TERN).
"Bibox has always positioned ourselves as being on the forefront of crypto adoption," said Aries Wang, Co-Founder of Bibox. "By partnering with the Litecoin Foundation and Ternio we are able to leverage Bibox's robust exchange platform to help bring consumers more options to spend cryptocurrency with unprecedented ease".
Bibox Exchange will act as the custodian of users funds and leverage its $200+ million worth of crypto trading volume to help route the deposits and spending for users. The special edition debit card will first be released to United States residents and soon after for Non-US customers. Bibox Exchange and the Litecoin Foundation will integrate the debit card directly into the Bibox Exchange and LoafWallet – the official Litecoin wallet. Users will be able to access their cards directly within these ecosystems, giving  them instant access to spend.
"This is an exciting partnership for us as it furthers the Litecoin Foundation's mission to create more use cases for spending Litecoin in everyday life," said Charlie Lee, creator of Litecoin and Managing Director of the Litecoin Foundation. "Leveraging Ternio's BlockCard platform with Bibox's exchange engine gives Litecoin holders unparalleled access to use their LTC at merchants around the world."
In the coming weeks, the Litecoin Foundation and Bibox Exchange will notify its US-based users on how to register for access to their card. Download LoafWallet today for iOS or Android today to receive updates for when registration goes live.
Bibox:
Bibox is a top-tier digital asset exchange founded in Estonia, providing a first-class trading experience since 2017. 'BIX' is Bibox's platform token, supporting the growth and nurture of the Bibox ecosystem along with the platform's daily transactions averaging over 200 million US dollars per day. Bibox gives users access to a versatile range of products including: crypto trading, margin trading, perpetual contract and bonds. With a deep-rooted global mindset, Bibox has established offices in Switzerland, Canada, China, South Korea, Japan, Singapore, the US and Vietnam. Visit Bibox at http://www.Bibox.com, and tune in for updates at https://twitter.com/Bibox365.
Ternio BlockCard:
Ternio is a leading blockchain company providing white label technology to enterprise organizations which gives blockchain and cryptocurrency real-world application. The BlockCard™ is a physical debit card created by Ternio. With BlockCard™, cardholders are empowered to user their cryptocurrencies anywhere in the world major credit cards are accepted. Learn more at GetBlockCard.com and follow Ternio on YouTube at https://www.youtube.com/c/terniotoken.
About the Litecoin Foundation
The Litecoin Foundation is a non-profit organization whose mission is to advance Litecoin for the good of society by developing and promoting state-of-the-art blockchain technologies. Registered in Singapore, the Foundation is comprised of full time and volunteer support from around the globe. For more information, visit https://litecoin-foundation.org.