Reading Time:
2
minutes
The Global Crypto Adoption Index 2020, as released by Chainalysis, lists South Africa in the top 10 countries for cryptocurrency adoption. Chainalysis' data revealed some unexpected results, placing Ukraine at the top of the list, followed by Russia and Venezuela. The index also placed South Africa at number 7, just behind The United States of America.
The index focuses on four metrics:
On-chain cryptocurrency value received, weighted by purchasing power parity (PPP) per capita.

The value of on-chain retail transfers weighted by PPP.

The number of on-chain crypto deposits weighted by the number of internet users.

The Peer-to-peer (P2P) exchange trade volume, weighted by PPP per capita and number of internet users.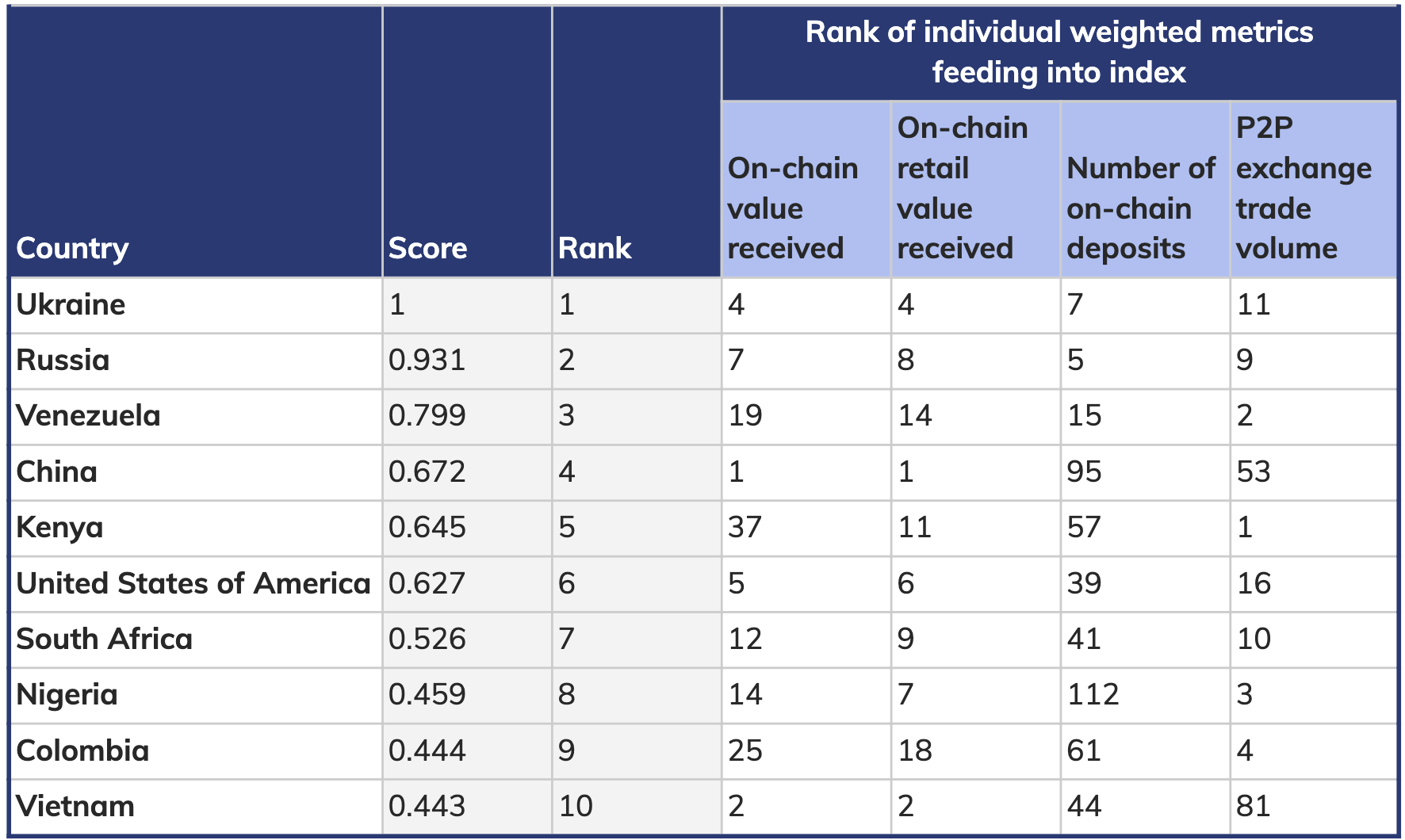 Top 10 Global Crypto Adoption Index 2020 By Chainalysis
China, however, ranked at number 4, despite them dominating the on-chain value received and on-chain retail value received. This was largely due to the number of on-chain deposits and P2P trade due to its large population. 
Chainalysis reported that of the 154 countries that were analysed , only 12 countries had so little cryptocurrency activity, that they were given an index score of zero. Chainalysis highlighted that this  proves the excitement around cryptocurrency as an investment as well as a store of value. Some of the countries that were given an index score of zero included Algeria, Cape Verde, Fiji, Laos and Zimbabwe.
The data also showed that the top four countries for P2P cryptocurrency activity weighted by number of internet users and PPP per capita all appear in the top 10, and are all four developing countries. Chainalysis noted that this data illustrates how important P2P platforms are to cryptocurrency adoption in developing countries.
Chainalysis described Venezuela as an excellent example of what fuels cryptocurrency adoption in developing countries:
"Our data shows that Venezuelans use cryptocurrency more when the country's native fiat currency is losing value to inflation, suggesting that Venezuelans turn to cryptocurrency to preserve savings they may otherwise lose."
Chainalysis noted that they acknowledge that there may be limitations to the methodology that they used, including the use of VPNs and other devices that could hide the geographical origin of web activity. The firm does, however, believe that the data that forms the trends they explore comprises millions of transactions.he activity would, therefore, need to be extremely widespread in order for it to meaningfully affect the data provided in the index.
Feature image by Garik Barseghyan from Pixabay