Reading Time:
5
minutes
Press Release: Friday, 18 November 2019, 16:45 CAT | Source: Bitcoin Events
Are you prepared for the disruption that blockchain technology and Artificial Intelligence (AI) is presenting as part of the Fourth Industrial Revolution (4IR)?

They are shaking up the status quo of several industries, with the potential to manifest in many spheres of operations. AI's business value in Africa is set to surpass $45bn by 2025. With a population that's 1,3-billion strong, Africa could leverage its demography to bolster development. Around 60% of Africans are under the age of 25, and the continent has a growing working-age population. It's a window of opportunity for economic growth, which could be leapfrogged with AI. It is, therefore, becoming increasingly necessary to understand how this growth is being translated into real-world commercial solutions. 

Africa's leading Blockchain and AI conference will bring together hundreds of attendees from around the globe to discuss the future and convergence of blockchain technology and AI and how these technologies are addressing urgent challenges in Africa.
The conference will showcase how companies and individuals alike are already using these technologies, what some of the most interesting use cases and applications are, the limitations, security, scaling and implementation issues that exist as well as what regulations are being considered and implemented across various jurisdictions. 
WHO WILL ATTEND?
With networking high on the agenda for all who attend, the benefits are numerous for attendees and exhibitors alike. 
Join CEOs, CIOs, COOs, CTOs, Heads of Data Science, Heads of Innovation and Strategy, Heads of IT, Heads of Information Security, Heads of Engineering, Heads of IT Architecture, Heads of Emerging Technology, Heads of Development, Technical Advisors, Heads of Strategy, Heads of Risk and Compliance, Regulators, Lawyers, Business Transformation, Data Architecture, Heads of Applications, Heads of Digital, Investors, Venture Capitalists, Software Engineers, Research Managers, Development Managers, Marketing Managers, Developers, Blockchain and Cryptocurrency Start-ups and Enthusiasts and more!
WHY YOU SHOULD ATTEND
Attend the conference and gain valuable insight into:
How blockchain technology and AI is impacting various industries: real-world case studies from organisations who have started their blockchain and AI-related ventures

Developing strategies for successful blockchain and AI implementation

Exceeding customer expectations by meeting consumer demands of the future

Discovering which processes can be automated to improve productivity and reduce human errors

Discovering how blockchain technology and AI can change existing products and services in order to improve customer service and increase efficiency

Harnessing the full potential of data to increase loyalty and retention
Meet some of the industries' leading visionaries with previous partners including IBM, Microsoft, ConsenSys, SAP, BankservAfrica and many more. Cut through the hype and join us for networking, thought-provoking discussions and talks, about the world-changing application of blockchain technology and AI.
Secure your seat for the Blockchain and AI Africa Conference 2020!
<< REGISTER NOW for the Blockchain and AI Africa Conference 2020 >>
BLOCKCHAIN AND AI AFRICA CONFERENCE INVITES INDUSTRY TRAILBLAZERS
Place your brand at the epicentre of African blockchain technology and AI by showcasing your brand through speaking, sponsoring and exhibiting opportunities at the Blockchain and AI Africa Conference 2020. We attract 600+ key stakeholders and media across the African and global blockchain ecosystem, creating the ideal opportunity to communicate your brand, products and services. 
SPONSOR

Become a sponsor and gain exposure for your product and services with investors, traders, business, technology providers, regulators, entrepreneurs, enthusiasts and innovators.

EXHIBIT

Exhibit and connect with potential customers and partners. Increase awareness of your company and attract new business.
Submit your paper here for a speaking opportunity.
Introducing a Keynote Speaker 
Well known, derivatives trader and consultant, Tone Vayes is one of the Keynote Speakers.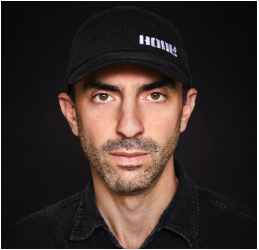 Tone has worked on Wall Street for almost 10 years starting as a Risk Analyst at Bear Stearns and later becoming a VP at JP Morgan Chase in the aftermath of the 2008 financial crisis. His expertise is in economic trends, trading and risk analysis. Ever since getting involved in the cryptocurrency ecosystem in early 2013, he has been very active in spreading the relevance and importance of this technology. Tone has been featured in several documentaries such as  Magic Money and Bitcoin – Beyond the Bubble. Tone is now an independent content creator at ToneVays.com and on his YouTube Channel focused on sound economics and finance.
Meet some of our amazing speakers!
We are delighted to welcome our confirmed speakers who are recognised as thought leaders in the blockchain industry. Some of the speakers sharing their knowledge are: 
Jonathan Galea

Managing Director at Blockchain Advisory Pty Ltd and President of BitMalta

Manager: Office of Digital Advantage (ODA) (On behalf of the Department of Science and Innovation)

Malta has been trailblazing the regulatory efforts in the crypto space by launching the first comprehensive framework of its kind in the world. Mr Galea will provide an overview of this framework, the benefits thereof, and success stories of established companies.

Mr Damane will discuss the initiatives and road map of the Office of Digital Advantage (ODA), which is the portfolio management unit for the implementation of the Department of Science and Innovation's ICT Research, Development and Innovation Roadmap for 2013-2023.

Founder and CEO of EMTECH

Mervyn George

Innovation Strategy Lead for Africa at SAP

As the Africa Continental Free Trade Agreement enters its implementation phase, it critical for central banks to engage and provide modern payment infrastructure. Improving the physical infrastructure and regulatory frameworks are core requirements for this agreement to unlock the said potential. Ms Cadet will talk about 'Central Bank Digital Currencies for a Regional Payment System'

Consumers today care more about the purpose and integrity of a brand than the products they deliver. Mr George will introduce global use cases that SAP is delivering within food, beverage and pharmaceuticals industries, as well as a brief glimpse of how blockchain is disrupting traditional business processes in the supply chain.
Read more about our speakers here and their hot topics of discussion here.
— – – – – – – – – – – – – – – – – – –
This article is a Press Release received from Bitcoin Events. Global Crypto did not receive any form of compensation for its publication, and as this material is deemed newsworthy for the Southern African blockchain industry, it was thus published accordingly.
About Bitcoin Events
Since inception, Bitcoin Events have cut through the hype and challenged the critics to educate, upskill and drive long-term thinking on the strategic benefits of cryptocurrencies and blockchain technology for businesses, governments, citizens and society. Have a look at the photos and videos of the past conferences.
For more information on the Blockchain and AI Africa Conference 2020 visit our website at www.blockchainafrica.co or email us at info@blockchainafrica.co