Reading Time:
2
minutes
Press Release: Thursday, January 26 2021, 16:00 CAT | Source: ChainEX
ChainEX is currently the only South African exchange to list BTCV, YFI, SUSHI & UNI!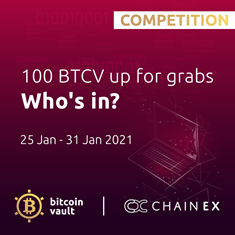 Monday, 25 January 2021, ChainEX is a South African Cryptocurrency exchange that offers South Africans a platform to buy, sell and trade different cryptocurrencies. The exchange is currently the only and the first of its kind in South Africa to list Bitcoin Vault, UNI, YFI & SUSHI
With more than 20 tradeable assets at ChainEX, 4 more wouldn't hurt, right? As such, the exchange that recently surpassed the 15k user landmark has added a host of assets for traders to increase their portfolio!
A total of 21.94 BTCV was paid out in the year 2020 from user referrals.  December had the highest payout with 5.3 BTCV! As such, ChainEX will be running a BTCV competition from the 25th of January 2021 – 31 January, with the first-placed trader walking away with a total of 20 BTCV. A total of 70 traders will walk away with a share of the 100 BTCV, with 61st – 70th place taking away 0.1 BTCV
"ChainEX attracted a host of new users with the listing of BTCV. With all the excitement around the project, the BTCV team and ChainEX thought a trading competition would be rewarding to all loyal traders and users. The competition kicks off at 16:00 UTC (18:00 SAST) on Monday 25 January 2021." said Michael Bernardt (Head of Community at ChainEX) on being asked why the exchange is having a BTCV competition.
Michael Bernardt further went on to express his thoughts and sentiment on being the first & only South African crypto exchange to list the above-mentioned coins. "With DeFi taking off and the huge demand for it, we thought it would only be appropriate to have our users gain access to these exciting markets. ChainEX is quick to adapt and would now be the first exchange in South Africa to offer these markets to its users!"
For more information on the Bitcoin Vault competition & new coin listings, visit the ChainEX blog.
–ENDS—
— – – – – – – – – – – – – – – – – – –
This article is a Press Release received from ChainEX. Global Crypto did not receive any form of compensation for its publication, and as this material is deemed newsworthy for the Southern African blockchain industry, it was thus published accordingly.
Feature image by lillian zavala from flickr