Reading Time:
2
minutes
As you know, Global Crypto publishes a weekly audio market roundup through our podcast channel, and today, we're excited to shake things up a little, by introducing a video analysis. We will be doing an analysis of the crypto markets with our Financial Analyst Graeme Tennant on our YouTube channel every fortnight, and will then do our standard audio roundup every second week after that. So… one week audio roundup, the next week video analysis, and so on.
Our inaugural edition was long over due, and the violent sell-off we saw on Wednesday night sparked us into action! So we sat down with Graeme, and asked him about how he sees the market after the crash through support, and what can be expected in the coming weeks.
If you want to listen to the audio, here you go…
Here is the video…
And for those unable to watch video right now, in a nutshell, here's what Graeme had to say, along with a few of his charts:
1-We are still very much in a bear market.
2-There is still more pain to come, but it's likely that it won't be as violent as Wednesday's crash, and being a little more gradual.
3-Solid support right now is $5000, as it was a previous high many, many months back (over a year ago). This would be a solid "take-profit" zone for those in short positions.
4-Based on a symmetrical triangle pattern though, a potential take-profit for shorters would be around the $3700 zone.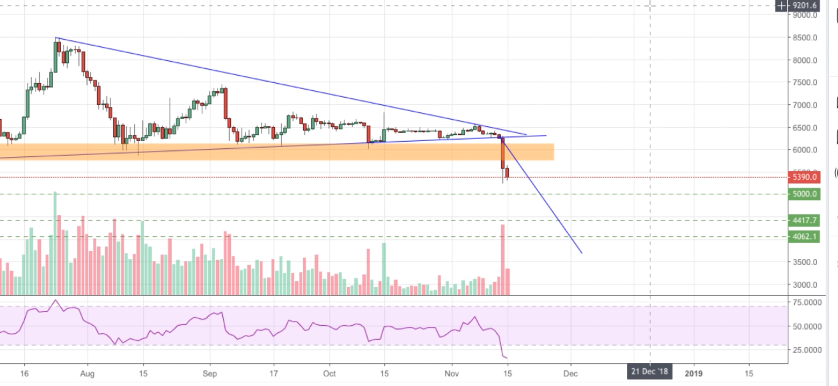 5-The previous support of the $5800 – $6200 region (orange zone in pic below) will act as next resistance for those looking to take new short positions.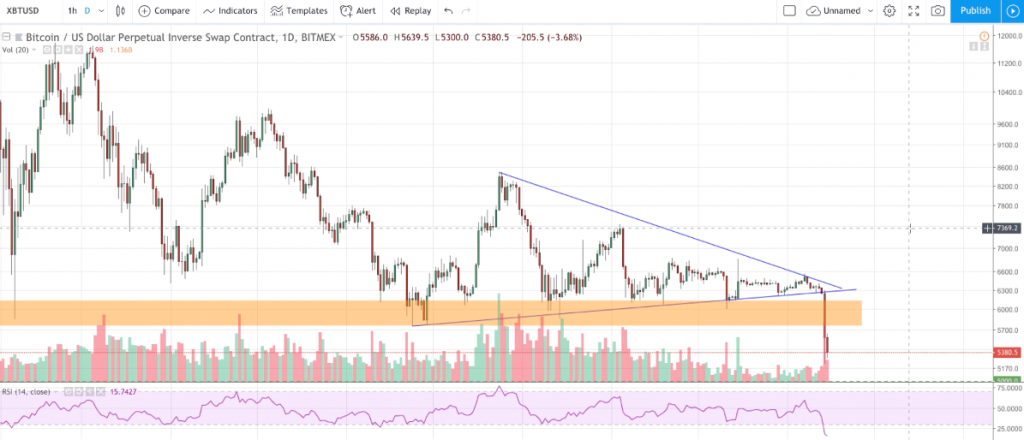 6-When we see almost the same level of euphoria experienced in January's high to be experienced in despair, only then could we be close to bears being fully exhausted.
Be sure to tune into next week's market roundup, and be on the look out for the next video episode of the Global Crypto Market Analysis with Graeme.
If you have any questions you would like to ask Graeme for the next video, please leave them in the comments below.
Stay safe everyone!