Reading Time:
4
minutes
We knew it would get to this: Banksy.
Arguably the world's most influential artist of the Information Age, anti-authoritarian graffiti icon, Banksy, has had one of his famed pieces of art worth millions of dollars destroyed and converted into a Non-Fungible Token (NFT). The NFT will be minted on the SuperFarm cross-chain protocol.
The piece in question was "Morons" and has an estimated value of $100,000. Morons ridicules art collectors for purchasing art at inflated prices. The work, authenticated by Pest Control, Banksy's verification company, was destroyed in Brooklyn, New York yesterday at a live-streamed event in front of a global audience.
Morons is a cynical depiction of a momentous moment in art history: The sale of Van Gogh's Sunflowers achieving a record-breaking price of $31.4 million in 1987, sparking the beginning of prodigious changes in the art market, with the emergence of "mega lot" auctions.
In Banksy's image, a canvas being auctioned depicts the words, 'I CAN'T BELIEVE YOU MORONS ACTUALLY BUY THIS SHIT.'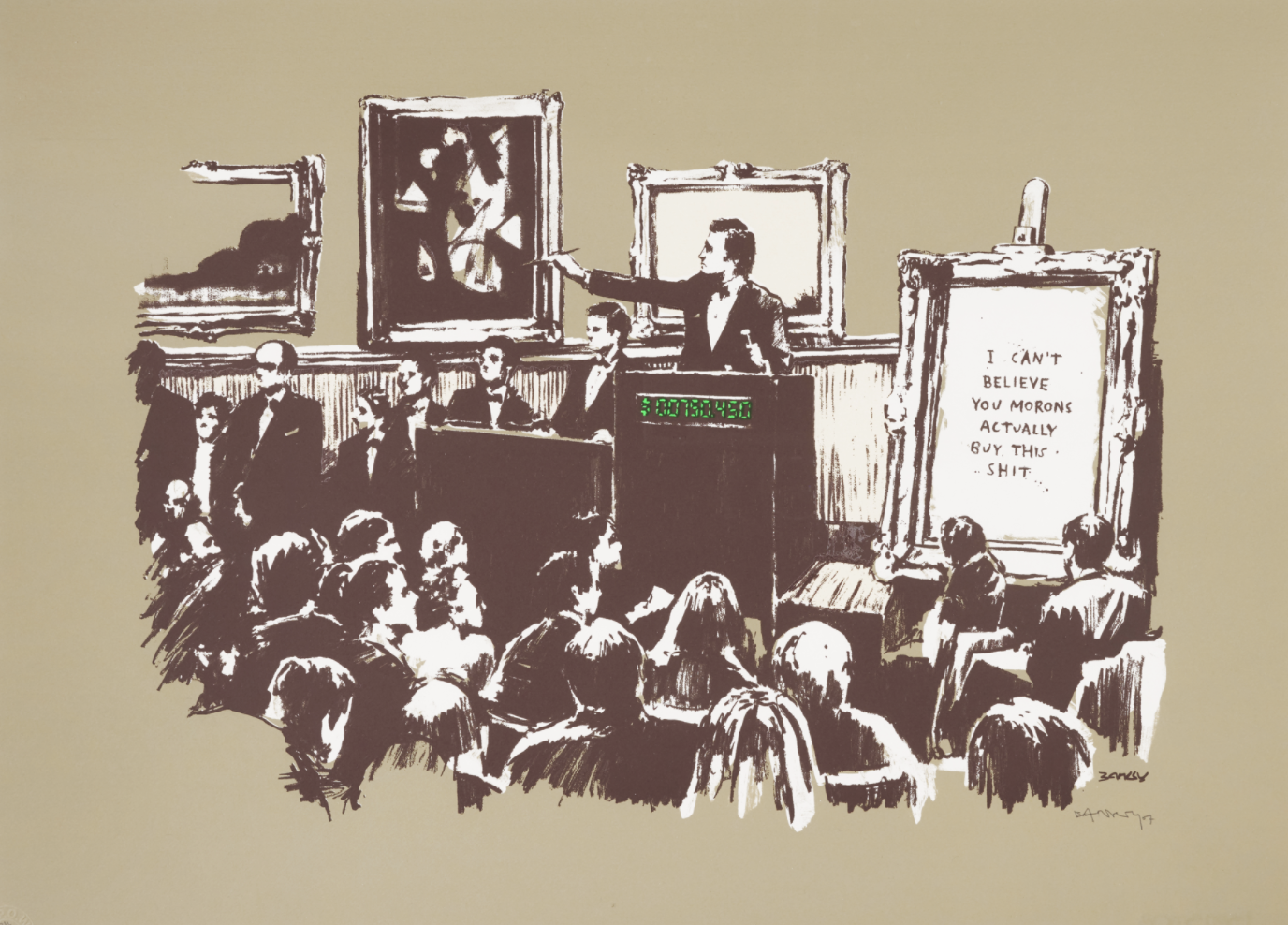 "The main intention here is to be the first ever event where a physical piece is turned into a digital piece," a representative from the group responsible said in a statement. The group includes both SuperFarm as well as Decentralised Finance (DeFi) trading platform Injective Protocol.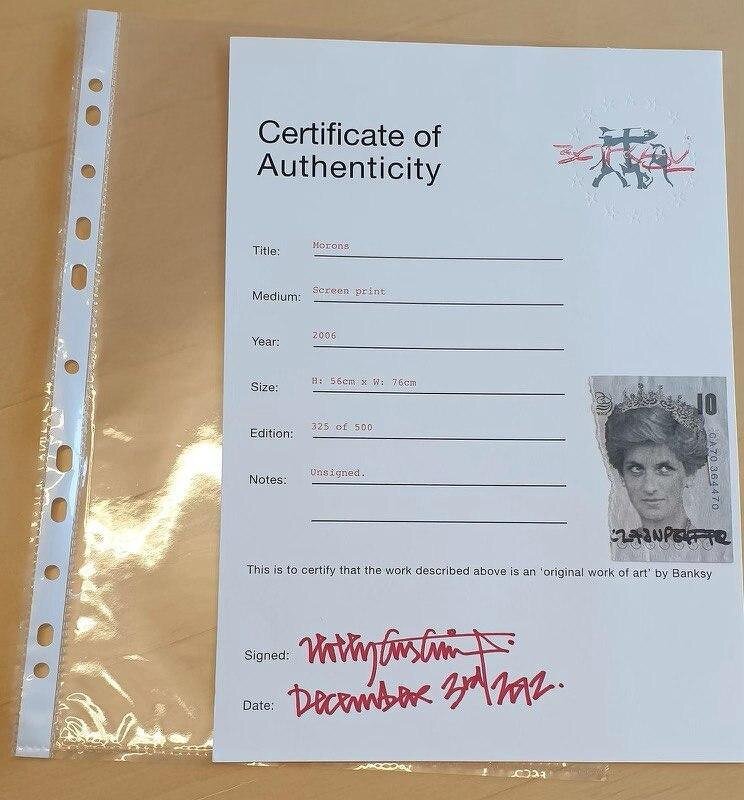 The destroyed artwork will now be turned into an NFT and auctioned on the OpenSea marketplace. The lucky collector who wins the bid will receive a unique digital code identifying the digital work, along with the above pictured certificate of authenticity. A Press Release from the anonymous group stated that proceeds of the sale will go to an undisclosed charity.
Despite other Banksy pieces having already been appropriated and transformed into NFTs, this is the first time that a piece has been destroyed and then digitised in this way, with the group planning to continue such work, hoping to spur "a new age in the world of art where pieces can live digitally forever."
Kings Of Leon Enter The Fray
Meanwhile, record breaking rock band Kings of Leon will release their new album "When you See Yourself" in the form of an NFT, becoming the first band to do so. The album's release will be on Friday 5 March 2021.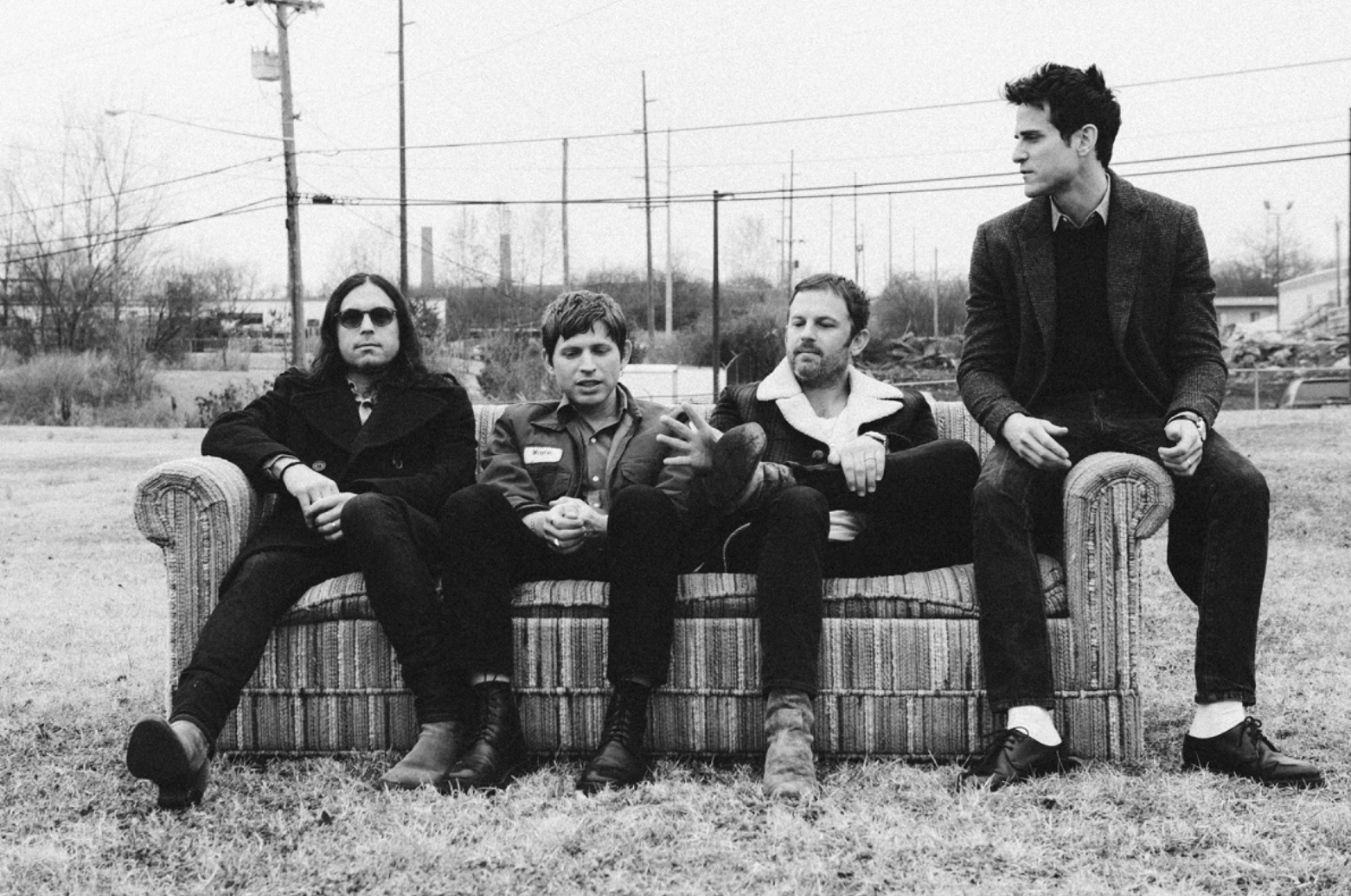 The Grammy-winning band will be releasing three types of tokens as part of a series called "NFT Yourself". The first is a special album package, while the second offers live show perks like front-row seats for life, and the third offers exclusive audiovisual art. All three of the NFT types offer art designed by the band's longtime creative partner Night After Night.
The NFTs have been developed by concert ticketing blockchain developer, YellowHeart. Having been founded in 2018, the company claims that ticketing was always only one facet of their vision.
"We all know how disruptive blockchain tech can actually be," founder and CEO Josh Katz told Global Crypto, "We started with ticketing, but knew that NFTs were going to be the next frontier."
The NFT version of Kings of Leon's album "When You See Yourself" will be released exclusively on YellowHeart's marketplace, and will be the only product with special perks. The NFTs, starting at $50 each, include enhanced media, along with a digital download of the music, and a limited-edition vinyl. The sale of the NFTs opens on Friday 5 March at 16h00 GMT and will continue for two weeks, after which no further will be made, rendering each NFT a tradable collectible.
Disrupting Art Itself
It's no secret that NFTs have taken the world by storm in recent weeks, with one piece by crypto artist Beeple fetching over $6 million. The total value of sold NFT art is fast approaching $200 million with celebrities such as Grimes getting in on the action. The musician, also Elon Musk's girlfriend, made over $6 million auctioning her NFT collection in February.
In the music industry, NFTs previously had more of an underground following comprised of DJs and producers. In recent months however, the digital tokens have gone mainstream, as many musicians sought out additional revenue streams in the concertless era of the Covid-19 pandemic. The likes of Portugal. The Man, Shawn Mendes, and Linkin Park's Mike Shinoda have all announced NFT production recently – many of them with YellowHeart.
An NFT is a unique, "non-fungible token", ie. It cannot be traded for another one, it is entirely unique. It can be exchanged for other forms of value, but not replaced. EG. If I swap one Bitcoin with another, it is in essence the same thing and has the same value, but you can't swap one NFT with another, because they are entirely unique and thus have different values.
An NFT lives uniquely on a DApp blockchain protocol like Ethereum or Tron, and is a digital token representing art or other valuable artefacts. You can read more about them here.