Reading Time:
7
minutes
In light of the 21-day lockdown in South Africa recently, many of us will now be severely constricted in terms of our regular social activity. However, choosing to look at the silver lining reveals that it will also free up some valuable time. Perhaps to curl up with that book you promised yourself you would finish, or even better, invest in some personal growth and development. Given the circumstance of the global economic climate, a hot topic that many will find themselves diving into is cryptocurrency and blockchain.
A study carried out by Statista that investigated the popularity of cryptocurrency around the world, placed South Africa in the top five countries globally. Furthermore, many South Africans have become trailblazers in the space with the likes of Ricardo "fluffypony" Spagny, Ran Neuner, Vinny Lingham and Simon Dingle, all achieving global success and recognition, just to name a few.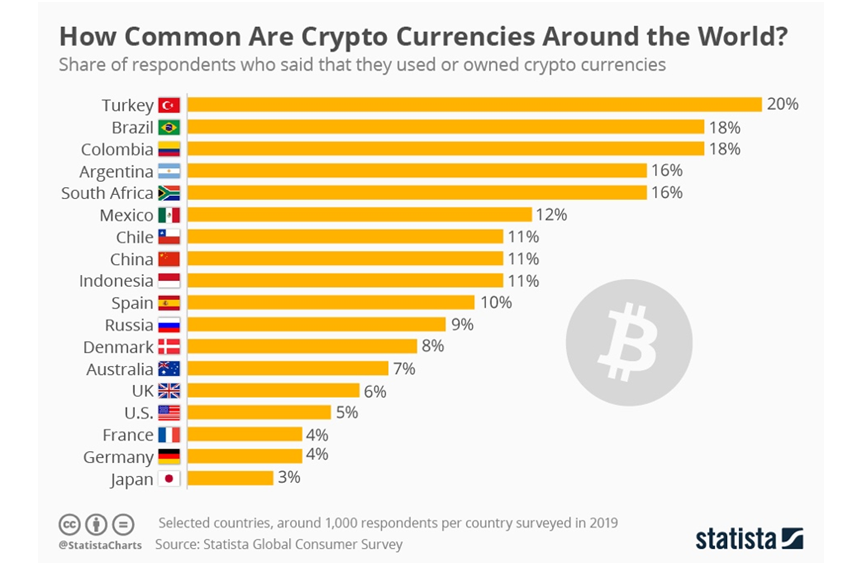 But what about the newcomer to the space?
This article aims to lead you down the best path to achieving your goals and interests. It is based on my 3+ years as a retail investor, trader, employee and now co-founder of a company within the crypto and blockchain realm. From investors and traders to businessman and the plain-old curious, this list should assist you no matter which category you find yourself in.
Education:
One of the great things about crypto assets and blockchain is the abundance of high quality and freely available knowledge on platforms just like this. However, be cautious of armchair experts and stick to more credible and recognized sources as seen below:
A16Z Crypto Cannon:
 Andreesen Horowitz is a highly renowned California based venture capital fund, formed by two titans in the technology industry, who contributed to a large part of the success of the internet as we know it today. They have selflessly compiled a list of resources you can find here. It is not necessary to go through every article, just what interests you.
Blockchain Academy:
Blockchain Academy is the brainchild of local superstar of the cryptocurrency industry, Sonya Kuhnel. They specialize in highly technical training for developers, as well as corporate training for different levels of skill and use cases. In addition to these they offer a course dedicated to cryptocurrency trading, which I know will excite many a reader. With extremely knowledgeable staff, a professional approach and proven industry success you can rest assured you'll be in good hands. Learn more about their different offerings here.
Investing:
This most likely makes up the majority of those reading this, and rightly so. Bloomberg declared Bitcoin the best performing asset class of the decade, returning 9,000,000 % from July of 2010. The unfortunate reality is the space is riddled with multiple scams, so please be cautious and verify a company with Global Crypto if need be, before proceeding. This list is progressive with the first option for those who'd like an easy way to dabble in the space. The second for those who want a more structured portfolios based on their needs, and the third for institutional-type investors with a large amount of capital who want sophisticated index fund-type exposure.
Luno:
The darling of the South Africancryptospace – Luno has been around since 2013 and now serves hundreds of thousands of satisfied customers in over 40 countries. They offer a remarkable user experience. Simple and easy to use for entry level users, and it is seamless to transfer money to and from your local bank account. The only potential downside for active traders is the limited number of cryptocurrencies they offer, however, this is great for new users, as it will not overwhelm them. If you're fairly new to the crypto space I recommend downloading the app and setting up an account, which can be done here.
Chainlink Capital:
Chainlink is a crypto asset consultancy formed in 2018 by a financial analyst and actuary.
The company offers an array of services such as assisting investors in safely and easily setting up and managing crypto asset portfolios and investments based on their individual profiles. The founders have been involved in engagements with the South African Reserve Bank (SARB) around crypto asset regulatory frameworks, employed by a Fortune 500 financial services company and have completed blockchain-based education programs from Said Business School, Oxford University.
Find out more about their services here.
*Disclosure: I am the Co–founder of Chainlink Capital (Pty) Ltd.
Invictus Capital:
Invictus Capital is a company that specializes in providing investors access to unique investment classes and opportunities. They offer investment products in everything from real estate, gold to solar energy and private equity. They also have a suite of exquisitely crafted and managed crypto asset investment products that give users Index fund type exposure to a range of crypto assets. For sophisticated investors that are used to deploying capital into such funds, Invictus Capital is perfect for you. The team behind Invictus also co–founded Data Prophet – an A.I manufacturing startup recently ranked by CB as one of the top 100 most promising A.I companies globally. All in all, brilliant team with great products for investors run by quantitatively managed processes.
Trading:
For the proverbial cowboysinthe industry who are slightly more risk-seeking than the rest, the massive fluctuations in the prices of crypto assets offer traders'larger opportunities to profit than your traditional markets. This, coupled with the fact that you can trade with less than R100 on most platforms, makes it extremely accessible to most. For those unfamiliar with the process, trading is simply trying to identify trends in the market to make profits from buying and selling assets over much shorter time periods than investors. However, for those wanting to enter the bull pen with these "cowboys" we call traders, the exponential potential returns come with much larger risks.
Binance:
Binance is the world's largest cryptocurrency exchange. If you've been in crypto for even the shortest amount of time, chances are this behemoth of the industry rings a bell. What's even more exciting for South African users is Binance recently launched its SA branch, which will now allow users to buy and sell cryptocurrency directly from their bank accounts or using their visa/debit cards. The exchange has over 700 markets, so chances are if there is a pair you want to trade, they have it. When you add to this, futures and margin trading features, as well as their market leading liquidity, you have the perfect recipe for traders. What's even more exciting is they have announced the launch of five ZAR based trading pairs, meaning users can buy and sell a handful of their favorite crypto assets such as Bitcoin, Ethereum and Binance coin directly in Rands. For active traders familiar with trading platforms you cannot go wrong with Binance, there's a reason they're number one. If you're unfamiliar with their site, you can check Binance exchange out here.
Valr:
Valr is a truly spectacular South African based cryptocurrency exchange. Co-founded by ex-Head of Blockchain at RMB, FarzamEhsani. They offer users a simple and intuitive user experience, and thanks to partnerships with global exchange Bittrex, they offer users a high level of security, as well as enough liquidity to actively trade. In addition to this they offer the most comprehensive range of crypto assets, barring Binance, and users can seamlessly deposit and withdraw funds using their local bank accounts. You'll join for the seamless user experience and stay because of the multiple benefits they offer their users, such as low fees, giveaways and negative maker fees. Learn more about their platform here.
ByBit:
ByBit is a fairly new but extremely popular global crypto asset exchange that offers leverage trading.  This is when users can make trades to the value of 10, 20 even 100 times their original deposit. Now, while this may sound great at first glance it is by far the riskiest form of crypto trading and not recommended for beginners. However, if you are familiar with leverage trading, ByBit offers a great user experience, a superior order matching engine and deep liquidity. Find out more about ByBit here.
Building (Startup companies):
For those who see the new, exciting and revolutionary business models this technology could produce, there is also a space for you. There are some great incubators you can go to that will assist in making your business a reality. Here are just two.
Blockstarters:
 Blockstarters is South Africa's first blockchain hub and business incubator. They provide budding crypto and blockchain entrepreneurs with great ideas the resources and network to cultivate that into a successful business. Having already successfully incubated a number of projects in the industry, yours could be next. To find out more about their offerings and application process, click here.
Binance Labs:
 Binance has an entire ecosystem apart from the exchange. One such arm is Binance Labs, which is a global initiative that incubates projects that meet their criteria and provides seed funding to promising projects. They have expressed interest in projects in Africa, to find out more and to apply visit the Binance Labs site here.
Regulation:
Unbeknownst to most, the South African government has been hard at work in regulating the sector for consumers and has issued guidance from as early as 2014, in their first position paper on virtual currencies. They subsequently hosted a number of workshops as the Interdepartmental Fintech Working Group (IFWG) on crypto assets, of which I had the privilege of taking part in. The IFWG is an initiative combining the efforts of SARB, SARS, FIC, FSCA and the NCR. They will release a position paper in the coming months, which, after being opened for public comment, will be used to create a regulatory framework for the industry. Other initiatives such as the Sandbox for Fintech projects are set to kick off this year as well.
But what does this mean for the average consumer right now? Well based on the position paper and further guidance from SARB, here are the key points:
Your profits from crypto assets are susceptible to capital gains tax (CGT), which you are to declare and pay to SARS
From a Foreign Exchange control perspective, as an individual, not business, you can send up to R1 million a year overseas for the purchase of crypto, and up to R10 million a year with a tax clearance certificate
SA is cracking down on those attempting to use crypto assets to evade exchange controls
There is no regulation at present for the crypto industry, which means no FSP licenses etc. are currently required for companies operating in the space. This means you need to exercise the highest level of caution when engaging with these companies. The good news is we were recently informed by a SARB member of the IFWG group that crypto asset service providers will soon have to be registered and meet certain requirements, which should provide some much-needed consumer protection to the industry
Avoiding scams:
Continuing on from above, until the necessary regulations are put in place you need to tread very carefully when engaging with the industry. Find out who the people are behind the business, what their backgrounds are and ask them some hard questions, a legitimate entity will never have anything to hide. Alternatively, I recommend you approach an entity like Global Crypto to ask their advice before investing any money. It is easy for these people to prey on innocent victims due to the lack of regulation and knowledge, coupled with the excitement surrounding this nascent industry. As a general rule of thumb here are some red flags to watch out for, according to the SEC:
Guarantees of high returns or no risk
Use of complex "hype" jargon and lack of transparency
If the offer sounds too good to be true, it probably is
The (often fake) involvement of celebrities
Fake profiles on social media imitating celebrities, experts and companies
** Please note none of the statements above are financial advice. They are purely informative and aimed at educating readers on service providers in the space. This list is by no means exhaustive and based on my personal experiences in the industry over the past few years. **