Reading Time:
2
minutes
It was panic stations for many Bitcoin hodlers and crypto enthusiasts on Tuesday night, 24 September, as the Bitcoin price feel through a floor. The price had been contracting tighter and tighter inside a descending triangle, and as we shared in last week's Market Analysis, a significant move was imminent. Yesterday, that move arrived.
As you will find in Graeme's shorter audio analysis this week, it would seem the carnage isn't over just yet. Take a listen below, or scroll to the bottom for the podcast in your favourite audio platform…
In Graeme's first chart, we can clearly see that the next level of solid support sits in the $6000 – $7000 zone, with that being a key "buy back" area for those either looking to accumulate more Bitcoin, dollar cost average, or buy back in after smartly selling before this dip.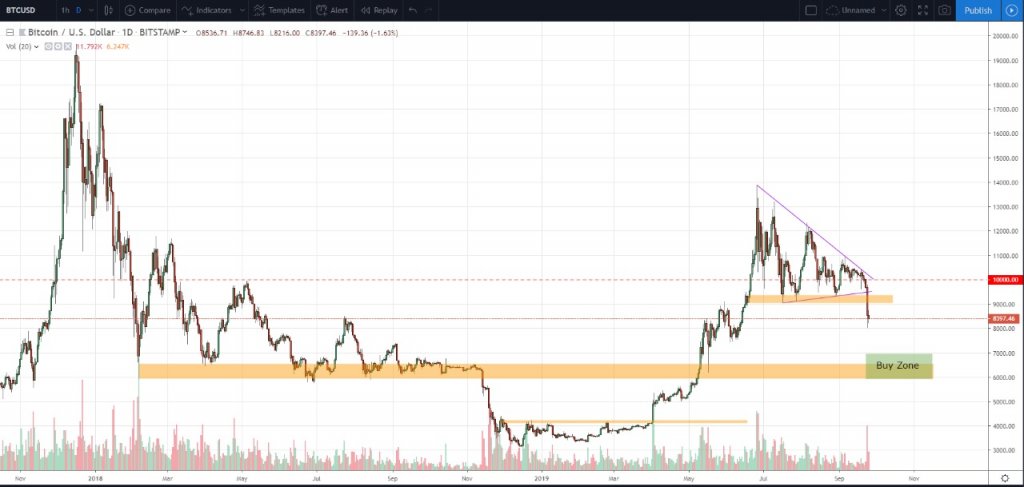 Of course, a move like this will always have a very significant impact on the altcoins. After highlighting a potential Head and Shoulders on the Altcoin Markets (excluding Bitcoin), Graeme noted a key resistance that needed breaking before he got excited. And with Bitcoin's break to the downside, Alts are back to where they started: In serious trouble.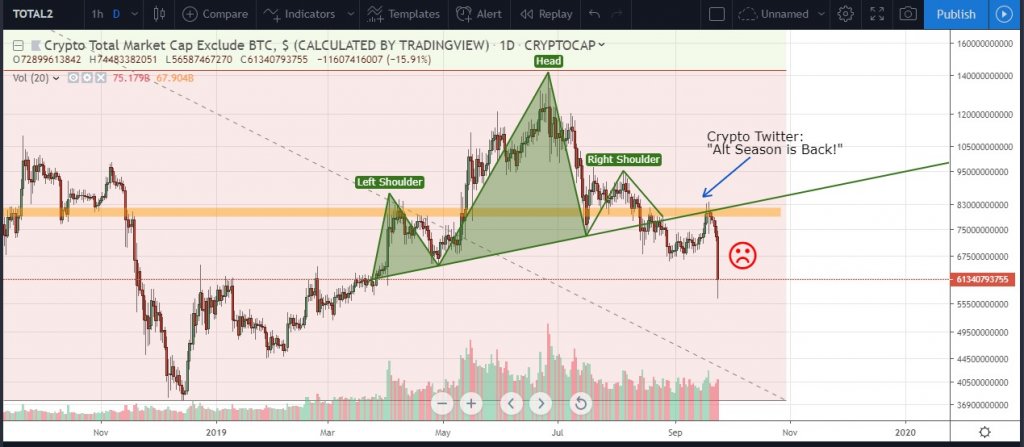 Overall, the entire crypto markets (including Bitcoin) have had a seriously rude awakening, and are in rather treacherous territory. We need to see a lot more positivity in the short-term before the markets return to a bullish outlook. We'll be watching out for these signs closely.
Keep an eye on those support levels, and we'll catch you in next week's episode. Remember to ask any questions either in the comments, or on our Instant Messenger channels Whatsapp and Telegram.
Stay safe.
Here is where you can catch our Podcast:

APPLE PODCASTS
SPOTIFY (James' personal favourite, even with an iPhone!)