Reading Time:
7
minutes
MARKET UPDATE
It's been yet another volatile week in the crypto market, but

most cryptos have been climbing upwards

. As the stock markets suddenly look like the crypto market in terms of volatility, we can expect the wild price action to continue as the Covid-19 is continuing to spread.
The crypto market is still in "

Extreme Fear

" and investors don't seem confident with the trading volume decreasing last week.
Some investors may have been looking for alternatives to crypto and stocks. The supply for Tether's gold-backed token has risen almost 700% so far in 2020. In addition, data suggests that investors are moving funds to USD stable coins over the past weeks.
VALUATION
The bitcoin price is still facing the same important resistance level as last week and is struggling to climb above $7,000. The stock markets have been climbing a bit, but the global crisis is not over, and it may continue down again soon. Based on the correlation between the two markets over the last weeks, this will probably affect crypto as well.
Futures traders are bearish. Futures prices have been trading below spot price. This is called backwardation and is not something we typically see for bitcoin.
BLOCKCHAIN ACTIVITY
The Bitcoin network just registered the second-largest drop in mining difficulty in history, as unprofitable miners have turned off their rigs after the price crash two weeks ago. These adjustments are made to keep the block time around 10 minutes and show that Bitcoin is working as it should, even under these extreme market conditions.
The on-chain velocity for Bitcoin has been increasing lately, which may be a bullish signal. Investors have historically made money when the velocity is high for Bitcoin, and it is a healthy sign to see a lot of bitcoin moving.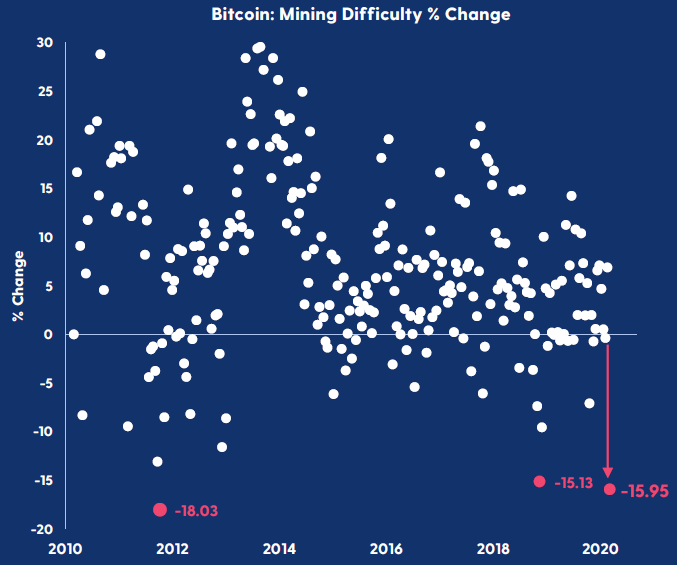 VOLATILE WEEK IN THE CRYPTO MARKET – WHAT'S NEXT?
It seems like the market can't decide on which direction it's headed right now.
We've seen double digits percentage changes in both directions for most cryptos over the past week.
The crypto market started to climb at the beginning of the week as the stock markets found a temporary bottom. With the high correlation between stocks and cryptos lately, it was no surprise to see the momentum turning positive throughout the week.
It is now important to pay attention to the development going forward.
– Will the stock market fall back again as Covid-19 keeps spreading, or will it continue up with more economic stimulus?
– Will bitcoin and crypto continue to follow stocks…
– …or will bitcoin and the rest of the crypto market decouple and thrive on expansionary monetary policy while stocks struggle with collapsing demand caused by lockdowns?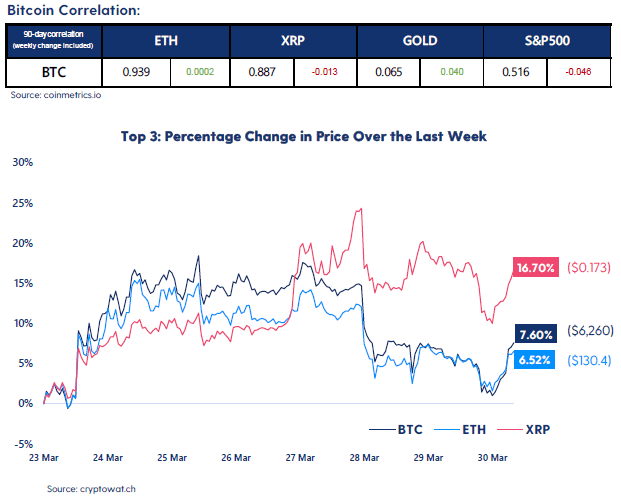 SMALL CAPS STILL LEADING THE WAY, BUT BTC DOMINANCE INCREASES
The crypto market has continued its recovery over the past week. Bitcoin is now showing why it is the dominant cryptocurrency and is gaining in total market share this week.
Small Caps is still leading the way in March, "only" down 24%.
Bitcoin is currently closing up on Small Caps, ahead of both Large Caps and Mid Caps.
Mid Caps is still the worst performer this month, down about 37%.
Bitcoin's market dominance is increasing again this week, currently at 64.6%. Last week it pushed above 65% for a couple of days. The last time this happened was at the beginning of February.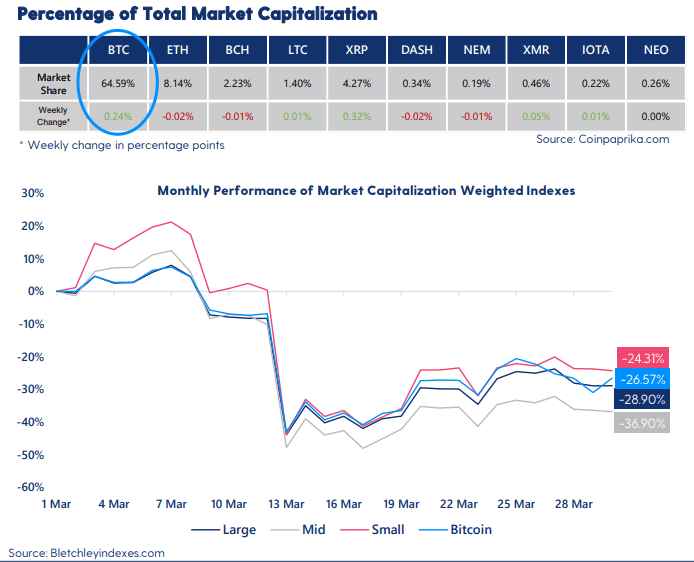 MARKET SENTIMENT UNAFFECTED BY PRICE BOOST
The Fear & Greed Index stays in the "Extreme Fear" for yet another week and is now at 10. Even though the bitcoin price is up around 60% from the bottom, it doesn't seem to affect the confidence in the market. We haven't stayed this long in the "Extreme Fear" area since December 2018.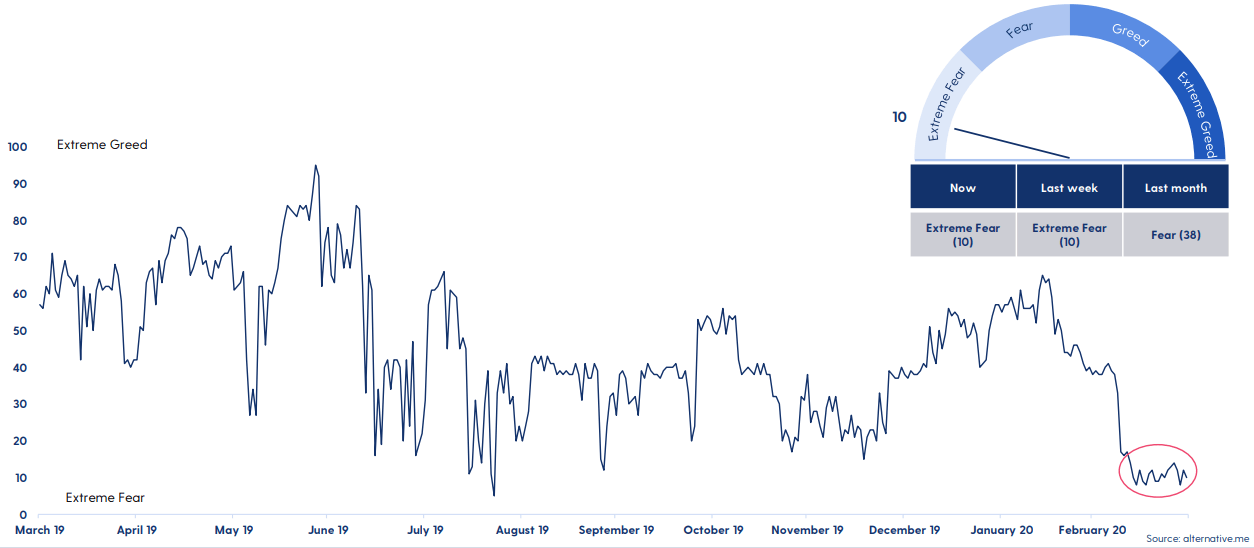 BITCOIN VOLUME DROPS DOWN AGAIN
The 7-day average real trading volume* drops down after the hefty and volatile period we've seen over the past two weeks. Increasing prices on decreasing trading volume is normally a bearish signal. However, the volume is still higher than the average we've seen earlier in 2020.

THE VOLATILITY KEEPS INCREASING FOR BITCOIN
The 30-day volatility for the bitcoin price is extreme these days, and it's now above 9%. With the global turmoil and volatile stock markets, it doesn't look like the bitcoin price movements will settle down either, and market participants should act carefully.

BTC DELIVERY ON BAKKT UP 44% DESPITE MARKET UNCERTAINTY
BTC Futures on Bakkt for March expired recently.
Despite the volatile price action since the brutal price crash two weeks ago, investors on Bakkt seem relatively unaffected.
Delivery of BTC actually increased from 203 to 293 – a 44% rise.
Although the delivered value in USD has been relatively flat in 2020, it shows that market participants aren't fleeing the platform for now.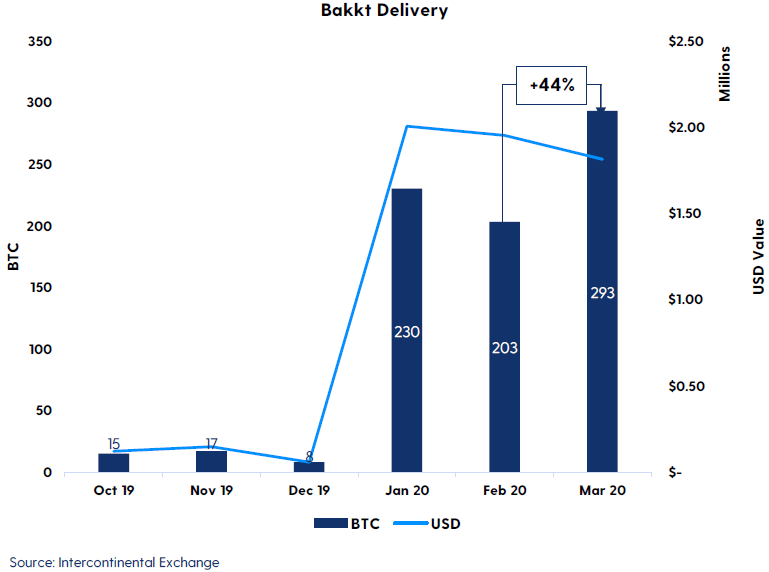 GROWING DEMAND FOR COMMODITY-BACKED GOLD TOKENS
The demand for gold has increased in the last few weeks, as investors seek a store of value assets during these uncertain times.
There has been a dramatic week in the gold markets as Covid-19 impacted gold miners, forcing seized operations.
A shutdown in Switzerland led to a massive dislocation between the spot price and the New York price of gold, as banks struggled to deliver physical gold.
The New York gold premium surged to its highest levels in decades, due to the inefficiencies and lockdown effects.
Tether launched its gold-backed token (

XAUT

) in the end of January 2020. Right before the turmoil ignited in the financial markets.
Two months after its inception, the Tether Gold supply has

increased by nearly 700% from 4000 tokens to 27 500 tokens

.
This corresponds to tokens backed by $44.5 million worth of gold.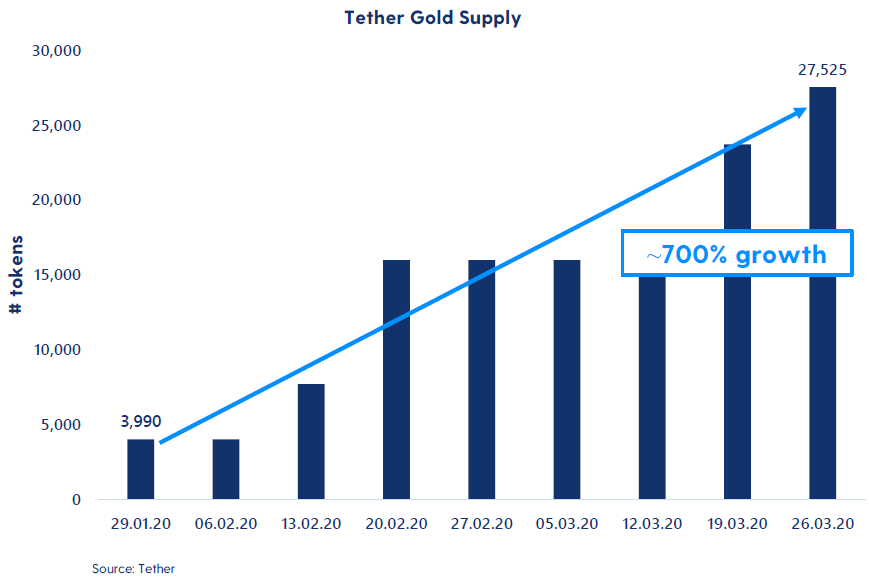 "FLIGHT TO SAFETY" IN CRYPTO AS EXCHANGE BALANCES OF STABLE COINS RISE
The bitcoin sell-off amidst the Covid-19 crash has increased the stable coin balances on several crypto exchanges.
Sellers on exchanges seeking less exposure to the crypto volatility converted their holdings to dollarized tokens.
Tether has expanded its balance sheets with $1 billion worth of USDT assets since the 12th of March, increasing the balance sheet by 21% in two weeks.
In the beginning of March, $400 million worth of stable coins were sitting on exchanges.
Now, the number has risen to almost $1 billion worth of stable coins, waiting for the right time to buy crypto assets.
86% of the stablecoins are held on Binance, whilst Bitfinex and Bittrex are the second and third largest exchange holders of stablecoins.

THE BITCOIN PRICE IS STILL FACING A MAJOR RESISTANCE LEVEL
In these volatile periods, it can be useful to zoom out. Although having a volatile week, the technical analysis looks almost identical to the one we presented last week.
BTC closed last week below the resistance level we have been talking about.
The current level around $6,600 – $6,800 has been a support level for the BTC price several times over the past year and now seems like an important resistance level.
A weekly close above this level is what the bulls are looking for, and bears are hoping for a clear rejection downwards.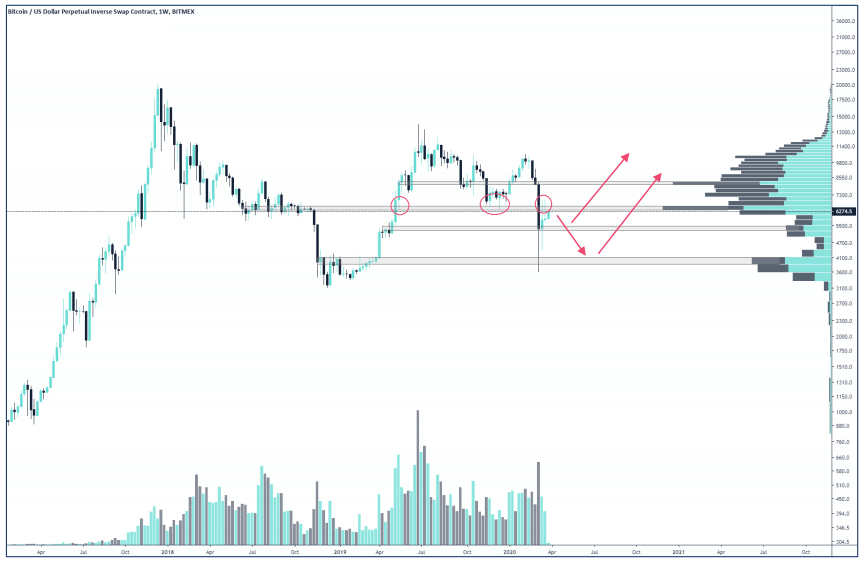 BACKWARDATION IN BTC FUTURES MARKET
After the crypto market crashed two weeks ago, something changed in the futures market for bitcoin.
Before the crash, BTC futures prices for June and September traded above the spot price.
Now, they are trading slightly below the spot price, indicating negative premiums in the futures market.
This is called backwardations, and this is favorable for investors who want to go into long positions since they get a premium for doing so.
In broad terms, backwardation reflects the majority market view that spot prices will move downwards going forward.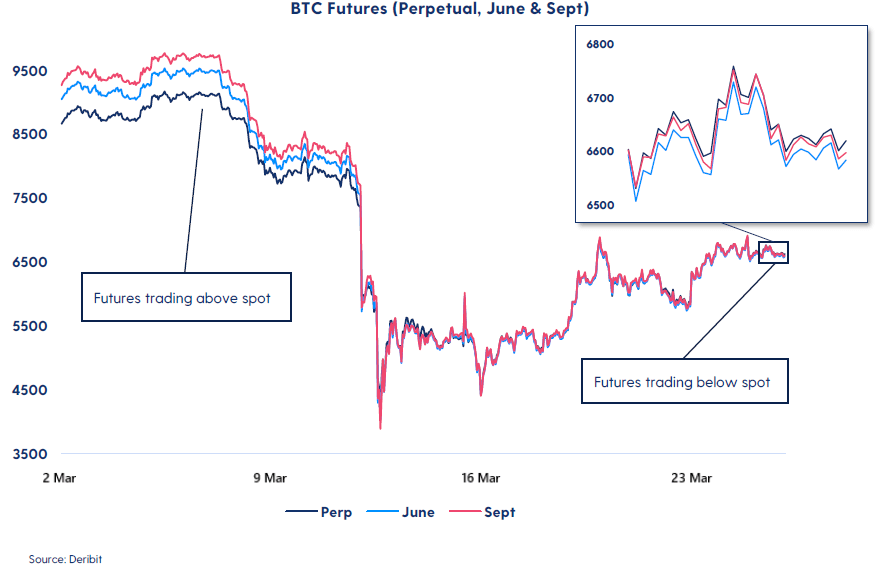 16% PROBABILITY FOR BTC ABOVE 10,000 IN JUNE?
By looking at options prices for BTC, we can get indications on what traders expect in 2020.
Right now, prices aren't indicating a very bullish outlook.
Options prices are now indicating only a 16% probability for BTC to be above $10,000 by the end of June 2020.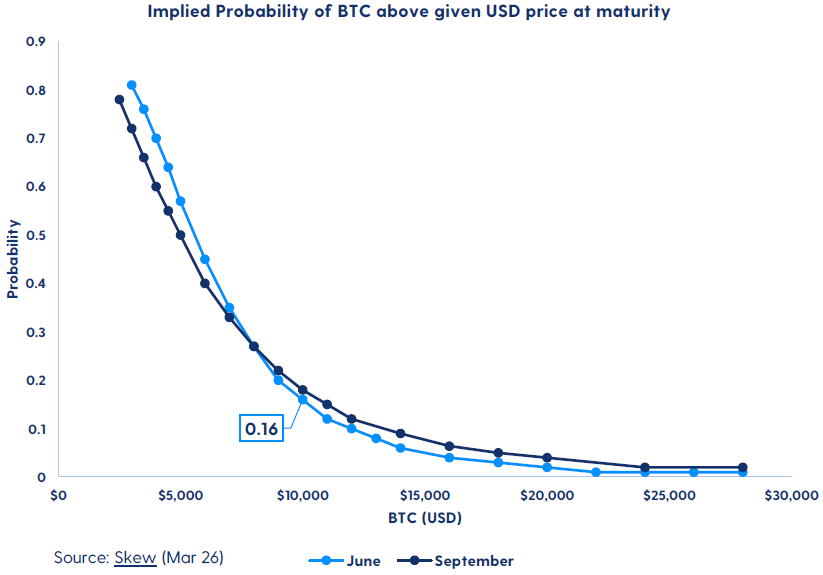 SECOND LARGEST DROP IN MINING DIFFICULTY IN HISTORY
Last week, mining difficulty for Bitcoin dropped by almost 16% – the second-largest drop in history.
To ensure that the Bitcoin network continues to mine new blocks every 10th minute, the mining difficulty adjusts every 2016 blocks (approx. every 2 weeks).
Last week's drop came after a drop in the hash rate for Bitcoin following the sudden crash two weeks ago.
This is an indication of less miners competing to solve the math problems to win the freshly minted bitcoin, as it became less profitable to mine after the price drop.
Bitcoin's largest drop in mining difficulty happened on Oct 31, 2011, when it dropped 18.03%.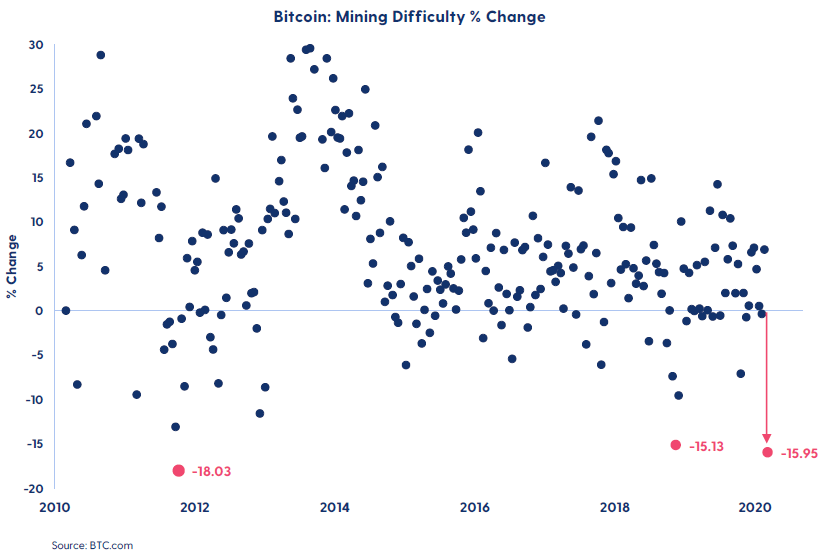 SPIKE IN ON-CHAIN VELOCITY INDICATES A BULLISH SIGNAL FOR BITCOIN
Data show that long-term velocity is turning bullish.
Velocity measures the speed that bitcoin move through the network. The velocity of 600% means active coins move six times per year.
Velocity can be measured over 12 weeks to capture longer term trends.
Historically, bitcoin investors make money when network velocity (12 weeks) is over 600%.
This indicator just turned bullish again last week, after being below 600% since August 2019.