Reading Time:
2
minutes
In a Twitter dialogue yesterday, Bitcoin advocate and former Twitter CEO Jack Dorsey replied to Grammy award-winning Cardi B about the future of the US dollar…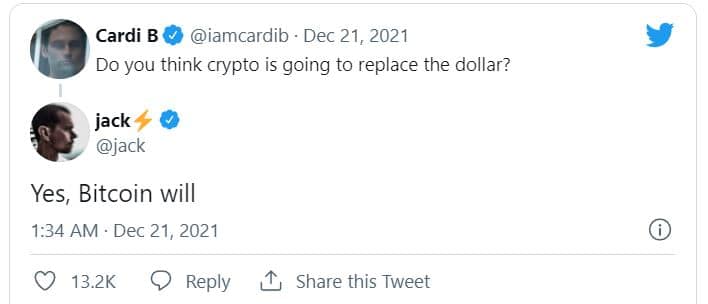 Dorsey used this opportunity to confirm Bitcoin's dominance and assert that it will be "Bitcoin" that will replace the U.S dollar, and not merely "crypto".
Cardi B's tweet had a lot of comments from the crypto and Bitcoin community, which dragged the US dollar down.
Jack is an enormous supporter of Crypto and has supported bitcoin since 2018. His tweet in August says Bitcoin would unite a deeply divided nation.
Dorsey resigned as CEO of Twitter to concentrate on Block, the fintech company formerly known under Square. While he was Twitter CEO, the platform enabled Bitcoin tipping and promised NFT authentication.
Furthermore, Parag Agrawal (the new CEO of Twitter) has been heavily involved with decentralized projects within the company.
Presently, bitcoin's price hovers around $48,900. Members of the community continued to state crypto's inevitable growth. Specifically claimed Bitcoin's dominance due to its increasing institutional adoption across the world.
The most prominent comparison between Bitcoin and the US dollar was made after the US began experiencing rising inflation.
Eminent players were warning the public about the rise in inflation. This was followed by the steep fall of Bitcoin.
One side is that the US dollar's devaluation can be used as an opportunity for more debt to take advantage of the falling interest rates.
On the other, many billionaires view Bitcoin's crash as an investment opportunity. These crashes can be seen as one thing: accumulating more Dollar Debt to channel it to purchase more Bitcoin.