Reading Time:
2
minutes
Chris Becker, Blockchain lead at Investec private bank, took to the stage at Blockchain Africa 2020 with a unique video about Investec's move into trusting a bank in the technological age. It was slick, and it was impactful, as one has come to expect from the leading South African private bank.
Becker took the audience through a historical journey of money and value transfer, specifically focussing on South Africa's value transfer systems of the past – from Zulu and Khoisan trade to the establishment of the South African Reserve Bank post World War 1 in 1921. He then highlighted how banks have evolved from custodial servants to become payment processing partners, with more than 96% of fiat currency in the world today being digital.
It was off this platform that he introduced the idea that Investec want to "bring banking full circle" and reintroduce the custodial service that banks were so good at offering in the past. Becker said that Investec's plan was to offer a robustly safe service that kept custody of the new kind of asset: the digital asset of the blockchain future.
"Our blockchain team have been extremely busy over the last 3 years building the right products that one would expect from an innovative bank like ours, but products that would be most utilised and make the most sense. We believe offering custodial services of digital assets for our clients is indeed what makes the most sense."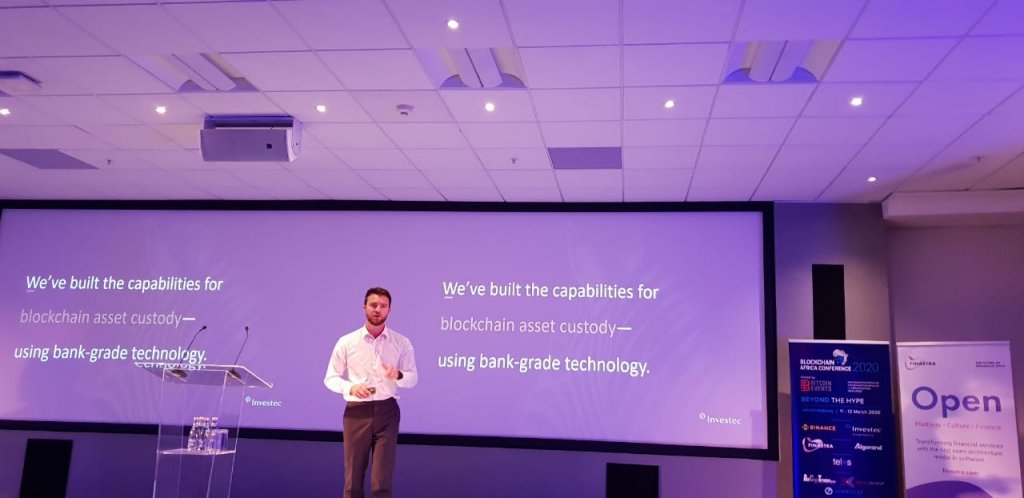 It's a big move by a bank in South Africa, and could attract new young and tech savvy investors. Becker also noted that they've been working with exchanges and numerous on and off ramps in South Africa to find the most secure and trustworthy routes.
Investec's Blockchain Lead didn't give an indication as to when such a service will be available at the bank, but the statement was clear: Investec are ready to offer this product, and believe they have built an industry-leading product that will appeal to both the traditional and tech-savvy investor alike.
Global Crypto will provide updates as to when Investec's custodial service will be available.