Reading Time:
3
minutes
Press Release: Tuesday, October 6 2020, 07:15 CAT | Source: Binance
Binance, the world's largest cryptocurrency exchange is running a FREE three-day crypto trading masterclass (with a focus on DeFi) for crypto newbies and enthusiasts across the African continent. Acquire skills you can use to make extra money while keeping your "9-5" and learn about cryptocurrency trading (and DeFi applications) for FREE.
Register here to attend!
October 9th to October 11th at 5PM WAT/ 6PM SAST/ 7PM EAT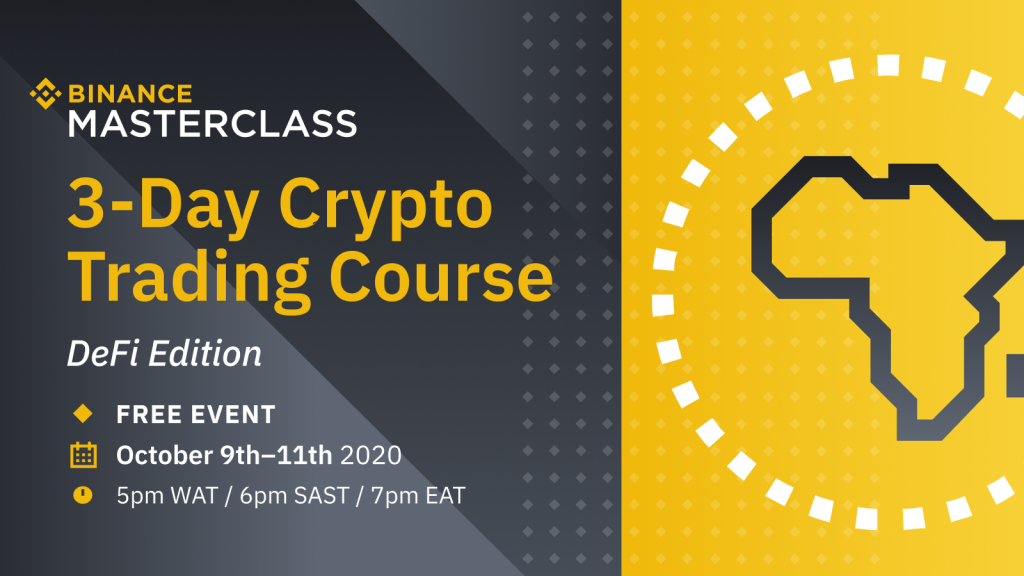 Binance Masterclass has become the leading crypto training course for both crypto newbies and enthusiasts since its launch in 2020.
The October edition is targeted at helping people understand the
– Fundamentals of crypto
– How to make money through crypto trading
– How to identify scams
– How to buy and sell crypto
– Advanced concepts around DeFi (Binance launchpool, BSwap) and futures trading
In today's world the need to make extra income continues to become more and more necessary – especially in Africa, where salary cuts, currency devaluation and unemployment continue to rise. For many, the months spent being stuck at home due to COVID-19 have shown the potential of the digital economy, More people are moving to earning online and according to a CNN report, Bitcoin is the best performing asset of the decade. Crypto adoption in Africa continues to rise and many believe the applications of DeFi can solve a lot of Africa's financial problems.
Binance Masterclass is bringing crypto education to your home/computer screen for FREE. All you need to do is signup to attend.
Location: Zoom
Register at: http://bit.ly/Binancemasterclassafrica
Date and Time: October 9th, 10th & 11th, 5PM WAT, 6PM SAST, 7PM EAT
Over $600 USD up for grabs! Stand a chance of winning up to $100
during the event!
1. Stand a chance to win $20 when you sign up on Binance during this event through this link: https://www.binance.com/en/register?ref=M91NXGWT
2. Trading capital giveaway ($300 for 3 lucky winners) and participation giveaway ($220
in BNB to be won during the Q&A session)
Attendance over the 3 days is compulsory to receive certificate of participation
Speakers include:
Chris Ani
Grey Jabesi
George Mwakisha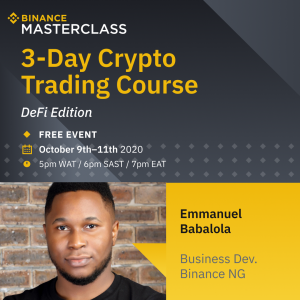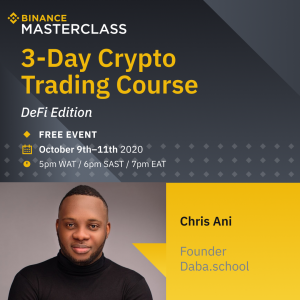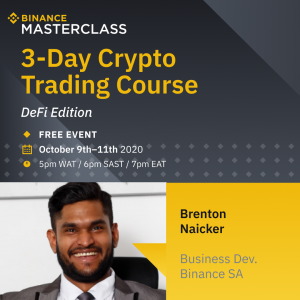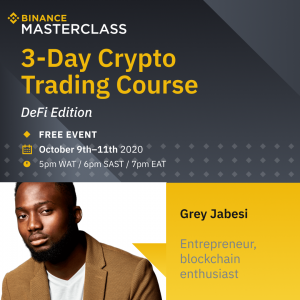 — – – – – – – – – – – – – – – – – – –
This article is a Press Release received from Binance. Global Crypto did not receive any form of compensation for its publication, and as this material is deemed newsworthy for the Southern African blockchain industry, it was thus published accordingly.