Reading Time:
2
minutes
Bitcoin celebrated its 12th birthday with a bang on 4 January 2021, by setting yet another all-time high of $34,786 on Binance, rekindling memories of the previous parabolic rally in 2017. Having retraced slightly, Bitcoin is currently trading at $32,000.
Happy birthday #Bitcoin

— jack (@jack) January 3, 2021
Bitcoin started off 2020 trading at around $8,000. Many investors believed that this would be the last time Bitcoin would ever trade at this level. They were, however, wrong and Bitcoin proceeded to fall to a yearly low of around $4,500 in March. People were distraught, many claiming that Bitcoin was 'dead' and 'would never recover'. Then COVID-19 hit the world, putting immense strain on the global financial system, which ultimately enabled Bitcoin to smash through previous all-time highs set in 2017.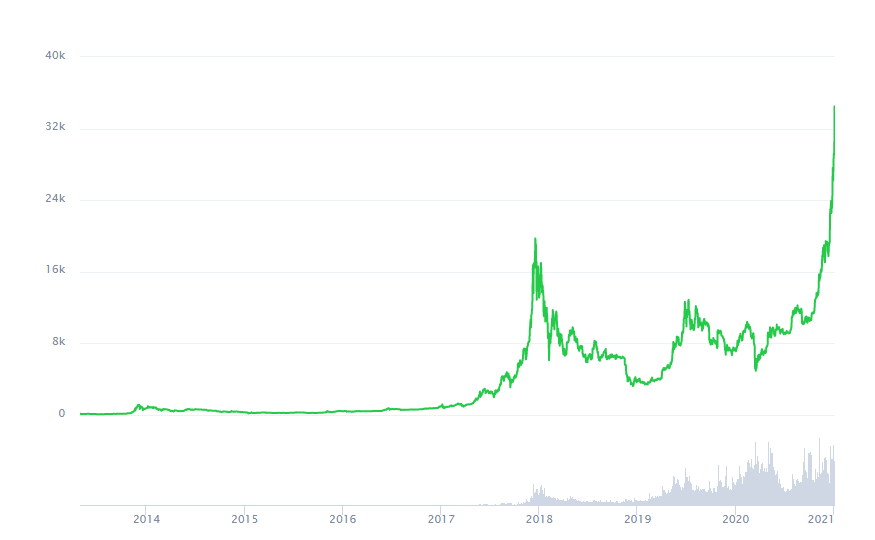 Furthermore, after the fear generated by the global market collapse during the COVID-19 pandemic, there was a sudden interest in Bitcoin by institutional investors which gave Bitcoin some much needed attention. The likes of Square, MicroStrategy and GrayScale announced massive investments in Bitcoin, as fears of the weakening Dollar loomed, investors needed to find a new 'safe haven'.
Unfortunately for the US Dollar (not for Bitcoin), the US Federal Reserve has printed over 20% of all the US Dollars in circulation and is showing no signs of slowing down. Many investors believe that the fed is only adding fuel to the Bitcoin fire.
As the COVID-19 pandemic and weakening Dollar will likely continue throughout 2021, investors are hopeful to see a continuation (but expect pullbacks) of the bullish momentum that we saw in Q4 of 2020.
Feature image by Ennoti from flickr