Reading Time:
2
minutes
Investors are scared after the co-founder of a multibillion-dollar cryptocurrencies protocol was accused of being a serial scammer.
Popular on-chain analyst zachxbt revealed in a Twitter thread on Thursday that 0xSifu, the pseudonymous treasurer for Wonderland, was actually Michael Patryn, the co-founder of a notorious Canadian crypto exchange that defrauded investors up to $190 million.
This has been a significant blow to "Frog Nation," which includes Popsicle Finance, Wonderland, and Abracadabra, which are now all being run by prolific developer Daniele Sestagalli.
Frog Nation-related assets, such as ICE, TIME, and SPELL, are down by over 30%, and stakeholders are now worried.
According to Bloomberg, Patryn has been convicted of several crimes, including computer fraud, bank fraud, and credit card fraud.
Daniele Sestagalli, the founder of Wonderland, confirmed the rumour after the original tweets made public that Sifu is Patryn. Developer Sestagalli is behind multiple DeFi projects, including Abracadabra's, Magic Internet Money (MIM) token.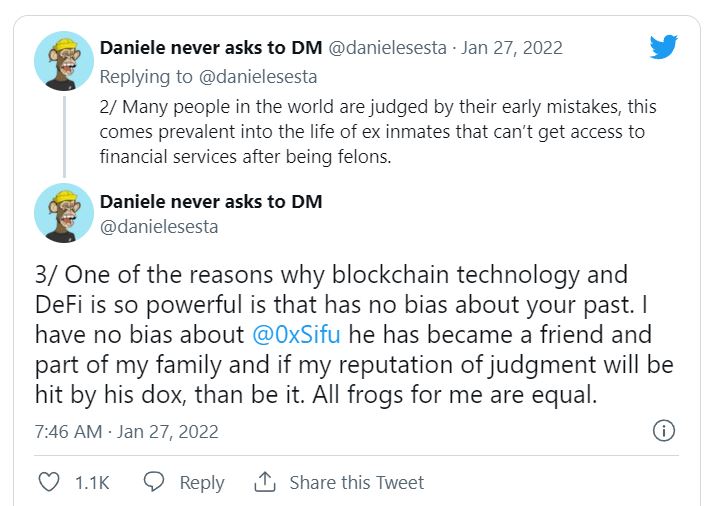 Sestagalli wrote on Twitter, "I want everyone to know that I was aware of this and decided that an individual's past doesn't determine their future. I choose to value the time we spent together without knowing his past more than anything,"
Later, he posted a statement explaining that he learned Sifu's identity a month ago and has asked Patryn to step down.

At the moment, the Wonderland DAO is preparing for a vote about whether or not to keep Patryn on board. So Patryn's future as treasurer is up for debate.