Reading Time:
< 1
minute
Elon Musk's love affair with Dogecoin is never-ending; despite the ongoing crypto market decline, Tesla CEO today in a tweet said, He would be happy to eat McDonald's on live television when they accept Dogecoin payment.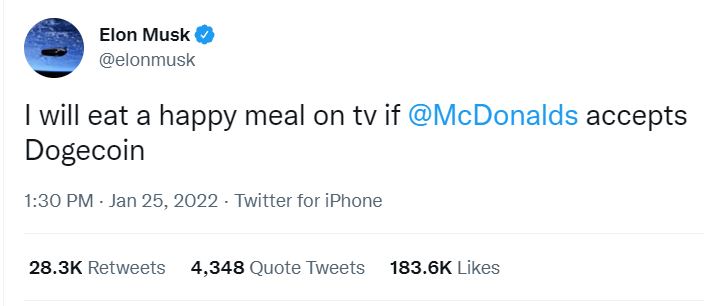 This isn't the first time the Billionaire businessman has promoted Dogecoin publicly.
The DOGE price rise follows Elon's announcement on Twitter. The Dogecoin price surged up to 9 per cent in just a few minutes after Elon's tweet.
McDonald has been the subject of memes on crypto Twitter typically when rough sessions occur. Crypto memes tend to show McDonald's as a backup plan should anything go south in their crypto career.
McDonald's recently took a jab at Crypto influencers amid the current cryptocurrency crash. It could be seen as the result of several crypto influencers claiming McDonald's as a less desirable job choice.
After this, exposure to the crypto world can really help McDonald's promote its NFT story. Indeed, like many other brands, McDonald's has been displaying a lot of curiosity in the NFT market.
In November 2021, McDonald's launched an exclusive collection of 10 NFT McRib at OpenSea to commemorate the 40th anniversary of the company.