Reading Time:
4
minutes
Bitcoin Events is hosting the first-ever, Crypto Festival in Cape Town on 7 September 2019 at Shimmy Beach Club, V&A Waterfront. This is the first event of its kind in South Africa and with the tremendous interest in cryptocurrencies that exist in South Africa this event is certainly going to provide several insights into why South Africans are investing in, and trading with cryptocurrencies!
What You Can Expect at the Crypto Fest
Bitcoin is now 10 years old and with it has come a plethora of exciting new ways to transact, invest, trade and conduct business. The Crypto Fest 2019 strives to bring cryptocurrencies to life through immersive activities showcasing examples of real-world applications and increased engagement opportunities to make the connections needed to expedite cryptocurrency adoption through controversial crypto debates in the Crypto Battle Arena, live crypto gaming and fun competitions with crypto giveaways. The festival will culminate with a crypto party!
On The CryptoFest Stage
Bitcoin Events are delighted to welcome their confirmed speakers who are recognised as thought leaders in the cryptocurrency industry.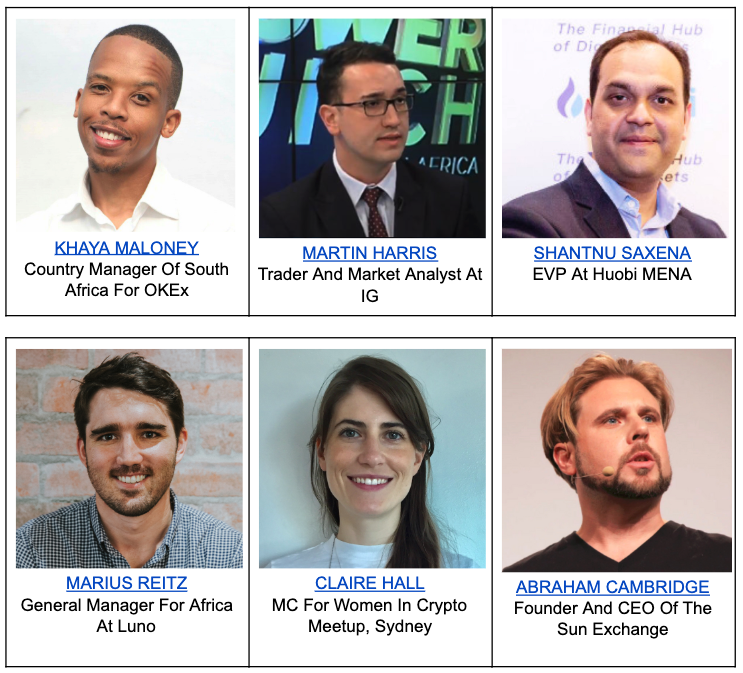 Hotly contested debates and discussions will take place in the Crypto Battle Arena 
Crypto Battle I: Battle of the Coins
Crypto Battle II: Bitcoin vs. Gold
Crypto Battle III: Libra Coin: What Does it Mean for Crypto?

  

The Bitcoin Civil War between BTC, BCH, and BSV is hotter than ever, with existential stakes for different communities of stakeholders. Many different opinions exist in the crypto community on which bitcoin is the true bitcoin: which is the most efficient payment system

.

Catch Rocelo Lopes, Warren Gray and Lorien Gamaroff, in this crypto battle ring, with James Preston as the moderator.

Gold has historically played a central role in economies driven by physical exchange and remains a recognized store of value to this day. What are the investment cases for gold vs the investment cases for bitcoin?

Catch Richard de Souza, Graeme Tennant and Piotr Tylczynsk, in this crypto battle ring, with Grey Jabesi as the moderator.

It is no more news that Facebook is taking a chunk of its resources and technical know-how to establishing a coin, Libra, offering a "faster, cheaper and more secure" alternative to traditional ways of making payments on

the internet. Is Facebook's entrance into the crypto market the best thing to happen in crypto?

Catch Graeme Tennant, Grey Jabesi, Claire Hall, Marius Reitz, Tshepo Magoma and Prof. Angela Itzikowitz, in this crypto battle ring, with Farzam Ehsani as the moderator.
Read more about the speakers here. The focus of the Crypto Fest is on cryptocurrency investments, trading and payments. Have a look at the exciting festival programme here.
SPONSORS ON THE CRYPTO FEST THRONE
The Crypto Fest is a global arena for industry leaders to share their breaking news and technologies with a legion of investors, experts, developers, businesses and participants who are using cryptocurrency to redefine the prevailing practice of everyday life.
Premier Sponsors
One of South Africa's first cryptocurrency exchanges, AltCoinTrader SA, providing cryptocurrency trading in South Africa since 2015.
IG is a world-leading online trading provider, giving you access to opportunities across thousands of financial markets through our intuitive platforms and apps. 
Diamond Sponsor
OKEx is a world-leading digital asset exchange, providing advanced financial services to traders globally by using blockchain technology. OKEx provides hundreds of token and futures trading pairs to help traders to optimize their strategy.
Platinum Sponsors
Huobi provides secure and reliable digital asset trading and asset management services to millions of users in over 130 countries around the world.
Stratum is a technology company that develops blockchain solutions focused on digital currencies. Stratum has developed their Stratum Blue token, a digital token that represents a diversified portfolio of cryptocurrencies.
MineBest is a cryptocurrency mining company, who prides itself as a technologically advanced infrastructure company specialising in cryptographic computing activities.
Gold Sponsors
Luno is South Africa's oldest cryptocurrency exchange, with over 2 million customers in 40 countries. Luno makes it safe and easy to buy, store and learn about cryptocurrencies.
YOUNIQX, brings products and services for secure digital identity to the spotlight internationally.
Sun Exchange, is the world's first buy-to-lease solar cell marketplace. Through Sun Exchange, anyone, anywhere in the world, can own solar energy producing cells and build wealth by leasing those cells to businesses and organisations in emerging markets.

BLOCKCHAIN AFRICA CONFERENCE 2020
Bitcoin Events are already planning their next event! The Blockchain Africa Conference is in its 6th year and we are expecting 600+ attendees for the conference. The general theme is the use and application of emerging financial technologies, i.e.: Blockchain Technology and cryptocurrencies, beyond the Fourth Industrial Revolution, and how these emerging technologies enable and enhance artificial intelligence and machine learning in enterprise development in the efforts and championing toward financial inclusion.
Subscribe to their newsletter to stay informed of their next events and news of the global blockchain and cryptocurrency industry. For more information on this and future events, please email the team at info@blockchainafrica.co. 
ABOUT BITCOIN EVENTS
Since inception, Bitcoin Events have cut through the hype and challenged the critics to educate, upskill and drive long-term thinking on the strategic benefits of cryptocurrencies and blockchain technology for businesses, governments, citizens and society.
For more information on the Crypto Fest visit their website at www.cryptofest.co.za or email them at info@blockchainafrica.co 
See You at the Crypto Fest 2019 in Cape Town!