Reading Time:
2
minutes
CitiBank executive Tom Fitzpatrick pointed out in an independent report the distinct similarities between the 1970 gold market and Bitcoin. Fitzpatrick referred to Bitcoin as the "21st century gold". Fitzpatrick, as per his price prediction chart, further predicts that the Bitcoin price will hit  $318,000 by December 2021.
The report was first leaked  by Twitter user "ClassicMacro" in a tweet:
Citibank bitcoin technical analysis.

Target: Moon. pic.twitter.com/prB1YjVNhX

— Alex (@classicmacro) November 13, 2020
The report compared the first Bitcoin surge in 2010-2011 that took it to the mainstream with gold:
"That surge, as it came into the mainstream, was very reminiscent of what happened with Gold as it was allowed to float in the early 1970s after 50 years of trading in the $25-$30 range."
Fitzpatrick traced the historical price performance of Bitcoin on the weekly chart below, which he believes reflects that timeframes for the rally are increasing. He claims that, with the increasing timeframes of the rallies, it will likely put the current rally's peak in December 2021 at $318k.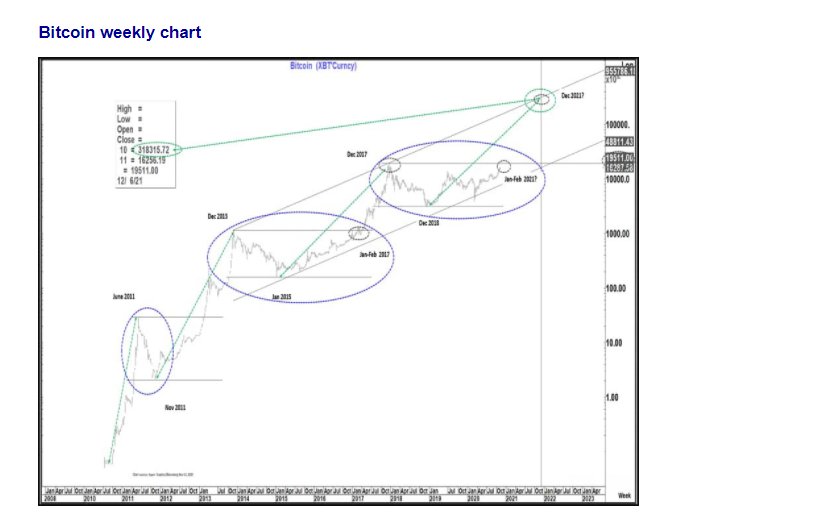 Some Twitter users were, however, not too thrilled with the report. CryptoWhale argued that people should be worried that big banks are turning bullish on Bitcoin, as it was essentially created to take them down. CryptoWhale further mentions that Citibank may have ulterior motives as it is the same bank that urged people to sell Bitcoin when it was trading under $400 in 2013.
Citibank released a report yesterday saying they predict #Bitcoin will hit $318,000 by 2021.

This is the same bank that urged people to sell Bitcoin when it was trading under $400 in 2013.

Big Banks Turning Bullish on Bitcoin Should Have You Worried. They have ulterior motives. pic.twitter.com/nLlVsZTeQg

— CryptoWhale (@CryptoWhale) November 15, 2020
Another Twitter user, Larry Cermak, issued a warning to users, claiming that Fitzpatrick also said in 2013 that gold would hit $3500 and even used the exact same 1970s analogy.
Before everyone gets hyped on this Citi report, the same guy said in 2013 that gold was gonna hit $3.5k and even used the same 1970s analogy. Not saying it won't happen but this guy looks like Citi's Pomp pic.twitter.com/F5Yh0TKT2s

— Larry Cermak (@lawmaster) November 16, 2020
Feature image by Mike Mozart from flickr