Reading Time:
2
minutes
In our (almost) weekly Market Analysis series which is published on YouTube and our Podcast page (available on all the major podcast platforms), we've been pretty bearish of late. Looking at both the Bitcoin and Altcoin markets, things don't look too rosy, especially for the altcoins.
On the Bitcoin price back in late October, we identified a descending channel after June's highs, which gave us continued reason to remain bearish. Looking at volume and repeated support levels since the December 2017 bull run, we then identified the support zone between $6000 and $6800. Combining the two, we had good reason to believe the price action would continue in the descending channel, and find support within that "blue support zone" as highlighted in the below chart created on 28 October 2019.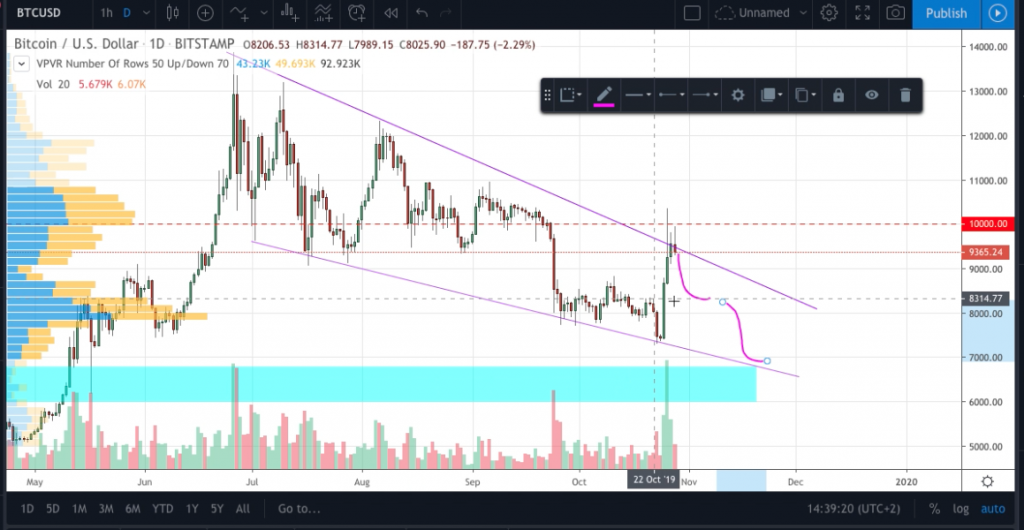 This week, our bearish bias was confirmed, and we saw a significant selloff into that blue support level, reaching a low of $6500 yesterday 18 December. As expected, we've seen some buy orders push the price back up, but my bias still remains bearish for now.
With technical analysis, you always need to think in "zones" and "areas", not exact price targets, and always think in "probabilities". The probability is that a bearish scenario will play out, but I'm expecting continued support in that zone of $6k – $6.8k, making that a good time to start accumulating or buying for the long term.
Watch this week's Market Analysis recorded yesterday, or listen to its audio, to see exactly why I feel the way I do.
Stay safe, and trade responsibly. You know the drill: Never trade with money you can't afford to lose, and always do your own research!
HERE IS THE AUDIO IF YOU PREFER TO LISTEN TO THE ANALYSIS…
You can also find it on our Podcast page using one of the below links to your favourite platform:
SPOTIFY (James' personal favourite, even with an iPhone!)
ANCHOR (The host service)
DISCLAIMER:
Global Crypto is not a registered financial advisory, and the information provided on this website and its subsidiaries is for entertainment purposes only. Each reader is responsible for their own financial decisions, and Global Crypto cannot be held responsible for any decisions made by its readers and users. Global Crypto encourages all readers to consult a professional and registered financial advisor before making any financial decisions.