Reading Time:
3
minutes
Listen to our interview with Bryan Habana at Africa Tech 2019 here:

When Global Crypto was approached to be a media partner of Africa Tech 2019 (the associate conference of AfricaCom) we didn't expect to see a Rugby World Cup winner on the speaker list. What could Bryan Habana have to do with Tech?
As it turns out: quite a lot, indeed.
The 2007 World Cup winner and top try scorer studied towards his BSc at the University of Johannesburg, which gave him exposure to the likes of C++ and Python, programming languages not only common in software engineering, but also in blockchain infrastructure. Bryan then had to make a tough decision when his rugby career took an exciting turn: Getting selected for the South African Sevens side in 2003. It was then that he decided to put his BSc on hold as the rugby doors kept on opening.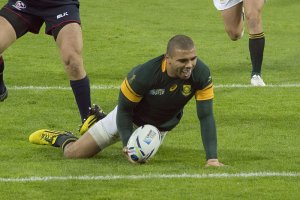 It turned out to be a fruitful move, as he was selected for the Golden Lions a year later, and the Springboks national 15s side on their end of year European tour, where he scored a try with his very first touch of the ball.
14 years on, and Habana hung up his rugby boots after one of the most illustrious careers in the game. A career that included two Currie Cups, two Super Rugby titles, two Heineken Cups, a Top 14 French League championship, a World Cup winners medal, a Tri-Nations, three SARU Player of the Year awards, three Try of the Year awards, and one IRB World Player of the Year.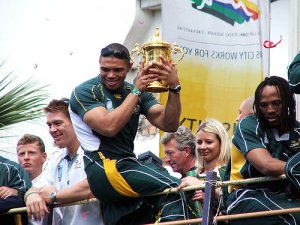 Remarkably, Habana says he feels like he is just getting started.
"Don't get me wrong, though. I am nervous," the rugby legend admits, "I've gone from a specialised environment into a space that is unknown. You can't really prepare properly for this."
"This is where the rubber hits the road," Habana continues, "and I'm actually very excited about discovering my niche and where I fit in. I'm excited to pass on ideas and strategies that I learnt in my international rugby career that I could hopefully pass on to industry."
He's already doing just that. The former Springbok joined forces with marketing powerhouse Mike Sharman and the Retroviral team to create a Sports Marketing company, which Habana says turned a profit in year one.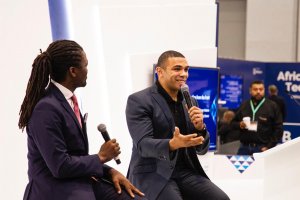 When it comes to crypto, Habana knows a thing or two about the industry already. He outlined that he was very aware of the craze in 2017, and followed it very closely, even having some friends make quite a bit of money off the bull market. He tells us though that those investment highs will often be followed by lows or at least plateaus, where inevitably people are left with a "what now?" conundrum. Something Habana revealed many elite sportspeople experience, especially after reaching the pinnacle of winning, say, a Rugby World Cup.
The rugby icon was at AfricaCom to do exactly what he intends to do post-rugby: inspire South African entrepreneurs to get to the forefront of the digital revolution, and position themselves for success in a global economy. An economy only accessible through the best the tech world has to offer.
Habana is passionate about entrepreneurship in the country, and believes tech is a key field that South African entrepreneurs should be exploring if they are to drive the country's economy forward.
Watch the entire interview with Bryan Habana below on YouTube, or find it on your favourite podcasting platform below.

Find the interview on our Podcast page using one of the below links to your favourite platform:
SPOTIFY (James' personal favourite, even with an iPhone!)
ANCHOR (The host service)