Reading Time:
3
minutes
Walking with purpose through an overcrowded Westin Hotel adjacent to the CTICC, Bryan Habana is stopped by an adoring fan. He was clearly trying to remain incognito in an attempt to get to a series of interviews with Tech media, and the facial sigh he expressed when realising he was stopped seemed to reveal this.
But graciously he put on his beaming smile, and obliged to an all-too-common selfie, the new form of an autograph. She thanked him less profusely than he probably deserved, and he pulled his jacket a bit tighter and headed on his way.
One of the Global Crypto video team was sitting in the Westin lobby at the time, and witnessed this exchange, feeding back to me after our interview with Bryan about his grace and patience.
This royal-like grace was emphasised when he entered the auditorium where we were scheduled to interview Mr Habana about his presence at Africa Com. He put out a solid hand to each member of our three-man team, introduced himself with an unnecessary but remarkably polite "Hi, I'm Bryan" and put on that famous smile. Everyone knew who he was, and yet he insisted on remaining polite and courteous. He even wrapped up his earlier interview with a "thank you, sir" with Lance Witten of the African News Agency.
As the great 19th century writer John Ruskin noted, "I believe the first test of a truly great man is in his humility."
Habana exudes humility, and coupled with his quite simply astounding achievements, one can't help but interpret him as "great".
It would seem this humility is going to stand him in good stead, because Habana looks set to build a significant entrepreneurship career. Global Crypto was privileged enough to sit down with Bryan Habana at lunch time on Wednesday afternoon and discuss his presence at Africa Com, his tech understanding, and his business ambitions.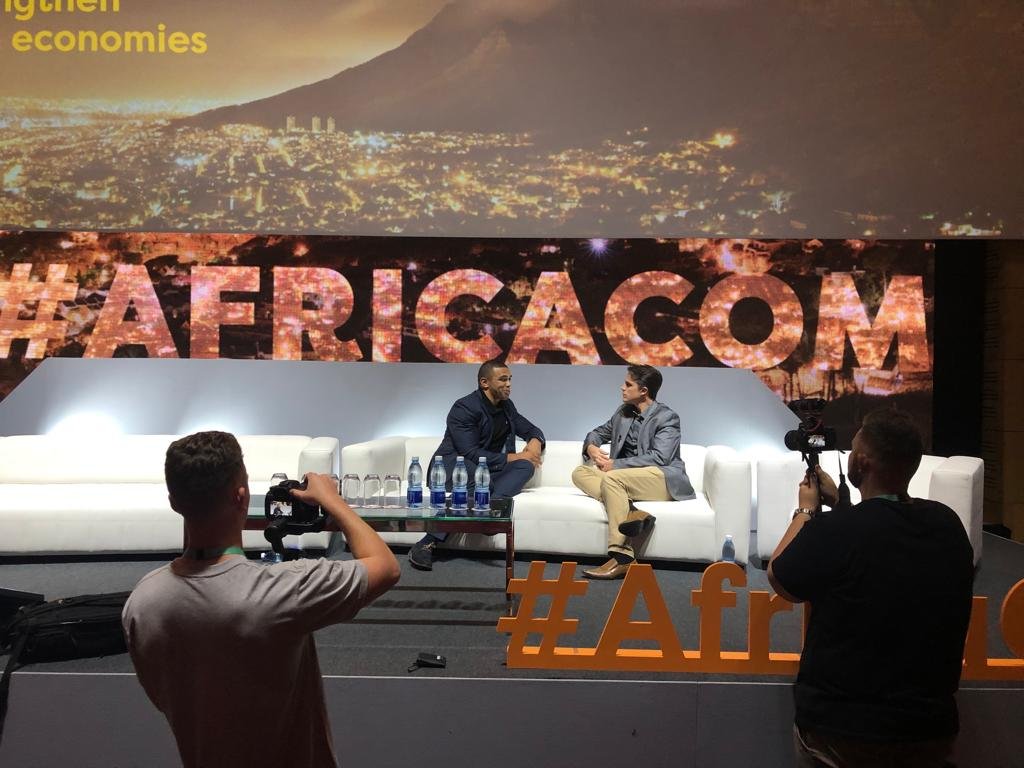 In the 8 minutes we had with the 2007 World Cup winner and second leading international try scorer of all time, we learned that he is so much more than all those rugby achievements.
Having studied a BSc in Gauteng, his exposure to C++ and other programming languages gave him unique insight into the development of blockchain technology, which prepared him well for the crypto craze of 2017. While admitting to not completing his BSc due to rugby commitments, he clearly has a firm grasp on technological development, especially in the blockchain space.
What was also revealed is that he is passionate about tech entrepreneurship in South Africa, and hopes to inspire others in the space. While in France for local french rugby duty, Habana studied at the Toulon Business School, which gave him a high level overview of business administration, management, and even a bit of law exposure.
In concluding our time with him, Habana shared that the greatest piece of advice he could give entrepreneurs in the Fintech space is to read copiously. The power of reading cannot be understated, and the more you read as an entrepreneur, the more you equip yourself with the mental tools required to build a successful business in quite frankly a challenging space.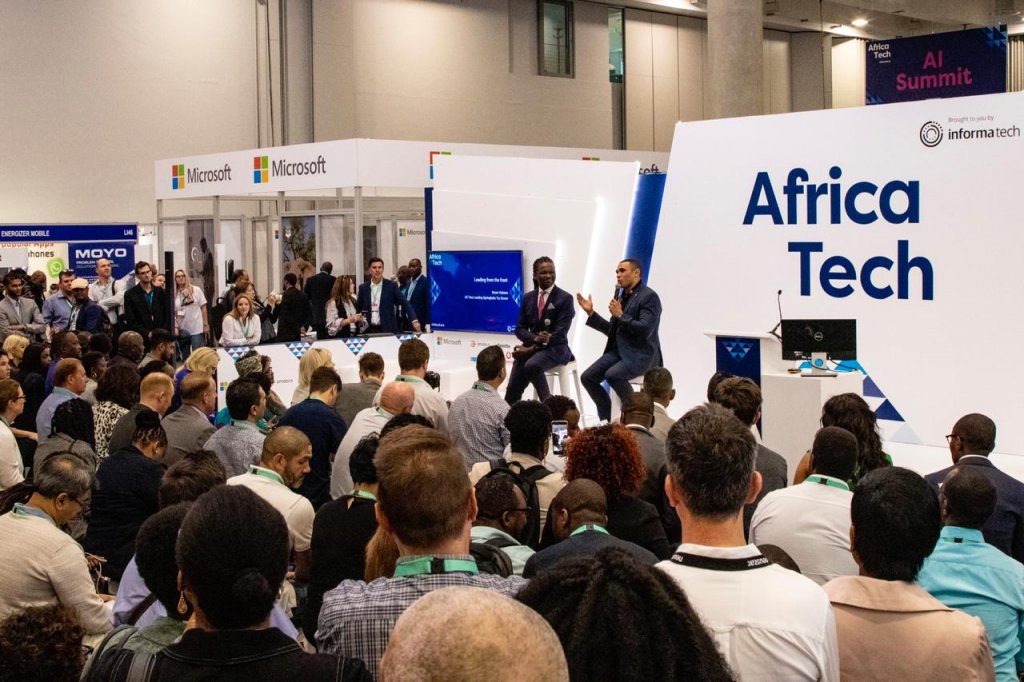 The Springbok legend was then hurried off to his next commitment; a live panel discussion in front of the Africa Tech audience here within the Africa Com conference. Habana is clearly excited about his new journey of entrepreneurship, and is exposing himself to one of the most exciting industries for startups: Tech.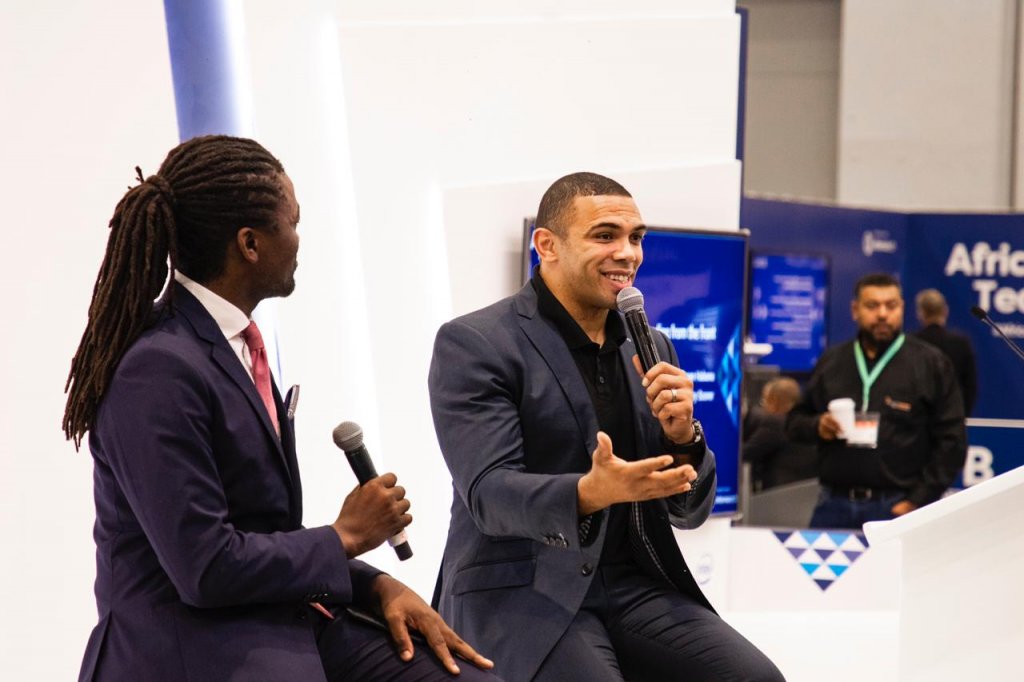 With grace and humility like his, co-existing with his successful sporting legacy, there is little doubt that the name Bryan Habana will move beyond just the association of a Rugby World Cup winner's medal. And in fact, it would seem this is his ambition.
We will have our full interview with Bryan Habana released within the next few days. Keep an eye on the website and our social channels for its release.