Reading Time:
2
minutes
Press Release: Monday, March 15, 2021, 10:00 CAT | Source: Bitcoin Events
This year's Blockchain Africa Conference, the definitive blockchain and cryptocurrency event on the continent, is set to introduce attendees to some of the most influential figures in the cryptocurrency and blockchain industry.
These acclaimed experts will assemble at this prestigious event to analyse and debate pressing topics pertinent to this fast-growing industry.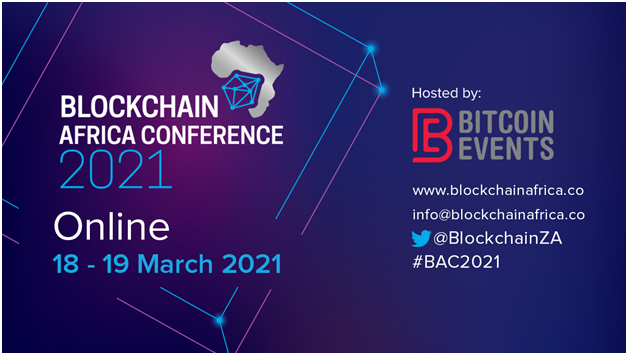 Over 50+ speakers and 35+ free sessions include presentations, panels, fireside chats, an interactive masterclass and Q&A sessions.
Keynote speakers include:
Charles Hoskinson – Founder and CEO of IOHK and Founder of Cardano
Yele Bademosi – CEO at Bundle Africa and Founding Partner at Microtraction
Mariana Gospodinova- General Manager of European Operations for Crypto.com
Denelle Dixon – CEO and Executive Director of the Stellar Development Foundation
Ben Zhou – Co-founder and CEO at Bybit
Stani Kulechov – Founder and CEO of Aave
Sandro Ro – CEO at the Global Blockchain Business Council
Sam Bankman-Fried – CEO and Founder at FTX
Henri Arslanian – Global Crypto Leader at PwC
Topics throughout the entire event cover the full breadth and scope of blockchain, cryptocurrencies, stablecoins and decentralised finance, including an exciting fireside chat hosted by Peter McCormack, Host of What Bitcoin Did, on retail and institutional investment in cryptocurrencies.
Several talks will look at the rising demand for cryptocurrencies and other blockchain-enabled products in Africa. The continent's young population, high mobile connection penetration and well-established infrastructure are the main drivers contributing to the accelerating adoption of blockchain and digital currencies.
The conference will unpack some of the challenges facing the industry particularly with regards to regulation. South African Reserve Bank (SARB) Senior FinTech Specialist, Herco Steyn, will present a talk on the central bank's holistic approach to future regulation.
Brandon Topham, Divisional Executive for Enforcement at the Financial Sector Conduct Authority (FSCA), the South African regulator that oversees the market conduct of financial institutions, will participate on the panel discussing regulations and what their stance is as a regulator.
The Blockchain Africa Conference 2021 is Bitcoin Events' biggest event to date, with over 2500 registered attendees and many more expected to still register.
Over the two days there will be multiple networking events, 1-1 connection opportunities and a wide variety of exhibitors.The event will bring together 3000+ attendees from 50+ countries to the hottest topics and speakers in the industry.
Crypto.com, one of the biggest cryptocurrency exchanges in the world, with more than 10 million customers, is the Premier Sponsor of the event.
Aave, a decentralised lending system and Bybit, one of the largest crypto derivatives exchanges, are the Diamond Sponsors.
Platinum Sponsors include Acria Network, MineBest, Trade and Development Bank (TDB)  and TradingView.
Gold Sponsors include AltcoinTrader, Axalio, Chainsulting, ConsenSys and CryptoCurrencyWire.
For further information and to register for a free ticket, visit the website www.blockchainafrica.co.
— – – – – – – – – – – – – – – – – – –
This article is a Press Release received from Bitcoin Events. Global Crypto did not receive any form of compensation for its publication, and as this material is deemed newsworthy for the Southern African blockchain industry, it was thus published accordingly.