Reading Time:
2
minutes
Are you stuck in a lockdown and worried about what comes next? Binance are hosting a free masterclass on "Becoming A Profitable Crypto Trader" this Saturday May 30th. Attendees can learn about Bitcoin and cryptocurrency trading, and, if they apply the disciplines of effective market analysis, could potentially build a second stream of income.
With the global economy in recession and the COVID-19 pandemic causing widespread job losses for millions around the world, Binance felt it necessary to provide an opportunity for people from all walks of life to learn about the opportunities (and risks) presented by crypto trading.
The masterclass could not have come at a better time given the current dynamics in the local and international financial markets, and interest in cryptocurrencies and their trading is higher than ever.
This event is targeted at helping you understand…
The fundamentals of crypto
How to identify scams
Learn the more advanced concepts around Spot, Margin and Futures Trading
Help "newbies" get started on their crypto journey
The masterclass will be broken down into two topics:
Bitcoin and Blockchain Fundamentals run by Emmanuel Babalola and Tanya Knowles of Binance
Understanding Market Psychology and Trading Fundamentals run by guest speaker, Chris Ani (CEO of Digital Abundance)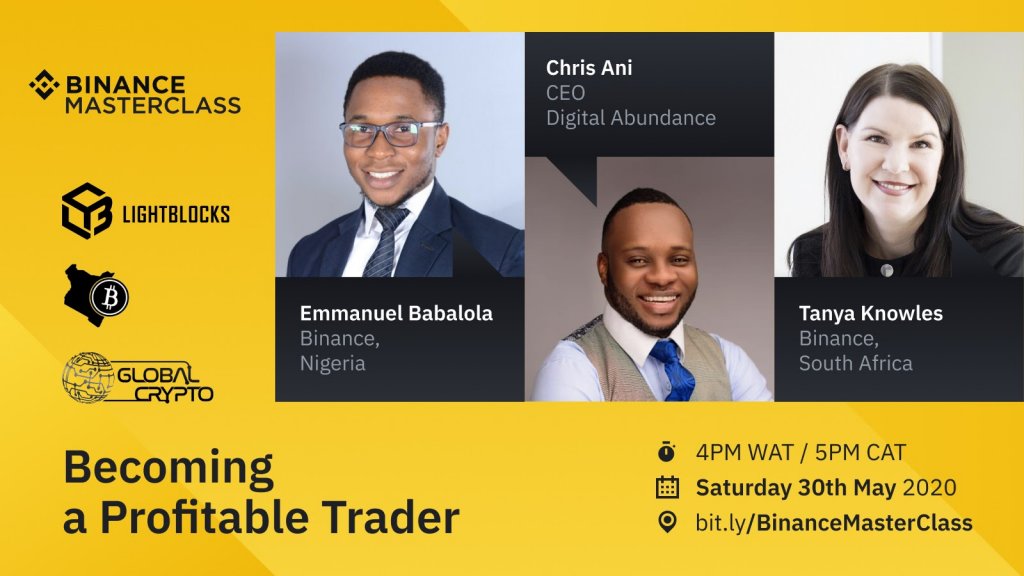 ————–
Binance will also be giving away $10 to 10 lucky new Binance users. If you don't have a Binance account and want to stand a chance to win $10, simply register with THIS LINK HERE and make a crypto or fiat deposit of any amount before the masterclass on Saturday.
15 attendees will also stand a chance of winning $10 each during the event Q&A session.
All the details for the masterclass are as follows:
Saturday May 30th, 2020 on Zoom.
Global starting time:
EST (New York): 11am
GMT: 3pm
WAT (Nigeria): 4pm
CAT (Johannesburg): 5pm
WIB (Jakarta): 10pm
REGISTER FOR THE FREE EVENT BY CLICKING HERE
Registration is essential, so book your place now.
Image by Jan Vašek from Pixabay