Reading Time:
2
minutes
Yesterday Binance signed a Memorandum Of Understanding (MoU) with the Dubai World Trade Centre Authority to create a crypto hub.
Binance, the world's most popular cryptocurrency trading platform, is one first to establish a new crypto hub in Dubai.
The Memorandum of Understanding (MoU), signed with the DWTCA, would see the global cryptocurrency exchange assist Dubai in becoming a significant center for crypto business and help build a crypto ecosystem that will "generate long term economic growth through digital innovations."
Binance, as part of its membership to the DWTCA initiative, will help the authority outline their vision of "accelerating set-up of anew industry hub for global virtual assets," according to the announcement.
According to the official Binance press release:
Binance believes that Dubai's new agenda will contribute to the growth of the global economy. In order to support this, Binance will participate in this knowledge-sharing ecosystem by sharing its experience in collaborating with global regulators to aid the development of progressive Virtual Asset regulations. The goal is to assist crypto exchanges, businesses that offer blockchain and Distributed Ledger Technology (DLT) services, and a wide range of digital currencies and assets to become licensed in Dubai.
Given that Binance had announced its intention to open a crypto venture in Dubai some time back, it was not surprising that they reached an agreement.
This announcement comes just a few days after the Dubai government declared DWTCA the regulator for the crypto industry.
Changpeng Zhao, CEO of Binance, has recently become more interested in regulatory developments surrounding crypto in Dubai.
Zhao was one of the first to report DWTCA's new crypto initiative. Zhao also purchased his first house in Dubai in October.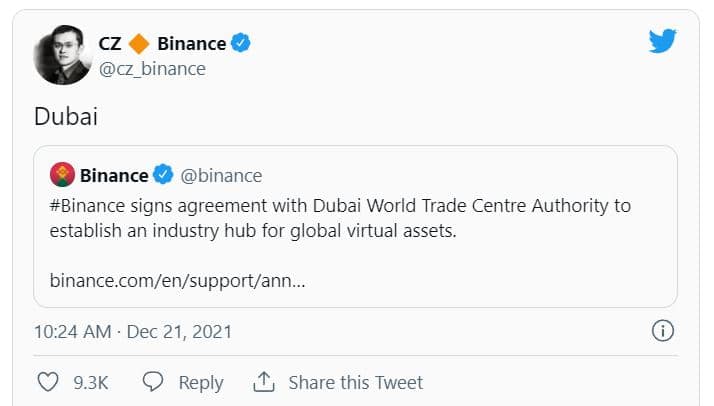 Binance's cooperation in the DWTCA could prove beneficial for the crypto exchange. The company has struggled to establish relationships and build trust with many global financial regulators who have been looking at the exchange since earlier this year.