Reading Time:
4
minutes
Binance, the global blockchain company behind the world's largest cryptocurrency exchange by trading volume and users, has launched a fiat on-ramp for the South African Rand (ZAR) on Binance.com
To further push the commitment to increasing the freedom of money, from today and with immediate effect, KYC'd Binance users in South Africa will be able to deposit Rands (ZAR) from any South African bank account and enjoy features such as spot, margin, lending, futures trading etc.
Binance ZAR fiat on-ramp services will be rolled out in two phases* from April 2:
Phase 1: Deposits and trading  – with immediate effect, Binance users are now able to deposit Rands (ZAR) into their Binance wallet and trade five trading pairs (see below)

Phase 2: Withdrawals – From April 9 at 6 AM (UTC+2), Binance will enable Rand (ZAR) fiat withdrawals (at a fee of R7.50)
*KYC verification and fiat deposit and withdrawal limits apply.
After depositing funds on Binance, users will be able to buy and sell crypto with five ZAR trading pairs: BTC/ZAR, BNB/ZAR, ETH/ZAR, USDT/ZAR, and BUSD/ZAR. To get started, users log in to their Binance accounts and select "Wallet" on the menu bar >Spot Wallet>Deposit>Fiat and select ZAR.
"We believe that Africa is a blockchain continent. South Africa specifically demonstrates strong potential in leading crypto adoption and blockchain technology. Services such as our fiat-to-crypto functions are a viable solution to more financial inclusion," said Changpeng Zhao, CEO of Binance in a video shared at last month's Blockchain Africa Conference 2020 in Johannesburg on March 11 & 12 – where Binance first announced its initial plans for the South African market and the fiat gateway.
"It's been an exciting time for our expansion into South Africa as we have rolled out a number of new features for users over recent weeks. Our team is committed to servicing our users, as well to compliance and growth. There is also a focus on engaging with regulators, banks and the crypto community overall. We want to work with everyone in the ecosystem to make crypto a reality for all South Africans," said Tanya Knowles, Binance South Africa Lead.
Binance opened trading pairs for BTC/ZAR, ETH/ZAR, BNB/ZAR, BUSD/ZAR and USDT/ZAR last week (March 27) and has also made its 'Instant Buy with Visa' available in South Africa – cryptocurrencies can now be bought instantly with Visa credit and debit cards on Binance.com.
Price At A Premium
When the BTC/ZAR trading pair launched this morning, Binance appeared to have pegged its BTC to the international prices of the cryptocurrency, as Bitcoin was trading at a premium in ZAR compared to other exchanges. It is to be noted that normally South Africa is the market that trades at a premium, today just seems to be a slight anomaly.
The price differential meant that today, users could have potentially bought BTC on an alternative South African exchange, and sold it on Binance in Rands for a profit, as per the screenshots comparing the prices on Luno and Binance in ZAR earlier this morning:

While this price differential may be exciting for many crypto traders in South Africa, Avantcore's CTO and algorithmic trading developer Jevon Coffin-Grey believes it won't last long. Coffin-Grey is confident that the more users begin trading with the ZAR pairs on Binance the more they will see the South African prices begin to correlate with one another again. The developer says "this is because it is impossible to circumnavigate exchange controls in South Africa."
"With the price premium of South African crypto for the past half-decade, we have investigated multiple avenues for clients to move their funds on and offshore within legal frameworks, but Excon's limitations curb the ability to move funds fast enough. The price premium remains, and I don't see this changing until the Excon rules changes," said Coffin-Grey.
"The Binance team will be bound by the same Excon rules as every other company operating in South Africa. Within the borders of SA, money can move freely, and local exchanges will tend to align. I can't see there being a difference between Binance's BTC/ZAR market and other local exchanges for very long. Liquidity from South Africans will cause these markets to become more efficient."
Meanwhile, it would seem the order books are still thin for the BTC/ZAR trading pair, with the first 10 sell orders totalling 0.794 BTC and the first 10 buy orders totalling a higher 2.152 BTC.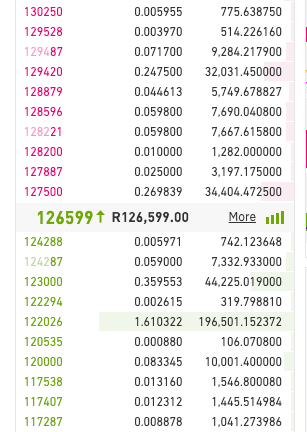 It's still early days yet, and many Binance users would not even know about the fiat onramp as yet. Additionally, users who are aware of the onramp will likely be faced with one of two (if not both) delays:
Completing the regulated KYC process
The processing of their electronic funds transfer
This is going to be a very interesting market to watch, as South Africa has long been a hotspot for crypto investment and trading activity, and to have the world's largest exchange launch this fiat on and off ramp in the country will provide significant stimulation for the industry.
Let the games begin.