Reading Time:
3
minutes
Press Release: Tuesday, November 24 2020, 08:15 CAT | Source: Binance
Binance Charity the blockchain-powered donation platform and philanthropic arm of the world's leading cryptocurrency exchange Binance, is supporting Ghana's efforts in tackling the COVID-19 pandemic by donating 20,000 KN95 masks to hospitals in the country – as part of the organisation's Crypto Against COVID campaign.
Launched on March 24, 2020, Binance Charity's Crypto Against COVID campaign was created to raise $5 million USD in cryptocurrencies (BNB, BTC, BUSD, and XRP) to be spent primarily on buying medical supplies for affected regions globally. Binance led this effort with an initial donation of $1 million USD, plus an additional donation of $1 million USD through the #CryptoAgainstCOVID social media campaign. In addition, Binance vowed to match $2 million USD of public donations received.
"This crisis has strained medical institutions around the world. Binance Charity has responded and provided valuable supplies to ensure the health and safety of medical workers. Binance will continue to be a force for good wherever it is needed," said Binance CEO Changpeng Zhao.
According to the WHO, as of November 17, 2020, the number of confirmed COVID-19 cases across Africa has surpassed 1,393,131 – and the number of confirmed COVID-19 cases in Ghana has exceeded 50,000 (with 320 deaths).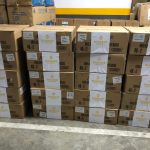 A total of $4.7 million USD has been raised from Binance and public donations, with more than 40 crypto companies joining together to support the campaign. As of November 16th, medical supplies have been shipped to over 20 affected countries, including 400,000 masks to Italy, 400,000 masks to the US, 200,000 to Latin America, 120,000 masks to Japan, 27,000 masks to the UK, 20,000 PPE to Ukraine, 30,000 masks to Nigeria and 15,000 PPE to South Africa etc.
On the importance of donating PPE to healthcare workers in African countries, Helen Hai, Head of Binance Charity said "The most important element of human life is to show compassion and help others as we can, without the limitation or restriction of borders. Binance Charity has always supported the African continent since its inception – through the Pink Care Token and Binance Lunch for Children program in Uganda. Our commitment to African health workers remains the same throughout the fight against COVID-19".
The 20,000 masks will be donated to the following hospitals:
Greater Accra
1.) Korlebu Teaching Hospital
2.) University of Ghana Medical Centre
3.) Ridge Hospital
4.) 37 Military Hospital
5.) Police Hospital
6.) Tema General Hospital
7.) GA East Municipal Hospital
8.) Lekma Hospital
9.) PCC Isolation Centre
Ashanti Region
10.) Komfo Anokye Teaching Hospital
11.) Kumasi South Hospital
12.) Regional Health Directorate
Western Region
13.) Regional Health Directorate
Upper East Region
1.) Regional Health Directorate
Central Region
2.) Cape Coast Teaching Hospital
3.) Regional Health Directorate
Eastern Region
4.) Regional Hospital
5.) Regional Health Directorate
Northern Region
6.) Tamale Teaching Hospital
7.) Regional Health Directorate
8.) Central Medical Stores
Binance Charity maintains its mandate of 100% transparency. All transactions will be published in full transparency through the blockchain-based donation portal. Any hospital demands or sources of medical supplies and shipping aid willing to help in this cause may reach out to: bcf@binance.charity.
Join Binance Charity and help the world fight the coronavirus. Even a small donation can save lives. Together, let's help those in need. Click here to donate.
— – – – – – – – – – – – – – – – – – –
This article is a Press Release received from Binance. Global Crypto did not receive any form of compensation for its publication, and as this material is deemed newsworthy for the Southern African blockchain industry, it was thus published accordingly.