Reading Time:
3
minutes
Press Release: Wednesday, February 03 2021, 07:00 CAT | Source: Binance
Binance, the world's largest cryptocurrency exchange by trading volume, has commenced an 8-week program equipping African blockchain developers with the right tools and skills to build their first DApps on the Binance Smart Chain (BSC) network.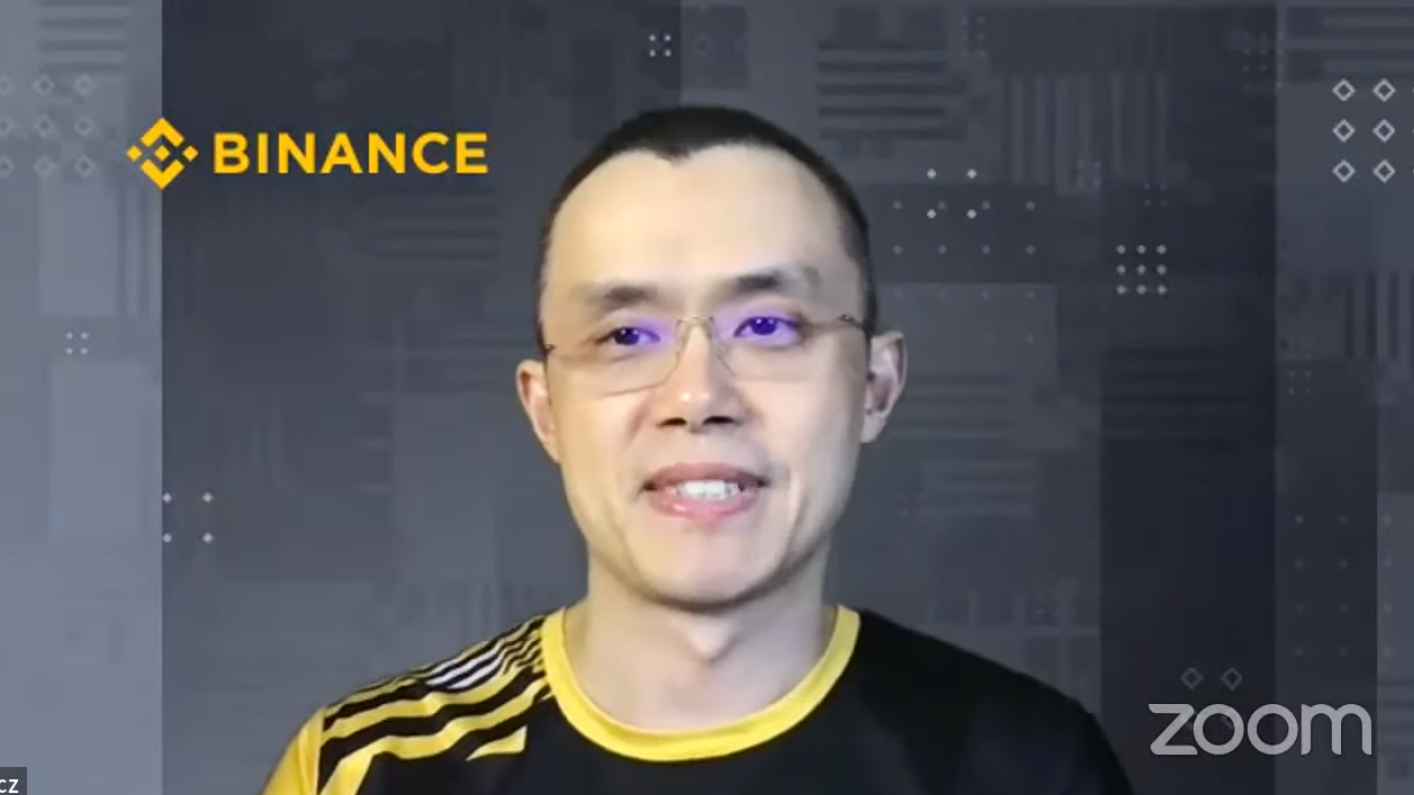 Binance CEO, Changpeng Zhao (CZ), during its launch event on January 31st, announced the allocation of $1 million to African developers building projects on the Binance Smart Chain, in line with the company's commitment to Africa and the growth of the blockchain ecosystem.
"Africa is a really important segment in our mission and we want to continue to push these programs in Africa and other regions" said CZ. "The Binance team wants to show you a multitude of career options in the crypto and blockchain space – beyond trading".
Since 2020, Binance has been offering free virtual crypto education courses under its Binance Masterclass program:  successfully educating over 70,000 Africans about crypto fundamentals, practical tutorials on how to set up a crypto account – and buy & sell crypto, technical analysis and crypto trading. Binance plans to further this education to include DeFi and BSC.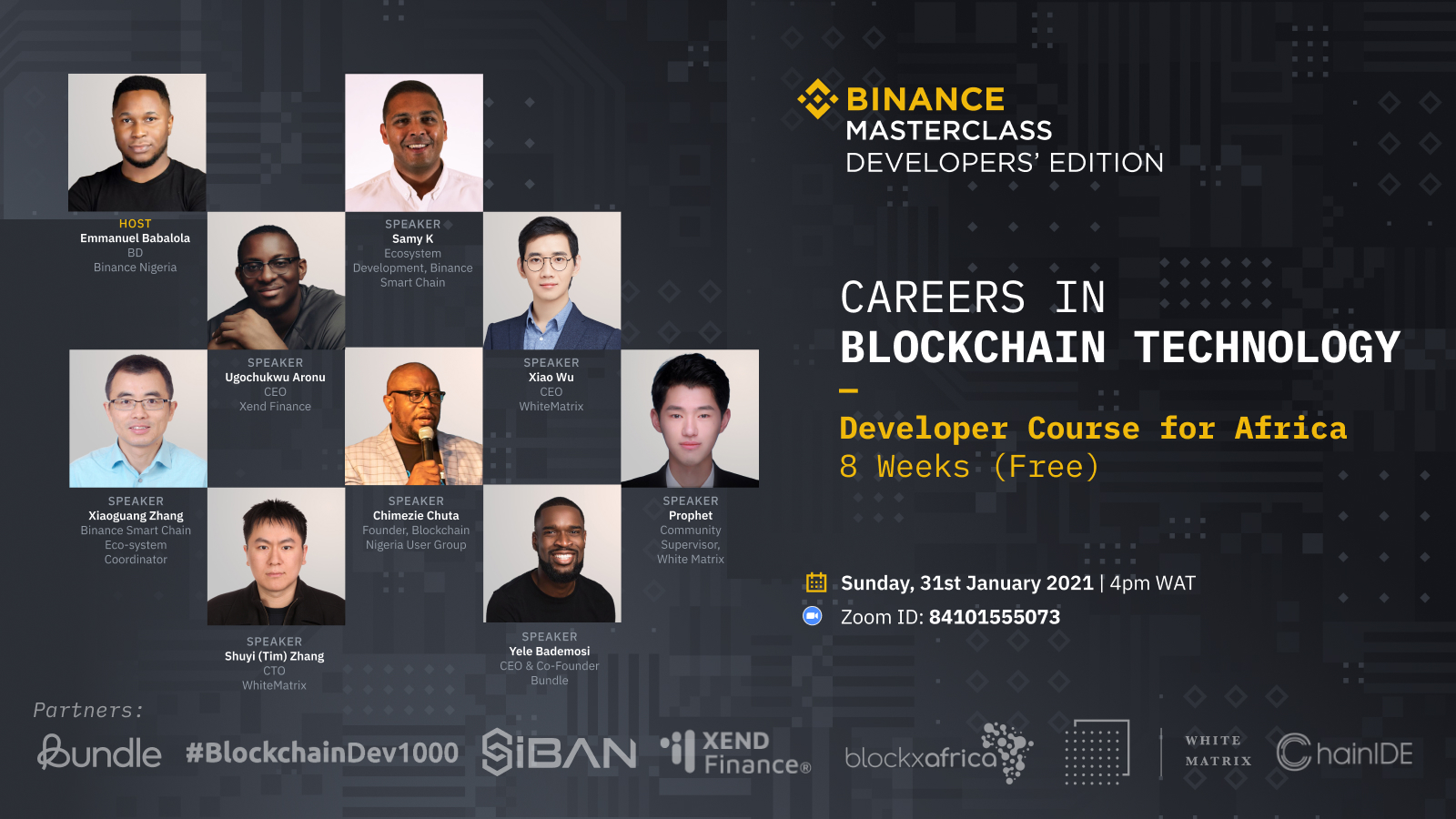 Following the 8-week course on 'Rebuilding Financial Systems on Blockchain', there will also be a Binance Hackathon for African Dapps as announced by the coordinator of BSC network. For more opportunities about Blockchain Career and Binance Smart Chain, join Binance Masterclass Welcome Room: t.me/BSCAfricaMasterclass
The January 31st Developers' edition of the Binance Masterclass series which set to train 1000 African developers, kicked off with over 19,000 registrations and 25,000+ playbacks on YouTube revealing the demand for blockchain education in Africa.
Watch the full launch event HERE.
Through the course of the 8-week program, coordinated by crypto industry thought leaders from ChainIDE, Xend, Bundle, as well as the BSC team, attendees will acquire high income development skills and learn blockchain development with Binance for FREE. See extensive schedule below.
Weeks
Focus
Speaker
Week 1
Blockchain: Technology, Innovation, and Thinking

A brief conception of blockchain.
History with blockchain(whitepaper\1.0 2.0)
Possible future of blockchain

Xiao Wu – CEO, WhiteMatrix
Week 2
Financial Service and Cryptocurrency On Blockchain

Overview of cryptocurrencies
Overview of traditional financial services
Impact of crypto on financial services

Samy K – Ecosystem Development, BSC
Week 3
Dapp development with ChainIDE

Make an introduction about Chainide, about the feature and function.
Bring engineers go through with the whole process of compile\deploy\interaction.

Tim Zhang – CTO, WhiteMatrix
Week 4
How solidity works in a smart contract?

Make an introduction of smart contracts and talk about the internal connection with block chain.
Introduce the smart contract programming language —– solidity. (ie. Solidity Grammar/ function/ .sol file structure/ memory storage)

Prophet – Community Supervisor, WhiteMatrix
Week 5
What is DeFi? Make one yourself

Make a definition of DeFi. How is it different from traditional finance? Are there any advantages?
Take a few look at DeFi projects, like Uniswap/AAVE/YFI,etc.
What will we build? A system includes staking and reward.

Prophet – Community Supervisor, WhiteMatrix
Week 6
Let's follow DeFi to go further

How to use another contract in the smart contract?
The implementation of staking and rewarding.
What else can we do? (lending/ Aggregator)

Prophet – Community Supervisor, WhiteMatrix
Week 7
Interact with smart contract by yourself, from start to finish

How to use the program to interact with the contract? The relationship between react and Javascript.(The related links will list in pre-class information.About the JS grammer and react rules.)
Display an example about how to build a simple website that can react with deployed smart contracts.

Prophet – Community Supervisor, WhiteMatrix
Week 8
DeFi Case Study/Inside out. Panel: How to build a successful DeFi project?
Ugochukwu Aronu – CEO, Xend.

Yele Bademosi – CEO, Bundle

Week 9 (Optional)
Invited speakers: Frontier blockchain technology outlook
Ugochukwu Aronu – CEO, Xend.

Yele Bademosi – CEO, Bundle

Demo Show
Pick 5 best projects from Masterclass students for a demo.  Every team has 15 minutes to present their idea.
N/A
— – – – – – – – – – – – – – – – – – –
This article is a Press Release received from Binance. Global Crypto did not receive any form of compensation for its publication, and as this material is deemed newsworthy for the Southern African blockchain industry, it was thus published accordingly.